Day Of The Dead (Red Hot Compilation) (Grateful Dead Tribute)
Day Of The Dead (Red Hot Compilation) (Grateful Dead Tribute)
5 CDs
CD (Compact Disc)
Herkömmliche CD, die mit allen CD-Playern und Computerlaufwerken, aber auch mit den meisten SACD- oder Multiplayern abspielbar ist.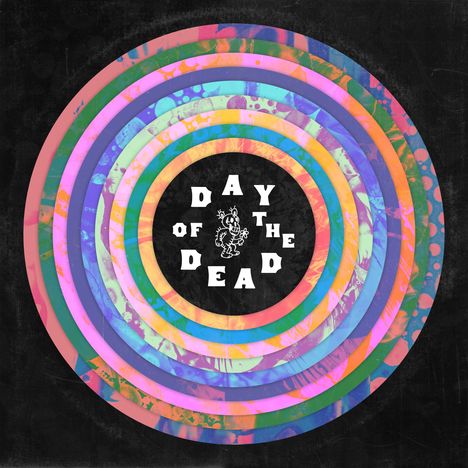 Nur noch 1 Stück am Lager. Danach versandfertig innerhalb 1-2 Wochen (soweit verfügbar beim Lieferanten)
Label: 4AD
Bestellnummer:

2406066

Erscheinungstermin: 20.5.2016
*** Papersleeves in Stülpdeckelbox
Grateful-Dead-Cover für einen guten Zweck

Bereits zum 25. Mal gibt es 2016 mit »Day Of The Dead« eine neue Ausgabe der Red Hot Compilation. 1990 erschien die erste Ausgabe des Samplers der New Yorker Red Hot Organization, die mithilfe der Popkultur auf das Thema HIV/AIDS aufmerksam machen möchte.

Dafür widmen sich verschiedene bekannte Musiker aus Pop, Indie, Rock und Alternative den Songs eines bestimmten Genres oder eines Künstler bzw. einer berühmten Band und interpretieren sie neu. Im Falle von »Day Of The Dead (Red Hot Compilation)« nahm man sich die US-amerikanischen Rocklegenden Grateful Dead zum Vorbild.

Unter den Künstlern, die auf dem diesjährigen Sampler vertreten sind, befinden sich z. B. The War on Drugs, Bruce Hornsby, Kurt Vile and the Violators, Courtney Barnett, Mumford & Sons, Lucius und Wilco. Ebenfalls mit von der Partie sind The Tallest Man on Earth, Lucinda Williams, Local Natives, The Flaming Lips, Sam Amidon und viele mehr. Einige der Bands sind auf »Day Of The Dead (Red Hot Compilation)« auch doppelt vertreten.

Insgesamt haben es so 59 Songs in die Auswahl geschafft, die jetzt auf fünf CDs bzw. 10 LPs versammelt wurden. Für die Produktion sorgten, wie schon bei der 2009er-Ausgabe der Red Hot Compilation »Dark Was The Night«, die The-National-Zwillinge Aaron und Bryce Dessner. John Carlin, der Gründer der Red Hot Organization, unterstützte sie dabei.

Gute Musik für einen guten Zweck wäre hier noch untertrieben. »Day Of The Dead (Red Hot Compilation)« ist das satte, 59 Songs starke Resultat, das dabei herauskommt, wenn sich einige der besten Indierocker unserer Zeit einer echten Rocklegende widmen.
Rezensionen

»Ein Mammut-Tribut an Grateful Dead: lang, exzellent besetzt, sorgfältig kuratiert ...« (musikexpress, Juni 2016)


Disk 1 von 5 (CD)
1 The War On Drugs: Touch of Grey
2 Phosphorescent, Jenny Lewis & Friends: Sugaree
3 Jim James & Friends: Candyman
4 Moses Sumney, Jenny Lewis & Friends: Cassidy
5 Courtney Barnett: New Speedway Boogie
6 Mumford & Sons: Friend of the Devil
7 Bruce Hornsby and DeYarmond Edison: Black Muddy River
8 The National: Morning Dew
9 Anohni and yMusic: Black Peter
10 Ed Droste, Binki Shapiro & Friends: Loser
11 Perfume Genius, Sharon Van Etten & Friends: To Lay Me Down
Disk 2 von 5 (CD)
1 Kurt Vile and The Violators: Box of Rain (Feat. J Mascis)
2 Bonnie 'Prince' Billy & Friends: Rubin and Cherise
3 The Lone Below & Friends: Me and My Uncle
4 Moses Sumney, Jenny Lewis & Friends: Cassidy
5 Lucius: Uncle John's Band
6 Lee Ranaldo, Lisa Hannigan & Friends: Mountains of the Moon
7 Cass McCombs, Joe Russo & Friends: Dark Star
8 Nightfall of Diamonds: Nightfall of Diamonds
9 Tim Hecker: Transitive Refraction Axis for John Oswald
10 Tunde Adebimpe, Lee Ranaldo & Friends: Playing in the Band
11 Richard Reed Parry with Caroline Shaw and Little Scream: Brokedown Palace (Feat. Garth Hudson)
Disk 3 von 5 (CD)
1 The National: Peggy-O
2 Bryce Dessner: Garcia Counterpoint
3 Daniel Rossen, Christopher Bear and The National: Terrapin Station (Suite)
4 Orchestra Baobab: Clementine Jam
5 Stephen Malkmus and the Jicks China Cat Sunflower: I Know You Rider
6 This Is The Kit: Jack-a-roe
7 Bill Callahan: Easy Wind
8 Ira Kaplan & Friends: Wharf Rat
9 Lucinda Williams & Friends: Going Down the Road Feelin' Bad
10 Sam Amidon: And We Bid You Goodnight
Disk 4 von 5 (CD)
1 The Walkmen: Ripple
2 Marijuana Deathsquads: Truckin'
3 The Flaming Lips: Dark Star
4 Local Natives: Stella Blue
5 Unknown Mortal Orchestra: Shakedown Street
6 Orchestra Baobab: Franklin's Tower
7 Tal National: Eyes of the World
8 Bela Fleck: Help On the Way
9 The Rileys: Estimated Prophet
10 s t a r g a z e: What's Become of the Baby
11 Vijay Iyer: King Solomon's Marbles
12 Bonnie 'Prince' Billy: If I Had the World to Give
Disk 5 von 5 (CD)
1 Phosphorescent & Friends: Standing On the Moon
2 The Tallest Man On Earth & Friends: Ship of Fools
3 Bonnie 'Prince' Billy & Friends: Bird Song
4 Hiss Golden Messenger: Brown-eyed Women
5 Real Estate: Here Comes Sunshine
6 Charles Bradley and Menahan Street Band: Cumberland Blues
7 Man Forever, So Percussion and Oneida Drums: Space
8 Fucked Up: Cream Puff War
9 Mina Tindle & Friends: Rosemary
10 Daniel Rossen and Christopher Bear: High Time
11 Luluc with Xylouris White: Till the Morning Comes
12 Winston Marshall, Kodiak Blue and Shura: Althea
13 Angel Olsen: Attics of My Life
14 Wilco with Bob Weir: St. Stephen
15 The National with Bob Weir: I Know You Rider