Classic Rock: The Ultimate Collection
Classic Rock: The Ultimate Collection
5 CDs
CD (Compact Disc)
Herkömmliche CD, die mit allen CD-Playern und Computerlaufwerken, aber auch mit den meisten SACD- oder Multiplayern abspielbar ist.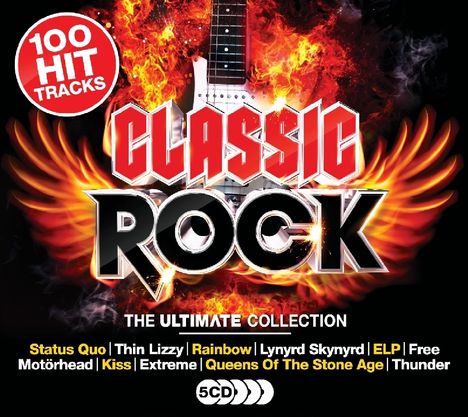 Derzeit nicht erhältlich.
Lassen Sie sich über unseren eCourier benachrichtigen, falls das Produkt bestellt werden kann.
*** Digisleeve
The Ultimate Collection: Classic Rock ist eine Compilation mit 100 Tracks auf 5CDs.

Hier sind die größten Namen der Rock-Music in der allerbesten Sammlung mit Classic Rock-Hymnen der letzten vierzig Jahre vertreten: Status Quo (Rocking All Over The World, Queens Of The Stone Age (No One Knows), Rainbow (Since You've Been Gone), Extreme (Get The Funk Out) und viele andere.

In dieser Sammlung ist für jeden etwas dabei, es ist eine zeitlose und essenzielle Rock-Compilation für Fans jeden Alters. Classic Rock feiert die vielen verschiedenen Stilrichtungen großartiger Gitarren-Musik.

Die Anlage aufdrehen und auf ›Play‹ drücken!! Dies ist die Ultimative Classic Rock-Compilation.
Disk 1 von 5 (CD)
1 Status Quo: Rocking All Over The World
2 Thin Lizzy: The Boys Are Back In Town
3 Rainbow: Long Live Rock 'N' Roll
4 Free: Alright Now
5 Stealers Wheel: Stuck In The Middle With You
6 Nazareth: Bad Bad Boy
7 Robert Palmer: Bad Case Of Loving You (Doctor Doctor)
8 Lynyrd Skynyrd: Freebird
9 The Allman Brothers Band: Midnight Rider
10 Kiss: Rock & Roll All Night
11 Bachman Turner Overdrive: Roll On Down The Highway
12 Free: Wishing Well
13 Uriah Heep: Free Me
14 Caravan: Memory Lain, Hugh
15 Dan McCafferty: Out Of Time
16 Atomic Rooster: Devil's Answer
17 ELP: Hoedown
18 Ken Hensley: When Evening Comes
19 Magnum: Changes
20 Status Quo: Down The Dustpipe
21 Motörhead: No Class
Disk 2 von 5 (CD)
1 Lynyrd Skynyrd: Sweet Home Alabama
2 Bachman Turner Overdrive: You Ain't Seen Nothing Yet
3 The Allman Brothers: Jessica
4 Status Quo: Down Down
5 Thin Lizzy: Dancing In The Moonlight (It's Caught Me In The Spotlight)
6 Nazareth: Broken Down Angel
7 Juicy Lucy: Who Do You Love
8 Atomic Rooster: Tomorrow Night
9 Uriah Heep: Spider Woman
10 Climax Blues Band: Couldn't Get It Right
11 Magnum: Baby Rock Me
12 ELP: Brain Salad Surgery
13 Dan McCafferty: The Great Pretender
14 Gene Simmons: Radioactive
15 The Velvet Underground: White Light/White Heat
16 New York Dolls: Bad Girl
17 Rose Tattoo: Bad Boy For Love
18 Baker Gurvitz Army: Love Is
19 UK: Nothing To Lose
20 David Byron: Saturday Night
21 After The Fire: Laser Love
Disk 3 von 5 (CD)
1 Rainbow: Since You Been Gone
2 Saxon: Wheels Of Steel
3 Motörhead: Iron Fist
4 The Tygers Of Pan Tang: Love Potion No
5 Girlschool: C'mon Let's Go
6 Raven: Born To Be Wild
7 Samson: Riding With The Angels
8 Hanoi Rocks: I Want You
9 Angel Witch: Angel Witch
10 Cinderella: Gypsy Road
11 Rock Goddess: I Didn't Know I Loved you (Til I Saw You Rock 'n' Roll)
12 Dokken: Breaking The Chains
13 Rose Tattoo: We Can't Be Beaten
14 1927: That's When I Think Of You
15 Phil Lynott: Kings Call
16 Quarterflash: Harden My Heart
17 The Rainmakers: Let My People Go Go
18 After The Fire: Der Kommissar
19 The Mission: Butterfly On A Wheel
Disk 4 von 5 (CD)
1 Kiss: Crazy Crazy Nights
2 John Mellencamp: Jack & Diane
3 Graham Bonnet: Night Games
4 Gary Moore: Back On The Streets (Live)
5 Asia: Don't Cry
6 Girlschool: Hit And Run
7 Saxon: And The Bands Played On
8 Y&T: Mean Streak
9 Dio: Mystery
10 Lemmy Kilmister & Wendy O'Williams: Stand By Your Man
11 Raven: Hard Ride
12 Girlschool Feat Motörhead: Emergency
13 Angel Witch: Loser
14 The Damned: Eloise
15 The Mission: Tower Of Strength
16 1927: You'll Never Know
17 The Silencers: I See Red
18 Gary Moore: Don't Let Me Be Misunderstood
19 Johnny Guitar Watson: Gangster Of Love
20 George Thorogood & The Destroyers: Bad To The Bone
Disk 5 von 5 (CD)
1 Stiltskin: Inside (Edit)
2 Cher: Just Like Jesse James
3 Extreme: Get The Funk Out
4 Queens Of The Stone Age: No One Knows
5 Ugly Kid Joe: Everything About You
6 Anthrax: Got The Time
7 Thunder: Don't Wait Up For Me
8 Gun: Better Days
9 Scorpions: Miracle
10 Helloween: Kids Of The Century
11 The Almighty: Wild And Wonderful
12 Therapy?: Nowhere
13 Fish: Internal Exile
14 Kula Shaker: Hush
15 The Silencers: Painted Moon
16 Little Angels: Ten Miles High
17 Extreme: Rest In Peace
18 Helloween: Back On The Streets
19 Scorpions: Love Will Keep Us Alive