Christmas With Frank, Nat & Bing
Christmas With Frank, Nat & Bing
3 CDs
CD (Compact Disc)
Herkömmliche CD, die mit allen CD-Playern und Computerlaufwerken, aber auch mit den meisten SACD- oder Multiplayern abspielbar ist.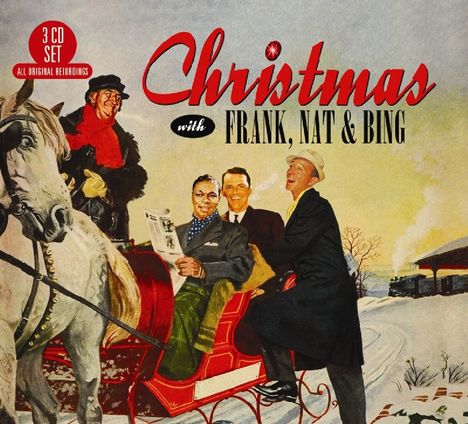 Label: Big3
Bestellnummer:

7731037

Erscheinungstermin: 7.9.2017
*** Digipack
Jede dieser 3 CDs präsentiert das Gesangstalent eines der großartigsten Sänger aller Zeiten – Frank Sinatra, Nat King Cole und Bing Crosby –, jeder mit seinen eigenen Besonderheiten und seinen bekannten Interpretationen der beliebtesten Weihnachtslieder.
Disk 1 von 3 (CD)
1 Jingle Bells
2 The Christmas song (Chestnuts roasting on an open fire)
3 Mistletoe and Holly
4 White Christmas
5 I'll be home for Christmas
6 The Christmas waltz
7 Have yourself a merry little Christmas
8 The first Noel
9 Hark! The herald angels sing
10 O little town of Bethlehem
11 Adeste fideles (O come all ye faithful)
12 It came upon a midnight clear
13 Silent night
14 Winter wonderland
15 Christmas dreaming (A little early this year)
16 Santa Claus is coming to town
17 Let it snow! Let it snow! Let it snow!
Disk 2 von 3 (CD)
1 The Christmas song (Chestnuts roasting on an open fire)
2 Deck the halls
3 Adeste fideles (O come all ye faithful)
4 God rest ye merry gentlemen
5 O Tannenbaum
6 O little town of Bethlehem
7 I saw three ships
8 O holy night
9 Hark! The herald angels sing
10 A cradle in Bethlehem
11 Away in a manger
12 Joy to the world
13 The first Noel
14 Caroling, caroling
15 Silent night
16 All I want for Christmas is my two front teeth
17 The little Christmas tree
18 Mrs. Santa Claus
19 The happiest Christmas tree
20 Frosty the snowman
Disk 3 von 3 (CD)
1 White Christmas
2 Silent night, holy night
3 I'll be home for Christmas (if only in my dreams)
4 Jingle bells
5 Santa Claus is coming to town
6 Rudolph the red-nosed reindeer
7 Silver bells
8 Adeste fideles (O come all ye faithful)
9 It's beginning to look a lot like Christmas
10 The twelve days of Christmas
11 Medley
12 Medley
13 Here comes Santa Claus
14 Mele Kalikimaka (Merry Christmas)
15 Christmas in Killarney
16 Sleigh ride
17 Little Jack Frost get lost
18 Snow
19 Poppa Santa Claus
20 Let's start the new year right