Back To The River - More Southern Soul Stories 1961 - 1978
Back To The River - More Southern Soul Stories 1961 - 1978
3 CDs
CD (Compact Disc)
Herkömmliche CD, die mit allen CD-Playern und Computerlaufwerken, aber auch mit den meisten SACD- oder Multiplayern abspielbar ist.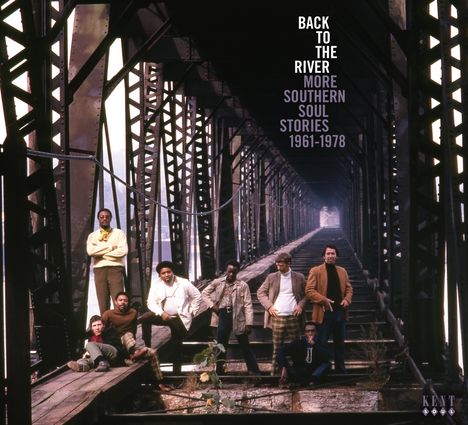 Lieferzeit beträgt mind. 4 Wochen
(soweit verfügbar beim Lieferanten)
Label: Ace
Bestellnummer:

8350146

Erscheinungstermin: 18.12.2015
*** Digipack im Schuber
Nach der Grammy-prämierten ›Take Me To The River-Box‹ erscheint nun eine weitere 3CD-Box inkl. 64 Seiten-Buch, auf der die Creme de la Creme des Southern Soul mit insgesamt 75 Songs rekapituliert wird. Natürlich wurde der beste Soul in den USA der 60er und 70er Jahre eingespielt. Und selbstredend sind die hier wieder vertretenen Kult-Schmieden in Memphis, Miami oder Muscle Shoals federführend für den Southern Soul.
Die sorgfältig zusammengestellte Compilation fokussiert die Zeit von 1961 bis 1978. Berücksichtigt wurden hierbei nicht nur die kommerziellen Durchstarter von Aaron Neville, Otis Redding oder Aretha Franklin, sondern auch jene die so gerade eben wieder ihre Presskosten einspielten, aber von nicht minderer Qualität waren. On top natürlich eine Reihe Nummern, die erstmalig überhaupt auf CD erscheinen. Das begleitende Buch enthält wieder eine Fülle an Archiv-Fotos, Label-Shots und umfangreiche Track By Track Linernotes!
Disk 1 von 3 (CD)
1 Solomon Burke: I Wish I Knew (How It Would Feel to Be Free)
2 Bettye Lavette: Nearer to You
3 William Bell & Judy Clay: Private Number (Extended Version)
4 Otis Redding: Free Me (Take 1)
5 Bobby Bland: A Touch of the Blues
6 Dee Dee Sharp: This Love Won't Run Out
7 Eddie Floyd: I Got Everything I Need
8 Gloria Walker and the Chevelles: Please Don't Desert Me Baby
9 Sam Baker: Sugarman (Extended Version)
10 Joe Perkins: Think I'll Go Somewhere and Cry Myself to Sleep
11 Jeanie Greene: Sure As Sin
12 Rudolph Taylor: What's That You Got
13 Mary Wells: I Found What I Wanted
14 Melvin Carter: I've Got Memories
15 Joe Simon: Message from Maria
16 Mable John: Problems
17 O.V. Wright: I've Been Searching
18 Clarence Carter: She Ain't Gonna Do Right
19 Barbara West: Give Me Back the Man I Love
20 Bill Coday: You're Gonna Want Me
21 Bettye Swann: I'm Just Livin' a Lie
22 Jimmy Braswell: Home for the Summer
23 Ella Washington: Too Weak to Fight (Extended Version)
24 Na Allen: Everytime It Rains (Teardrops from My Eyes)
25 Soul Children: Yesterday
Disk 2 von 3 (CD)
1 Joe Tex: The Only Girl I've Ever Loved
2 Brook Benton: Rainy Night in Georgia
3 John Fred and The Playboys: Love Comes in Time
4 Joey Gilmore: Somebody Done Took My Baby and Gone
5 C.P. Love: I Found All These Things
6 Helene Smith: A Woman Will Do Wrong
7 Steve Dixon: Depend On Me
8 Esther Phillips: I'm in Love
9 Sam Dees: Easier to Say Than Do
10 Terri & Joy LaRoy with the Bill Parker Show Band: Without Love What Would Life Be
11 Count Willie with LRL and the Dukes: I've Got to Tell You
12 Joe Wilson: You Need Me
13 Joe Medwick: Nearer to You
14 Della Humphrey: Your Love Is All I Need
15 Toussaint McCall: Nothing Takes the Place of You
16 George Perkins: How Sweet It Would Be
17 Warren Storm: Daydreamin'
18 Stanley Winston: No More Ghettos in America
19 Little Beaver: Do Right Man
20 Johnny Adams: (Sometimes) a Man Will Shed a Few Tears Too
21 Reuben Bell: Asking for the Truth
22 Joe Valentine: I Can't Stand to See You Go
23 Don Hollinger: You Got Everything I Need
24 Charles Crawford: A Sad Sad Song
25 Aaron Neville: Tell It Like It Is
Disk 3 von 3 (CD)
1 Ground Hog: Going Back Home
2 Freddie Scott: Cry to Me
3 Little Buster: Looking for a Home
4 Jimmy Lewis: The Girls from Texas (Extended Version)
5 Aretha Franklin: Ain't No Way
6 Roy C: I Found a Man in My Bed
7 Clay Hammond: Take Your Time
8 Al Gardner: Just a Touch of Your Hand
9 Don Covay: You're Good for Me
10 Billy Sha-Rae: I Found the One
11 Z.Z. Hill: Don't Make Me Pay for His Mistakes
12 Soul Brothers Six: What Can You Do When You Ain't Got Nobody?
13 Otis Clay: That's How It Is (When You're in Love)
14 Marion Black: Go On Fool (Extended Version)
15 Fontella Bass: I Want Everyone to Know
16 Oscar Weathers: You Wants to Play
17 The Fuller Brothers: (I Want Her) By My Side
18 Barbara Mason: Shackin' Up
19 Willie Hightower: Don't Blame Me
20 Lester Young: Stop
21 Bill Locke: Someone to Take Your Place
22 Lee Moses: If Loving You Is a Crime (I'll Always Be Guilty)
23 Timmy Willis: Easy As Saying 1-2-3
24 Little Richard: I Don't Know What You Got But It's Got Me
25 Bobby Rush: Mary Jane