The Yardbirds: Live At The BBC (180g)
Live At The BBC (180g)
2 LPs
LP (Long Play)
Die gute alte Vinyl - Langspielplatte.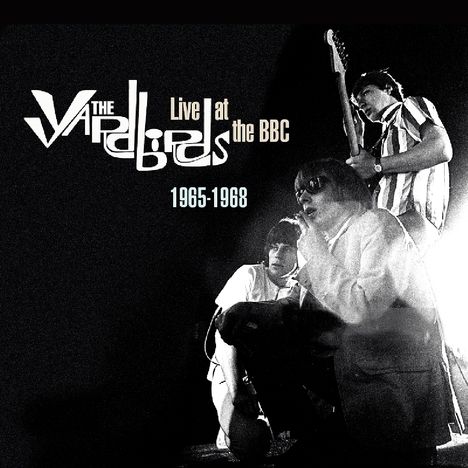 Artikel am Lager
Verlängerter Rückgabezeitraum bis 31. Januar 2023
Alle zur Rückgabe berechtigten Produkte, die zwischen dem 1. bis 31. Dezember 2022 gekauft wurden, können bis zum 31. Januar 2023 zurückgegeben werden.

Vinyl liefern wir innerhalb Deutschlands immer portofrei.
Label: Repertoire, 1965-68
Bestellnummer:

4193246

Erscheinungstermin: 10.2.2017
Weitere Ausgaben von Live At The BBC
*** Gatefold Cover
Legendäre BBC Sessions mit Jeff Beck und Jimmy Page, die beide später weltbekannt wurden und Keith Relf, Paul Samwell-Smith und Jim McCarty.

Auf dieser Doppel-LP sind die besten Aufnahmen, die die Yardbirds für die BBC in den Jahren zwischen 1965 und 1968 aufgenommen haben.
Die Hörproben gehören zum Artikel The Yardbirds: Live At The BBC (CD). Das Tracklisting kann bei diesem Artikel ggf. abweichen.
LP
1 I Ain't Got You
2 Interview: Keith Relf talks about the band's background
3 For Your Love
4 I Wish You Would
5 Interview: Paul Samwell - Smith talks about the recording and the USA tour
6 Heart Full Of Soul
7 I Ain't Done Wrong
8 Too Much Monkey Business
9 I'm A Man
10 Evil Hearted You
11 Interview: Paul Samwell - Smith talks about the 'Still I'm Sad' single
12 Still I'm Sad
13 Hang On Sloopy
14 Smokestack Lightning (Edited version)
15 Interview: The Yardbirds give their New Year's resolutions
16 You're A Better Man Than I
17 The Train Kept A - Rollin'
18 Dust My Broom
LP
1 Mister you're a better man than I
2 Baby,Scratch My Back
3 Interview: Keith Relf talks about his solo single
4 Over,Under,Sideways,Down
5 The Sun Is Shining
6 Interview: Keith Relf talks about their USA tour
7 Shapes Of Things (Alternate version)
8 Most Likely You Go Your Way (And I'll Go Mine)
9 Little Games
10 Drinking Muddy Water
11 Think About It
12 Interview: Jimmy Page Talks About Touring
13 Goodnight Sweet Josephine
14 My Baby
15 White Summer
16 Dazed And Confused