The Waterboys: The Magnificent Seven: Fisherman's Blues / Room To Roam (Standard Box)
The Magnificent Seven: Fisherman's Blues / Room To Roam (Standard Box)
5 CDs, 1 DVD
CD (Compact Disc)
Herkömmliche CD, die mit allen CD-Playern und Computerlaufwerken, aber auch mit den meisten SACD- oder Multiplayern abspielbar ist.
DVD
Die meisten angebotenen DVDs haben den Regionalcode 2 für Europa und das Bildformat PAL. Wir bieten aber auch Veröffentlichungen aus den USA an, die im NTSC-Format und mit dem Ländercode 1 auf den Markt kommen. Dies ist dann in unseren Artikeldetails angegeben.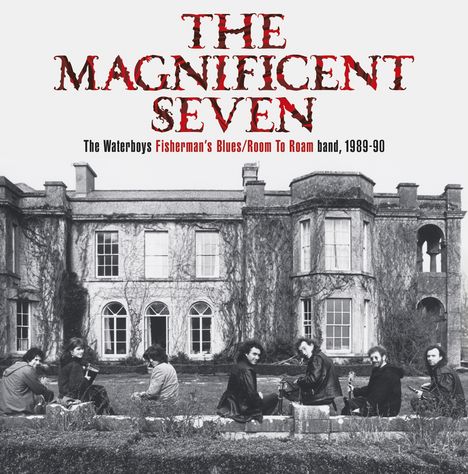 Lieferzeit beträgt mind. 4 Wochen
(soweit verfügbar beim Lieferanten)
Verlängerter Rückgabezeitraum bis 31. Januar 2023
Alle zur Rückgabe berechtigten Produkte, die zwischen dem 1. bis 31. Dezember 2022 gekauft wurden, können bis zum 31. Januar 2023 zurückgegeben werden.
Label: Chrysalis, 1989-1990
FSK ab 0 freigegeben
Bestellnummer:

10710961

Erscheinungstermin: 3.12.2021
Weitere Ausgaben von The Magnificent Seven: Fisherman's Blues / Room To Roam
DVD:Bild:NTSC;Ländercode:All;Laufzeit:230 Min.
*** Papersleeves in Stülpdeckelbox + 54 Seiten Booklet (englisch)
Die Box deckt eine besonders fruchtbare Zeit für die Band ab - vom Frühjahr 1989 bis zum Sommer 1990 - als die Kernbesetzung der Band, bestehend aus Mike Scott (Gesang, Gitarre, Klavier), Steve Wickham (Fiddle/Mandoline/Orgel), Anto Thistlethwaite (Saxophon/Mandoline), Colin Blakey (Orgel/Klavier/Pfeife) und Trevor Hutchinson (Bass) durch Sharon Shannon (Akkordeon), Colin Blakey (Uilleann Pipes/Flöte) und Noel Bridgeman (Schlagzeug/Percussion) ergänzt wurde.

Es enthält Material aus Demos, Radiosessions, Live- und den umfangreichen Studioaufnahmen, aus denen das Album Room To Roam hervorging.

Neben dem remasterten Room To Roam-Album enthält dieses Set mehr als 80 bisher unveröffentlichte Tracks auf vier zusätzlichen CDs mit Demos, unveröffentlichten Studiotracks, Live- und informellen Jams/Sessions.

Die DVD enthält zwei komplette Publikumsfilme von 1989 vom Glastonbury Festival und aus Mailand, Heimvideos und professionelles Filmmaterial aus dem Spiddal House während der Entstehung von Room To Roam sowie Filme, die bei Waterboys-Besuchen in Spiddal 2010 und 2012 gedreht wurden.

Das 54-seitige Booklet enthält Track Notes von allen Bandmitgliedern und bisher unveröffentlichte Fotos. 6 Discs in Papphüllen und ein 54-seitiges, klebegebundenes Buch sind in dieser Standard-Box enthalten. Des Weiteren erscheint noch eine Super Deluxe Box Edition im Hardcover Schuber mit 6 Discs und gebundenem Buch.
Disk 1 von 6 (CD)
1 And A Bang On The Ear
2 Morag
3 The Winkles Overture
4 Bonnie Kate
5 The Woodland Strut
6 On My Way To Heaven
7 Maggie (It's Time For You To Go)
8 Old England
9 Natural Bridge Blues
10 The Wayward Wind
11 Morag
12 That's The Way The World Goes Round
13 Roche's Favourite
14 Defying Gravity / Colin's Tune
15 Rocking Rose
16 Song Of The River
17 Three Ships
18 The 3 Minutes Before Dinner
19 When Will We Be Married
20 The Streets Of Galway
Disk 2 von 6 (CD)
1 This Is The Sea / New Morning
2 When Ye Go Away
3 Fisherman's Blues
4 Strange Boat
5 Rainy Day Women Numbers 12 & 35
6 Dingle Regatta
7 A Pagan Place / Reels
8 The Munster Hop
9 Custer's Blues
10 Girl Of The North Country
11 The Trip To Broadford / Sweet Thing / Blackbird / You Can't Always Get What You Want
12 Your Darling Ain't Your Darling Anymore
13 Higherbound / The Kings Of Kerry
14 Saints And Angels
15 Something That Is Gone
Disk 3 von 6 (CD)
1 Carolan's Welcome
2 The Raggle Taggle Gypsy
3 Disease Of Conceit
4 Spirit
5 With The Scottish Fiddlers Of Los Angeles
6 Morag
7 Danny Murphy
8 Jimmy Hickey's Waltz
9 How Many Songs Till I Get Home
10 The Hut On Staffin Island
11 The Pan Within
12 Learning The Polka
13 The New-Mown Meadow
14 Somebody Might Wave Back
15 A Man Is In Love
16 Something That Is Gone
17 Islandman
18 Song From The End Of The World
19 Bigger Picture
20 Maybe The Sandman
21 A Life Of Sundays
Disk 4 von 6 (CD)
1 A Man Is In Love
2 A Life Of Sundays
3 Bigger Picture
4 Lost Highway
5 The Raggle Taggle Gypsy
6 The Trip To Broadford
7 The Wyndy Wyndy Road
8 Spring Comes To Spiddal
9 Loopers Return
10 Further Up, Further In
11 Blues With Barry
12 And I Dreamed I Wandered
13 Room To Roam
14 The Happy One-Step / Blackbird
15 Upon The Wind And Waves
16 Islandman
17 Yellow Submarine
18 The Star And The Sea
19 Higher In Time
20 Tripping Up The Stairs
21 Bed On The Floor
22 A Song For The Life
23 A Song For The Life
24 Nanny Water
25 Natural Bridge Blues
26 The Kings Of Kerry
27 Spring Comes To Spiddal
28 The Inchicore Reel / Alright Folks Now, Time Please
29 How Long Will I Love You 2021
30 The Music Lasts Forever
Disk 5 von 6 (CD)
1 In Search Of A Rose
2 Song From The End Of The World
3 A Man Is In Love
4 Bigger Picture
5 Natural Bridge Blues
6 Something That Is Gone
7 The Star And The Sea
8 A Life Of Sundays
9 Islandman
10 The Raggle Taggle Gypsy
11 How Long Will I Love You
12 Upon The Wind And Waves
13 Spring Comes To Spiddal
14 The Trip To Broadford
15 Further Up, Further In
16 Room To Roam
17 The Kings Of Kerry
Disk 6 von 6 (DVD)
1 A Band for all Seasons (Home Movies)
2 Glastonbury Festival 1989 (Bootleg)
3 Teatro Orfeo Milan 1989 (Bootleg)
4 Spiddal House Recording Sessions 1990
5 Cé Chónaigh i mo theachsa? Spiddal House 2010
6 Spiddal Reunion 2012