The Smile: A Light For Attracting Attention (Limited Edition) (Yellow Vinyl)
A Light For Attracting Attention (Limited Edition) (Yellow Vinyl)
2 LPs
LP (Long Play)
Die gute alte Vinyl - Langspielplatte.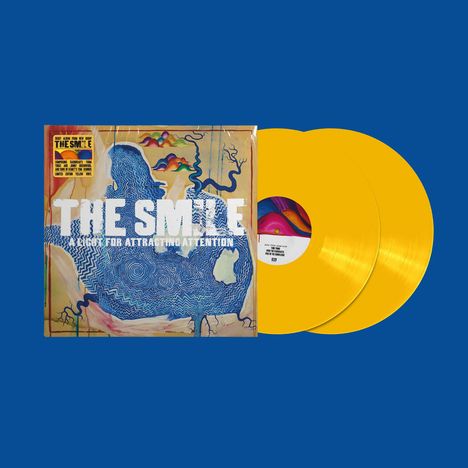 Derzeit nicht erhältlich.
Lassen Sie sich über unseren eCourier benachrichtigen, falls das Produkt bestellt werden kann.
Vinyl liefern wir innerhalb Deutschlands immer portofrei.
Label: XL, 2021
Erscheinungstermin: 17.6.2022
*** Gatefold Cover
"A Light For Attracting Attention" ist das Debütalbum von The Smile - bestehend aus Thom Yorke und Jonny Greenwood von Radiohead und Tom Skinner von Sons of Kemet.

Der Name von The Smile stammt von einem Gedicht von Ted Hughes. Greenwood sagte dem NME: "The Smile entstand aus dem Wunsch heraus, mit Thom in Lockdown an Musik zu arbeiten. Wir hatten nicht viel Zeit, aber wir wollten einfach ein paar Songs zusammen fertigstellen. Es war ein ziemlicher Stop-Start, aber es war eine glückliche Art, Musik zu machen."


Die Hörproben gehören zum Artikel The Smile: A Light For Attracting Attention (CD). Das Tracklisting kann bei diesem Artikel ggf. abweichen.
LP
1 The Same
2 The Opposite
3 You Will Never Work In Television Again
4 Pana-Vision
5 The Smoke
6 Speech Bubbles
LP
1 Thin Thing
2 Open The Floodgates
3 Free In The Knowledge
4 A Hairdryer
5 Waving A White Flag
6 We Don't Know What Tomorrow Brings
7 Skrting On The Surface