The Rolling Stones: Honk (Limited Deluxe Edition)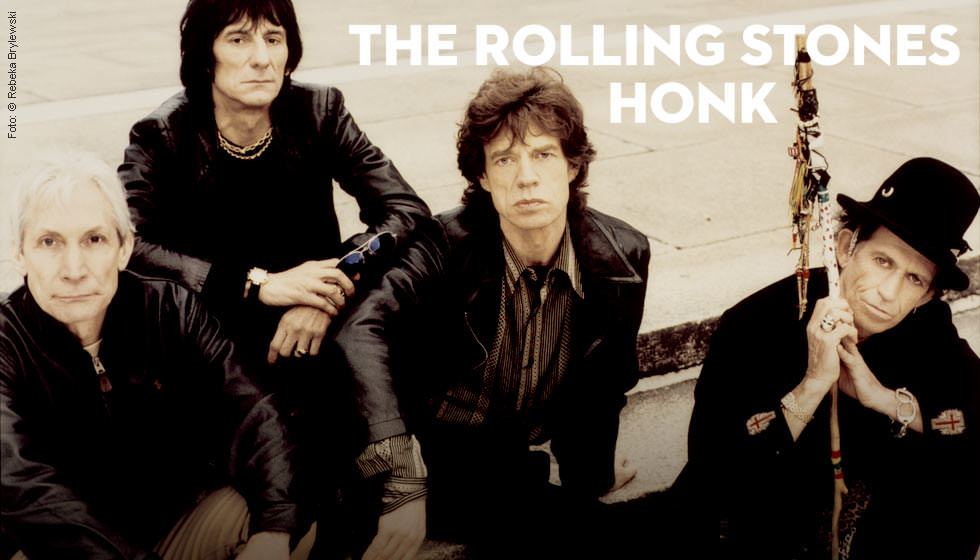 Die Wichtigsten
Sie gehören nicht nur zu den bekanntesten und wichtigsten, sondern auch zu den ältesten Rockbands aller Zeiten: Die Rolling Stones.

57 gemeinsame Jahre und 23 Studioalben gehen bereits auf ihr Konto.

Mit »Honk« veröffentlichen die britische Rocklegende 2019 ein gigantisches Best-of, das alle Alben seit 1971 berücksichtigt.
Honk (Limited Deluxe Edition)
3 CDs
CD (Compact Disc)
Herkömmliche CD, die mit allen CD-Playern und Computerlaufwerken, aber auch mit den meisten SACD- oder Multiplayern abspielbar ist.
Derzeit nicht erhältlich.
Lassen Sie sich über unseren eCourier benachrichtigen, falls das Produkt bestellt werden kann.
Label: Polydor
Erscheinungstermin: 19.4.2019
*** digitally remastered
*** Digipack
36 Hits, Meilensteine und mehr
Die Rolling Stones wagen 2019 einen besonderen Karriererückblick: »Honk« heißt das neue Best-Of-Album von Mick Jagger, Ron Wood, Keith Richards und Charlie Watts.

Insgesamt 36 Songs aus allen Studioalben aus den Jahren 1971 bis 2016 warten darauf.

Mit dabei sind Meilensteine wie »Brown Sugar«, »Start Me Up«, »Out Of Control« und »Angie«, aber auch neuere Hits wie »Doom And Gloom« und »One More Shot«.

Neben der Doppel-CD und einem 3-LP-Set gibt es »Honk« als limitierte Deluxe-Version mit drei CDs. Diese umfasst zusätzlich zu den 36 Songs auch noch zehn Liveaufnahmen von Stones-Konzerten aus der ganzen Welt. Dazu gehört eine Version von »Wild Horses« zusammen mit Sängerin Florence Welch von Florence & The Machine, die die britischen Rocklegenden bereits als Vorgeschmack veröffentlichten. Als weitere Live-Gäste auf der Platte: Ed Sheeran, Brad Paisley und Dave Grohl.

Das jeweilige Tracklisting von »Honk« finden Sie im Folgenden.

Klassiker und Hits, Meilensteine und mehr: »Honk« heißt die neue Rolling-Stones-Retrospektive.


Rezensionen
»Eine dritte CD widmet sich ganz und gar bisher eher raren Livemitschnitten. Country-Star Brad Paisley spielt Gitarre auf ›Dead Horses‹, Florence Welch singt Mick Jagger in ›Wild Horses‹ effektvoll an die Wand, und dass ›Bitch‹ zusammen mit Dave Grohl nur ausarten konnte, war absehbar.« (Good Times, August / September 2019)
Disk 1 von 3
1 Start Me Up
2 Brown Sugar
3 Rocks Off
4 Miss You
5 Tumbling Dice
6 Just Your Fool
7 Wild Horses
8 Fool To Cry
9 Angie
10 Beast Of Burden
11 Hot Stuff
12 It's Only Rock'n'Roll
13 Rock And A Hard Place
14 Doom And Gloom
15 Love Is Strong
16 Mixed Emotions
17 Don't Stop
18 Ride 'Em On Down
Disk 2 von 3
1 Bitch
2 Harlem Shuffle
3 Hate To See You Go
4 Rough Justice
5 Happy
6 Doo Doo Doo Doo Doo
7 One More Shot
8 Respectable
9 You Got Me Rocking
10 Rain Fall Down
11 Dancing With Mr. D
12 Undercover
13 Emotional Rescue
14 Waiting On A Friend
15 Saint Of Me
16 Out Of Control
17 Streets Of Love
18 Out Of Tears
Disk 3 von 3
1 Get Off Of My Cloud (Live Principality Stadium, Cardiff, Wales 15.6.18)
2 Dancing With Mr. D (Live The Gelredome, Arnhem, Netherlands 15.10.17)
3 Beast Of Burden (Live Arrowhead Stadium, Kansas 27.6.15)
4 She's A Rainbow (Live U Arena, Paris 25.10.17)
5 Wild Horses (Live London Stadium 22.5.18)
6 Let's Spend The Night Together (Live Manchester Evening News Arena 5.6.18)
7 Dead Flowers (Live Wells Fargo Center, Philadelphia 18.6.13)
8 Shine A Light (Live Arena, Amsterdam 30.9.17)
9 Under My Thumb (Live London Stadium 22.5.18)
10 Bitch (Live The Honda Center, Anaheim 18.5.13)