The Rolling Stones: Goats Head Soup (Deluxe Edition)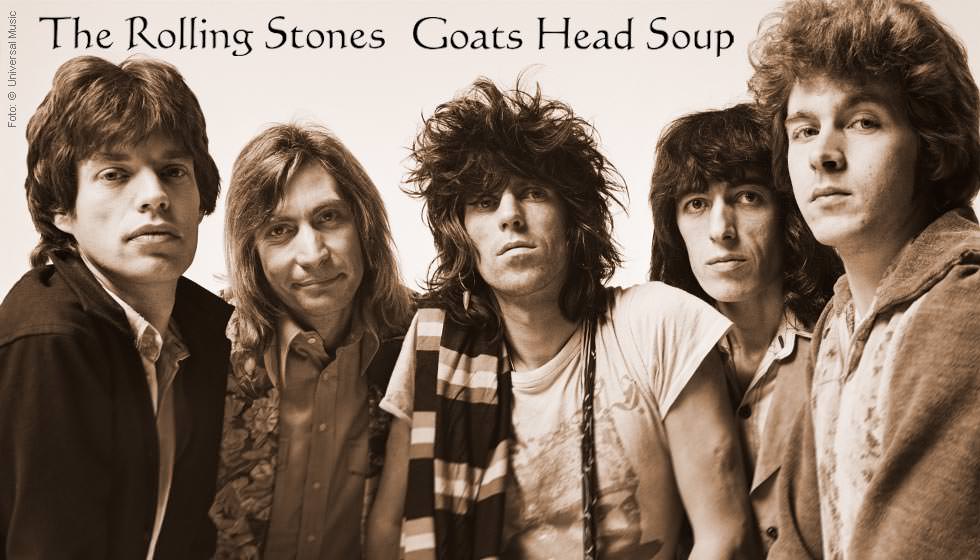 Ein Blick zurück
47 Jahre sind vergangen, seit The Rolling Stones das Album »Goats Head Soup« veröffentlichten. Einer von vielen Höhepunkten ihrer Diskografie.

2020 werfen die Rocklegenden noch einmal einen Blick zurück und legen die Platte noch einmal auf, und zwar in sechs verschiedenen Varianten mit vielen spannenden Extras und bislang unveröffentlichten Songs.
Goats Head Soup (Deluxe Edition)
2 CDs
CD (Compact Disc)
Herkömmliche CD, die mit allen CD-Playern und Computerlaufwerken, aber auch mit den meisten SACD- oder Multiplayern abspielbar ist.
Label: Universal, 1973
Bestellnummer:

10236837

Erscheinungstermin: 4.9.2020
*** Triplesleeve
»Goats Head Soup« ist das elfte Studioalbum der Rolling Stones, welches ursprünglich im Jahre 1973 veröffentlicht wurde. Aufgenommen wurde das Album in Jamaika, Los Angeles und London mit Produzent James »Jimmy« Miller (Blind Faith, Motörhead, Traffic u. a.), der zuvor schon »Beggars Banquet«, »Let It Bleed«, »Sticky Fingers« und »Exile On Main St.« veredelt hatte. Auf dem Album erschien unter anderem eine ihrer größten Balladen »Angie«. »Angie« ging in weiten Teilen Europas, den USA und Australien auf Platz 1. In den USA wurde die Single außerdem mit Platin ausgezeichnet.

Als Bonus gibt es neben dem neu abgemischten Album, das auf den Original-Session-Tapes basiert, etliche Alternativ-Mixe, seltene Aufnahmen sowie drei bislang unveröffentlichte Tracks: ›Scarlet‹, ›All The Rage‹ und ›Criss Cross‹.

»Goats Head Soup« erscheint neben dem Originalalbum als 1CD und 1LP (Half Speed Mastered), außerdem als Deluxe 2CD und 2LP (Half Speed Mastered), welche die drei neuen Singles und Alternative-Mixe enthalten. Unter anderem wird das Album erstmals auch als 4CD (3CDs+1BD) und 4LP-Boxset erhältlich sein. Beide Boxsets vereinen 35 Tracks und werden mit dem Album »The Brussels Affair«, ein Live-Mitschnitt, der im Oktober 1973 im Forest National aufgezeichnet wurde und einem 120-seitigen Buch mit zahlreichen Fotos und exklusiven Essays, abgerundet.
Disk 1 von 2
1 Dancing With Mr. D. (Giles Martin 2020 Mix)
2 100 Years Ago (Giles Martin 2020 Mix)
3 Coming Down Again (Giles Martin 2020 Mix)
4 Doo Doo Doo Doo Doo (Heartbreaker) (Giles Martin 2020 Mix)
5 Angie (Giles Martin 2020 Mix)
6 Silver Train (Giles Martin 2020 Mix)
7 Hide Your Love (Giles Martin 2020 Mix)
8 Winter (Giles Martin 2020 Mix)
9 Can You Hear The Music (Giles Martin 2020 Mix)
10 Star Star (Giles Martin 2020 Mix)
Disk 2 von 2
1 Scarlet
2 All The Rage
3 Criss Cross
4 100 Years Ago (Piano Demo)
5 Dancing With Mr. D. (Instrumental)
6 Heartbreaker (Instrumental)
7 Hide Your Love (Alternate Mix)
8 Dancing With Mr. D. (Glyn Johns 1973 Mix)
9 Doo Doo Doo Doo Doo (Heartbreaker) (Glyn Johns 1973 Mix)
10 Silver Train (Glyn Johns 1973 Mix)