The Rolling Stones: Beggars Banquet (SHM-CD) (Papersleeve)
Beggars Banquet (SHM-CD) (Papersleeve)
CD
CD (Compact Disc)
Herkömmliche CD, die mit allen CD-Playern und Computerlaufwerken, aber auch mit den meisten SACD- oder Multiplayern abspielbar ist.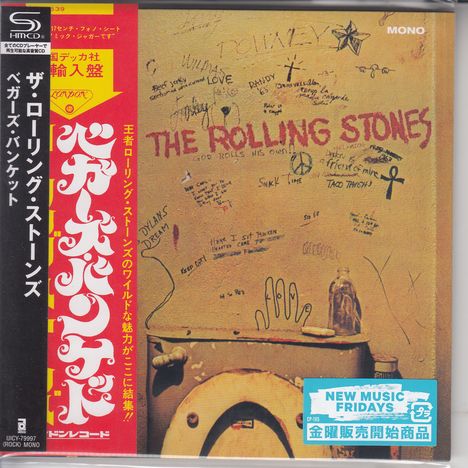 lieferbar innerhalb 1-2 Wochen
(soweit verfügbar beim Lieferanten)
Label: Universal, 1968
Bestellnummer:

11032421

Erscheinungstermin: 14.10.2022
*** SHM - Super High Material
*** Japan-Import
Gesamtverkaufsrang: 12391
Verkaufsrang in CDs: 5650
Product Information

1968 was the year that flower power turned nasty. The previously peaceful 'counter culture' ran out of control. Students started rioting in the streets of Paris and the joy of youthful self-realisation turned to anger and aggression. Everywhere, the ceremony of innocence was drowned.

But it was also the year that, after the atypical psychedelic excursion that is Their Satanic Majesties Request, The Stones decided to strip it down and start again, building from the basics of what they believed in, which has never had anything directly to do with getting high or taking on The Man with bricks and bottles in the streets.

The drug-fuelled, jet set, rock star lifestyle may come with the package for successful popular musicians. But The Rolling Stones exist for one reason, and that's to play blues-based, beat-driven guitar music. And on Beggars Banquet they do that for the first time in a style and with a controlled power that no other band has ever been able to emulate.

Beggars Banquet marks the return of the Rolling Stones to fundamental rock 'n' roll, 1960s style.

From the album's (harmless, relevant, mildly amusing) original cover art for the record - a toilet wall covered with graffiti (shock horror!) - which was banned by the band's own label for so-called 'indecency'; to genuinely subversive and provocative tracks like 'Sympathy for the Devil' and 'Street Fighting Man', this is the record where the true, mature musical and cultural identity of the band is first revealed in all its glory.

Beggars Banquet isn't just a hugely original rock-blues album though. The Sixties, for all the whimsy and folly that led too many great musicians, The Rolling Stones included, down too many dead end alleys, did encourage and foster a spirit of imagination and experimentation; and Beggars Banquet is filled with distinctive and original touches.

The basic track of 'Street Fighting Man', for example, was recorded on a cassette deck at Keith's house, with Keith on acoustic guitar and Charlie Watts on a toy drum kit. If Jig-Saw Puzzle sounds like a pastiche or pisstake of Bob Dylan, it does so with a very real, and very Stones humour and menace.

The continuing relevance of lyrics like 'Let's think of the wavering millions, who need leaders but get gamblers instead' (Salt Of The Earth) is just as clear today as it was in 1968.


Die Hörproben gehören zum Artikel The Rolling Stones: Beggars Banquet (CD). Das Tracklisting kann bei diesem Artikel ggf. abweichen.
Disk 0
1

Track 1

2

Track 2

3

Track 3

4

Track 4

5

Track 5

6

Track 6

7

Track 7

8

Track 8

9

Track 9