The Cure: 40 Live - Curætion 25 - Anniversary
40 Live - Curætion 25 - Anniversary
2 Blu-ray Discs
Blu-Ray Disc
Die Blu-Ray wurde als High-Definition-Nachfolger der DVD entwickelt und bietet ihrem Vorläufer gegenüber eine erheblich gesteigerte Datenrate und Speicherkapazität. Auf Blu-Rays können daher Filme mit deutlich besserer Auflösung gespeichert werden und bieten auf entsprechenden Bildschirmen eine enorm hohe Bildqualität. Blu-Ray-Player sind in der Regel abwärtskompatibel zu DVDs, so dass auch diese abgespielt werden können.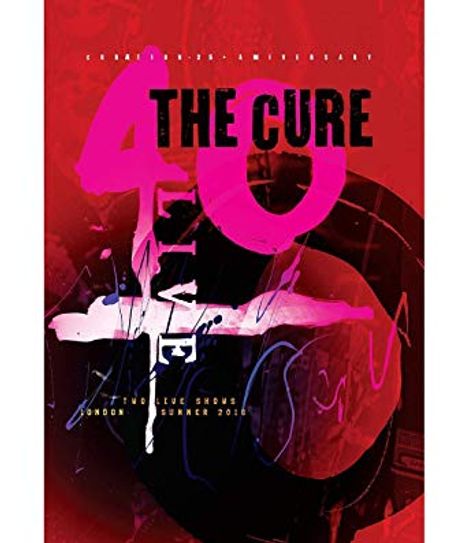 umgehend lieferbar, Bestand beim Lieferanten vorhanden
Label: Eagle, 2018
Bestellnummer:

9456243

Erscheinungstermin: 18.10.2019
Weitere Ausgaben von 40 Live - Curætion 25 - Anniversary
Sound:LPCM Stereo/DTS HD MA;Bild:1080i HD/16:9;Ländercode:0;Laufzeit:279 Min.
Gesamtverkaufsrang: 21155
Verkaufsrang in Blu-ray Discs: 981
Ein spannender Doppel-Liverückblick von The Cure
Im letzten Jahr feierten The Cure ihr 40-jähriges Bandjubiläum. Zu diesem Anlass präsentieren die britischen Pop-/Rock-/Wave-/Gothic-Pioniere 2019 eine Live-Retrospektive:

»40 Live - Curaetion 25 + Anniversary« kommt als Set mit wahlweise zwei DVDs oder zwei Blu-rays sowie als Doppel-DVD bzw Doppel-Blu-ray mit jeweils vier CDs.

Im Juni spielten The Cure ein ganz besonderes Set bei ihrem »Meltdown«-Festival in der Londoner Royal Festival Hall unter dem Titel »Cureation-25«. 13 Songs von allen 13 Studioalben der Band in chronologischer Reihenfolge und schließlich noch einmal 13 weitere, nur zeitlich rückwärts. Als weitere Highlights gab es die beiden unveröffentlichten Songs »It Can Never Be The Same« und »Step Into The Light«.

Im Juli 2018 luden The Cure schließlich zum Jubiläumskonzert im Londoner Hyde Park, wo sie von zehntausenden Fans insgesamt 29 Songs darboten. Unter der Regie von Tim Pope entstand der Konzertfilm »Anniversary 1978 - 2018: Live in Hyde Park London«.

Mit »40 Live - Curaetion 25 + Anniversary« gibt es jetzt die »Anniversary«-Aufnahmen sowie die »Meltdown«-Festival-Sets zusammen in Bild und Ton.

Zwei historische Shows von The Cure zum 40. Bandgeburtstag: »40 Live - Curaetion 25 + Anniversary«

Im Jahr 2018 führte The Cure zwei historische Shows auf, die eine 40-jährige Karriere feierten. Am 18. Oktober 2019 präsentiert Eagle Rock Entertainment zwei Sonderaufführungen, mit denen sie an diesen Meilenstein erinnern. 40 LIVE - CURÆTION-25 + ANNIVERSARY erscheint in einer 10" Deluxe Box (2Blu-ray+4CD oder 2DVD+4CD, jeweils mit 40-seitigem Buch), in Hardback 2Blu-ray oder 2DVD Book (mit 16-seitigem Booklet) erscheinen.
Rezensionen
»Zwei solide Auftritte der Band von Robert Smith« (RollingStone)
Die Hörproben gehören zum Artikel The Cure: 40 Live - Curætion 25 - Anniversary (Limited DVD/CD Boxset) (DVD). Das Tracklisting kann bei diesem Artikel ggf. abweichen.
Disk 1 von 2 (Blu-ray Disc)
1 Three Imaginary Boys (Live At The Royal Festival Hall, London, 2018)
2 At Night (Live At The Royal Festival Hall, London, 2018)
3 Other Voices (Live At The Royal Festival Hall, London, 2018)
4 A Strange Day (Live At The Royal Festival Hall, London, 2018)
5 Bananafishbones (Live At The Royal Festival Hall, London, 2018)
6 A Night Like This (Live At The Royal Festival Hall, London, 2018)
7 Like Cockatoos (Live At The Royal Festival Hall, London, 2018)
8 Pictures Of You (Live At The Royal Festival Hall, London, 2018)
9 High (Live At The Royal Festival Hall, London, 2018)
10 Jupiter Crash (Live At The Royal Festival Hall, London, 2018)
11 39 (Live At The Royal Festival Hall, London, 2018)
12 Us Or Them (Live At The Royal Festival Hall, London, 2018)
13 It's Over (Live At The Royal Festival Hall, London, 2018)
14 It Can Never Be The Same (Live At The Royal Festival Hall, London, 2018)
15 Step Into The Light (Live At The Royal Festival Hall, London, 2018)
16 The Hungry Ghost (Live At The Royal Festival Hall, London, 2018)
17 Alt.End (Live At The Royal Festival Hall, London, 2018)
18 The Last Day Of Summer (Live At The Royal Festival Hall, London, 2018)
19 Want (Live At The Royal Festival Hall, London, 2018)
20 From The Edge Of The Deep Green Sea (Live At The Royal Festival Hall, London, 2018)
21 Disintegration (Live At The Royal Festival Hall, London, 2018)
22 If Only Tonight We Could Sleep (Live At The Royal Festival Hall, London, 2018)
23 Sinking (Live At The Royal Festival Hall, London, 2018)
24 Shake Dog Shake (Live At The Royal Festival Hall, London, 2018)
25 One Hundred Years (Live At The Royal Festival Hall, London, 2018)
26 Primary (Live At The Royal Festival Hall, London, 2018)
27 A Forest (Live At The Royal Festival Hall, London, 2018)
28 Boys Don't Cry (Live At The Royal Festival Hall, London, 2018)
Disk 2 von 2 (Blu-ray Disc)
1 Plainsong (Live At Hyde Park, London / 2018)
2 Pictures Of You (Live At Hyde Park, London / 2018)
3 High (Live At Hyde Park, London / 2018)
4 A Night Like This (Live At Hyde Park, London / 2018)
5 The Walk (Live At Hyde Park, London / 2018)
6 The End Of The World (Live At Hyde Park, London / 2018)
7 Lovesong (Live At Hyde Park, London / 2018)
8 Push (Live At Hyde Park, London / 2018)
9 Inbetween Days (Live At Hyde Park, London / 2018)
10 Just Like Heaven (Live At Hyde Park, London / 2018)
11 If Only Tonight We Could Sleep (Live At Hyde Park, London / 2018)
12 Play For Today (Live At Hyde Park, London / 2018)
13 A Forest (Live At Hyde Park, London / 2018)
14 Shake Dog Shake (Live At Hyde Park, London / 2018)
15 Burn (Live At Hyde Park, London / 2018)
16 Fascination Street (Live At Hyde Park, London / 2018)
17 Never Enough (Live At Hyde Park, London / 2018)
18 From The Edge Of The Deep Green Sea (Live At Hyde Park, London / 2018)
19 Disintegration (Live At Hyde Park, London / 2018)
20 Lullaby (Live At Hyde Park, London / 2018)
21 The Caterpillar (Live At Hyde Park, London / 2018)
22 Friday I'm In Love (Live At Hyde Park, London / 2018)
23 Close To Me (Live At Hyde Park, London / 2018)
24 Why Can't I Be You? (Live At Hyde Park, London / 2018)
25 Thanks @ 40 (Live At Hyde Park, London / 2018)
26 Boys Don't Cry (Live At Hyde Park, London / 2018)
27 Jumping Someone Else's Train (Live At Hyde Park, London / 2018)
28 Grinding Halt (Live At Hyde Park, London / 2018)
29 10:15 Saturday Night (Live At Hyde Park, London / 2018)
30 Killing An Arab (Live At Hyde Park, London / 2018)
Mehr von Eagle