Weltmusik: Nigeria Soul Power 70
Nigeria Soul Power 70
2 LPs
LP (Long Play)
Die gute alte Vinyl - Langspielplatte.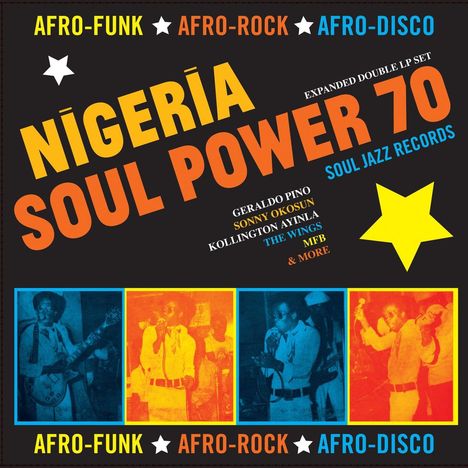 lieferbar innerhalb 1-2 Wochen
(soweit verfügbar beim Lieferanten)
Vinyl liefern wir innerhalb Deutschlands immer portofrei.
Label: Soul Jazz
Bestellnummer:

9472289

Erscheinungstermin: 18.10.2019
Weitere Ausgaben von Nigeria Soul Power 70
*** Gatefold Cover
Product Information

Soul Jazz Records' Nigeria Soul Power 70 album showcases the influence of funk, rock and disco on Nigerian music during the 1970s. Originally released as a now-long-out-of-print collectors' 7" RSD box, this fully expanded album release now also includes extra tracks from Sonny Okosuns, Wings, Chief Kollington Ayinla and more.

While for many people the fusion of funk and jazz music with Nigerian rhythms and aesthetics began with Fela Kuti and his afro-beat sound, in fact this can be traced further back to the phenomena of the 1960s Nigerian artists and house bands in nightclubs and hotels who interpreted US soul and pop music with a local flavour and none more so than Geraldo Pino, the »African James Brown« who features heavily in this collection. Other similarly inspired Nigerian funk and soul artists featured here included Tony Grey and his Ozimba Messengers and Don Bruce and The Angels.

Nigeria Soul Power 70 includes a number of tracks from the group Wings originally known as BAF (Biafran Air Force) Wings, an army band formed during the Biafran civil war in Nigeria. The groups' heavy mixture of funk, rock and African styles was popular among many Nigerian groups at the time.


Die Hörproben gehören zum Artikel Nigeria Soul Power 70 (CD). Das Tracklisting kann bei diesem Artikel ggf. abweichen.
LP
1 Geraldo pino - shake hands
2 Sonny okosunds ozziddi - dance of the elephants
3 The wings - we'll get home
4 Alhaji (chief) prof. kollington ayinla - e ye ika se
5 Colomach - kassa kpa sama kpa
6 Geraldo pino - heavy heavy heavy
7 Mfb - beware
LP
1 Tony grey and the ozimba messengers - you are the one
2 Sonny okosuns - oba erediauwa i
3 The wings - single boy
4 Geraldo pino - power to the people
5 Original wings - igba alusi
6 Don bruce and the angels - sugar baby
7 Geraldo pino - africans must unite