Rory Gallagher: The Best Of Rory Gallagher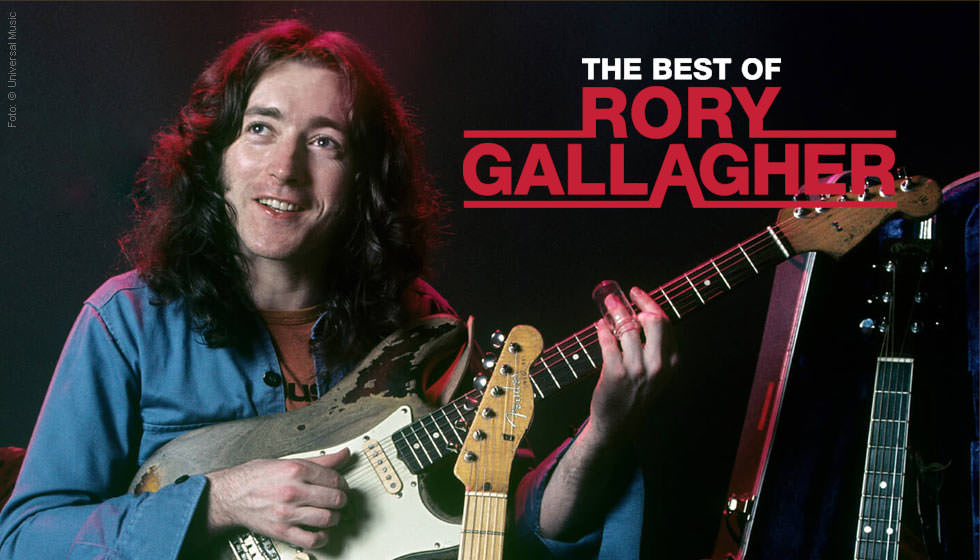 Die Besten
Nachdem sich Fans von Rory Gallagher Anfang 2020 bereits über die Live-Raritäten-Sammlung »Check Shirt Wizard – Live in 77« freuen durften, kam im Oktober auch noch ein Best-of der 1995 verstorbenen irischen Blueslegende.

»Rory Gallagher: The Best Of« heißt die spannende Kollektion – mit Taste-Songs und Solostücken aus seiner gesamten Karriere.
The Best Of Rory Gallagher
2 CDs
CD (Compact Disc)
Herkömmliche CD, die mit allen CD-Playern und Computerlaufwerken, aber auch mit den meisten SACD- oder Multiplayern abspielbar ist.
Label: Universal
Bestellnummer:

10284089

Erscheinungstermin: 9.10.2020
Weitere Ausgaben von The Best Of Rory Gallagher
*** digitally remastered 2017
*** Digipack
Gesamtverkaufsrang: 4639
Verkaufsrang in CDs: 1772
»The Best Of Rory Gallagher« zeichnet Rorys gesamte Karriere nach, und vereint Highlights aus sämtlichen Schaffensphasen der Gitarren-Ikone! Angefangen bei den Aufnahmen mit seiner bahnbrechenden ersten Band Taste aus dem Jahr 1969, stammt das jüngste Material von seinem finalen Studioalbum »Fresh Evidence« (1990).

Das Album wird als 2CD, 1CD und 2LP erhältlich sein. Die 2CD-Variante beinhaltet 30 Tracks, wobei mit »(I Can't Get No) Satisfaction«, aufgenommen mit Jerry Lee Lewis, auch ein bislang unveröffentlichter Bonustitel auf der Edition vertreten ist. Die 2LP wird es als Standard-2LP (schwarzes Vinyl) geben. Die 1CD-Variante von »The Best Of Rory Gallagher« kommt mit 15 Tracks in den Handel.


Rezensionen
»Es gibt als ›Special Bonustrack‹, so das Info der Plattenfirma ›(I Can't Get No) Satisfaction‹.​ Die bislang unveröffentlichte packende Interpretation des Stones-Klassikers entstand 1973 bei den gemeinsamen ›London Sessions‹ mit Jerry Lee Lewis.​ Im Vergleich zum ›Best Of‹-Vorgänger Big Guns (24 Tracks) gibt es diesmal auch vier Taste-Klassiker, dazu auch reichlich aus Gallaghers Spätschaffen, natürlich einige seiner Dauerbrenner (.​.​.​) und 14 Solonummern, die 2005 nicht enthalten waren.​« (Good Times, Oktober/November 2020)

»Nahezu komplett remastert haben die Songs ansprechende Klangqualität.​ Der Ton seiner abgeschrappten Stratocaster-Gitarre, seine Phrasierungen und der raubeinige Gesang lassen ahnen, warum Gallagher Vorbild für Clapton, Slash, Page und viele andere wurde.​« (stereoplay, November 2020)
Disk 1 von 2
1 What's Going On
2 Shadow Play
3 Follow Me
4 Tattoo'd Lady
5 All Around Man
6 I Fall Apart
7 Daughter Of The Everglades
8 Calling Card
9 I'm Not Awake Yet
10 Just The Smile
11 Out Of My Mind
12 Edged In Blue
13 Philby
14 It's Happened Before, It'll Happen Again
15 Crest Of A Wave
Disk 2 von 2
1 Bad Penny
2 Walk On Hot Coals
3 Blister On The Moon
4 Loanshark Blues
5 Bought And Sold
6 A Million Miles Away
7 Wheels Within Wheels (Notes From San Francisco Version / Acoustic Version)
8 Seven Days
9 Ghost Blues
10 Cruise On Out
11 (I Can't Get No) Satisfaction (Alternate Version)
12 They Don't Make Them Like You Anymore
13 Moonchild
14 Jinxed
15 Catfish