R.E.M.: Monster (25th Anniversary Limited Deluxe Edition)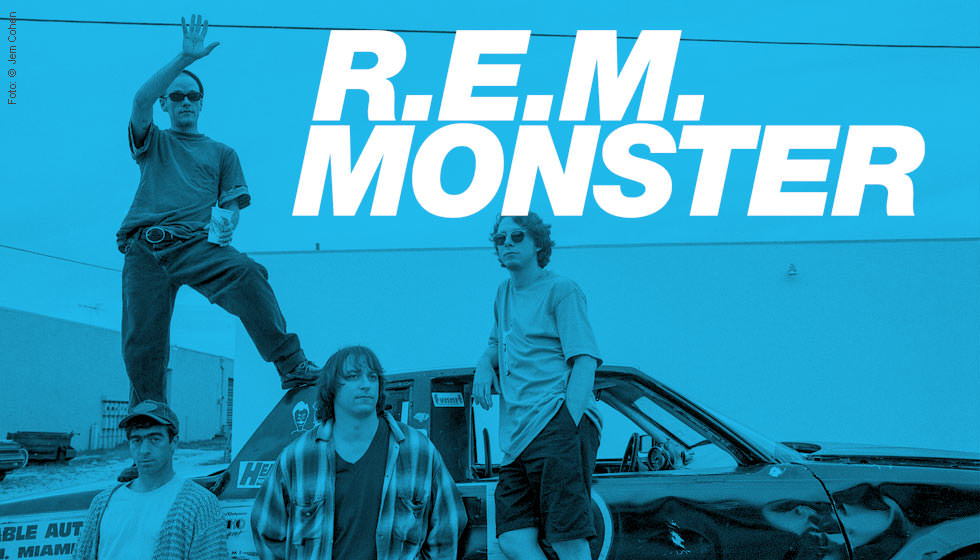 Zum Jubiläum
Vor 25 Jahren veröffentlichten R.E.M. ihr neuntes Album »Monster« und kehrten damit vom Pop zum Alternative Rock zurück.

Zum Jubiläum erschien der Klassiker nun in verschiedenen spannenden Formaten mit zusätzlichem Remix-Album sowie als Deluxe Box-Set mit weiteren Extras.
Monster (25th Anniversary Limited Deluxe Edition)
5 CDs, 1 Blu-ray Disc
CD (Compact Disc)
Herkömmliche CD, die mit allen CD-Playern und Computerlaufwerken, aber auch mit den meisten SACD- oder Multiplayern abspielbar ist.
Blu-Ray Disc
Die Blu-Ray wurde als High-Definition-Nachfolger der DVD entwickelt und bietet ihrem Vorläufer gegenüber eine erheblich gesteigerte Datenrate und Speicherkapazität. Auf Blu-Rays können daher Filme mit deutlich besserer Auflösung gespeichert werden und bieten auf entsprechenden Bildschirmen eine enorm hohe Bildqualität. Blu-Ray-Player sind in der Regel abwärtskompatibel zu DVDs, so dass auch diese abgespielt werden können.
Label: Concord, 1994
FSK ab 6 freigegeben
Bestellnummer:

9453625

Erscheinungstermin: 1.11.2019
Blu-ray Disc:Sound:5.2 Surround Sound/Hi-Resolution Audio;Laufzeit:Keine Angaben
*** Hardcoverbook
»Monster« ist R. E.M. s neuntes Studioalbum und wurde 1994 nach »Out of Time« (1991) und »Automatic For The People« (1992) veröffentlicht, als die Band den Höhepunkt ihres Erfolgs erreichte. Das Album stellte eine Rückkehr zu R. E.M. s gitarrenreichen Rocksound dar, erreichte Platz 1 der US Billboard Charts sowie in 7 weiteren Ländern und erhielt in Deutschland Platinstatus. Nach einer langen Konzertpause (die Band tourte nicht mit den beiden vorherigen Platten) spielte die Band im Rahmen der Albumpromotion ihre erste Tour seit 1989. Monster enthält die Singles: »What's The Frequency, Kenneth?«, »Crush with Eyeliner«, »Bang and Blame« und »Strange Currencies«.

Zum 25. Jubiläum von »Monster« wurde das Album von Toningenieur Greg Calbi remastered und vom Produzenten Scott Litt ein Remix des Albums erstellt, die beide auf Doppel-LP (180g) und Doppel-CD erscheinen. Außerdem erscheint die remastered Version des Albums mit dem orangenen Originalcover auf LP (180g).

Das Deluxe Box-Set von »Monster« (25th Anniversary Edition) enthält auf 5 CDs die remastered Version und den Remix des Albums, bisher unveröffentlichte Demos vom Album und eine komplette Live-Performance von 1995, die in Chicago aufgenommen wurde. Die beigleitende Blu-ray präsentiert sowohl das Album in hochauflösendem Audio und 5.1 Surround Sound als auch eine Vielzahl von Videoinhalten: alle sechs Musikvideos von »Monster« und den 90-minütigen »Road Movie«, der die R. E.M. Tournee von 1995 dokumentiert. Das Box-Set wird in einem 5 ½ Zoll großem Portfolio-Buch verpackt, das Liner Notes des Journalisten Matthew Perpetua und Archivfotos enthält.
Rezensionen
»Auch 25 Jahre später ist es faszinierend zu hören, wie R. E.M. sich mit ›Monster‹ ins Leben zurückkämpften, nachdem sie auf ›Automatic For The People‹ dem Tod ins Auge gesehen hatten. Nach den melancholischen Mandolinenklängen nun also ein ROCKalbum.« (RollingStone)

»Natürlich liefert die 6-Disc-Box auch das Album im Originalmix, erstens für Nostalgiker, zweitens um zu vergleichen. Dazu die üblichen Jubiläumsbeigaben wie Outtakes, Demos, instrumentale Tracks und alternative Versionen, eine komplette CD liefert den Mitschnitt eines 1995er Konzerts aus Chicago. Die Blu-ray präsentiert das Album in hochauflösendem Audio und 5.1 Surround Sound sowie eine Vielzahl von Videos: alle sechs Clips von Monster, dazu das 90-minütige Roadmovie, das die R. E.M.-Tournee von 1995 dokumentiert.« (Good Times, Dezember 2019 / Januar 2020)
Disk 1 von 6
1 Monster (Remastered): What's The Frequency, Kenneth?
2 Crush With Eyeliner
3 King Of Comedy
4 I Don't Sleep, I Dream
5 Star 69
6 Strange Currencies
7 Tongue
8 Bang And Blame
9 I Took Your Name
10 Let Me In
11 Circus Envy
12 You
Disk 2 von 6
1 Monster (Demos): Pete's Hit
2 Uptempo Mo Distortion
3 Uptempo Ricky
4 Harlan County with Whistling
5 Lost Song
6 AM Boo
7 Mike's Gtr
8 Sputnik 1 Remix
9 Black Sky 4-14
10 Revolution 4-21
11 Rocker with vocal
12 Time Is On Mike's Side
13 1Experiment 4-28 no vocal
14 Highland Fling 4-29
15 Cranky 4-29
Disk 3 von 6
1 Monster (Remixed): What's The Frequency, Kenneth?
2 Crush With Eyeliner
3 King Of Comedy
4 I Don't Sleep, I Dream
5 Star 69
6 Strange Currencies
7 Tongue
8 Bang And Blame
9 I Took Your Name
10 Let Me In
11 Circus Envy
12 You
Disk 4 von 6
1 Live in Chicago 6/3/95 – Monster 1995 Tour (Teil 1): What's The Frequency, Kenneth?
2 Circus Envy
3 Crush With Eyeliner
4 Near Wild Heaven
5 Welcome To The Occupation
6 Undertow
7 I Took Your Name
8 Strange Currencies
9 Me In Honey
10 Revolution
11 Tongue
12 Man On The Moon
13 Country Feedback
14 Monty Got A Raw Deal
Disk 5 von 6
1 Live in Chicago 6/3/95 – Monster 1995 Tour (Teil 2): Losing My Religion
2 You
3 Departure
4 Orange Crush
5 Get Up
6 Star 69
7 Let Me In
8 Everybody Hurts
9 So. Central Rain (I'm Sorry)
10 Pop Song 89
11 Its The End Of The World As We Know It (And I Feel Fine)
Disk 6 von 6
1 Monster (5.1 Surround Sound)
2 Monster (Hi-Resolution Audio)
3 Road Movie (Konzertfilm)
4 What's The Frequency, Kenneth? (Musikvideo)
5 Crush With Eyeliner (Musikvideo)
6 Star 69 (Musikvideo)
7 Strange Currencies (Musikvideo)
8 Tongue (Musikvideo)
9 Bang And Blame (Musikvideo)