Paul McCartney: Pure McCartney (Deluxe Edition)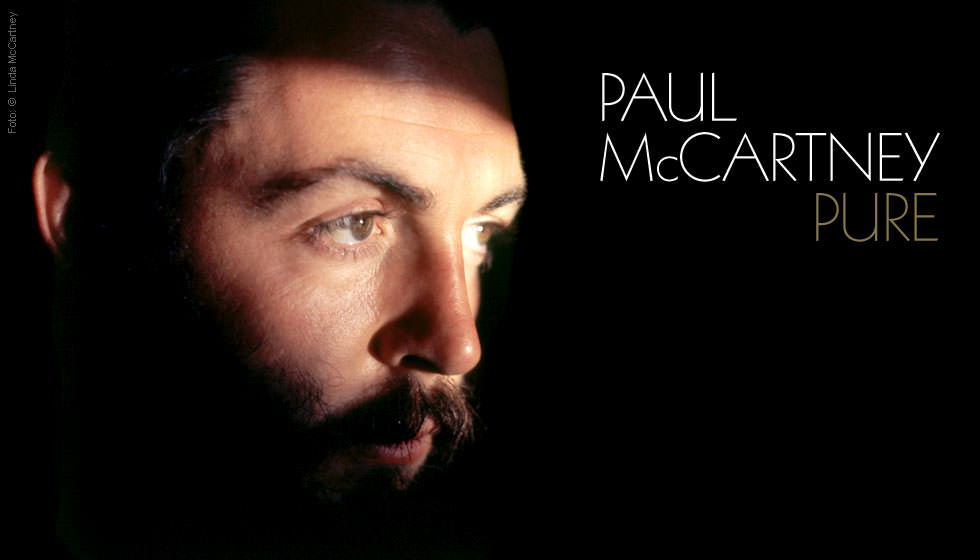 Hits und Überraschungen
Er ist der erfolgreichste Songwriter in der gesamten Geschichte der Popmusik: Paul McCartney. Mit »Yesterday« komponierte er sogar den bis heute meistgespielten Popsong aller Zeiten.

Nach der Auflösung der Beatles setzte McCartney seine Kreativität als Solomusiker fort. Bis heute nahm der Musiker so weit mehr als 400 Songs auf.

Mit »Pure McCartney« gibt es jetzt ein umfassendes Best-of dieser Songs, das den Fokus auf die Zeit nach den Beatles legt. Neben vielen Hits warten hier auch einige Überraschungen.

Pure McCartney (Deluxe Edition)
4 CDs
CD (Compact Disc)
Herkömmliche CD, die mit allen CD-Playern und Computerlaufwerken, aber auch mit den meisten SACD- oder Multiplayern abspielbar ist.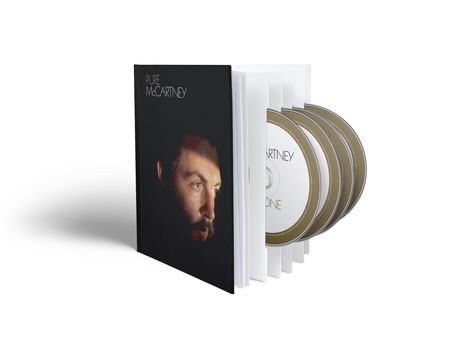 Label: Concord, 1970-2013
Bestellnummer:

2553434

Erscheinungstermin: 10.6.2016
*** digitally remastered
*** Digibook (Hardcover)
Gesamtverkaufsrang: 30942
Verkaufsrang in CDs: 14144
Songs, die Freude bereiten

Nachdem die Beatles sich vor über 45 Jahren trennten, startete Paul McCartney seine unglaubliche bis heute andauernde Solokarriere. In dieser Zeit veröffentlicht er ganze 24 Studioalben, 11 Konzertalben sowie zahlreiche weitere Projekte und Zusammenstellungen.

Mit »Pure McCartney« gibt es 2016 eine umfangreiche Best-of-Collection, die die gesamte Solokarriere des Musikers widerspiegelt – von seinem selbstbetitelten Debüt aus dem Jahr 1970 bis zum 2013 erschienenen Album »New« und darüber hinaus. Neben Solostücken umfasst die Sammlung Songs aus Wings- und Fireman-Zeiten.

Alle Songs auf »Pure McCartney« wählte der Ex-Beatle dafür höchstpersönlich aus – und zwar einzig und allein mit dem Anspruch, Lieder auszusuchen, die beim Anhören Freude bereiten.

Gesagt, getan, und so befinden sich auf »Pure McCartney« neben Hits wie »Maybe I'm Amazed«, »Live And Let Die« oder »Ebony and Ivory« und anderen Songs, die man vielleicht bereits erwartet hätte, auch einige Überraschungen. Dazu gehört der Song »Hope For The Future« – der Titelsong zum Videospiel »Destiny«, den McCartney 2014 mit einem 120 Musiker starken Orchester unter der Leitung von Giles Martin aufgenommen hatte. Ebenfalls dabei ist der erst 2015 erschienene Remix von »Say Say Say«. Das gesamte Tracklisting finden Sie im Folgenden.

»Pure McCartney« ist in mehreren verschiedenen Formaten erhältlich: als Doppel-CD mit 39 Tracks, als 4-CD-Set mit insgesamt 67 Liedern sowie als 4-LP-Set mit 46 Songs.

Im Laufe seiner Karriere hat Paul McCartney immer wieder gezeigt, dass er zu den größten Musikern und Songwritern aller Zeiten gehört.

Mit »Pure McCartney« gibt es jetzt den umfassenden Beweis für diese Fähigkeiten. Vor allem aber genügt die Sammlung den Ansprüchen ihres Verfassers: Sie macht einfach Spaß beim Hören.


Rezensionen

»... großherzige, unvergleichliche Pop-Klassiker voll wohltuender, warmer Beschaulichkeit. Oder auf English: a must-have!« (Audio, Juli 2016)
Disk 1 von 4 (CD)
1 Maybe I'm Amazed (Remastered 2011)
2 Heart Of The Country (Remastered 2012)
3 Jet (Remastered 2010)
4 Warm And Beautiful (Remastered 2014)
5 Listen To What The Man Said (Remastered 2014)
6 Dear Boy (Remastered 2012)
7 Silly Love Songs (Remastered 2014)
8 The Song We Were Singing (Remastered 2016)
9 Uncle Albert / Admiral Halsey (Medley / Remastered 2012)
10 Early Days
11 Big Barn Bed (Remastered 2016)
12 Another Day (Remastered 2012)
13 Flaming Pie (Remastered 2016)
14 Jenny Wren
15 Too Many People (Remastered 2012)
16 Let Me Roll It (Remastered 2010)
17 New
Disk 2 von 4 (CD)
1 Live And Let Die (Remastered 2016)
2 English Tea
3 Mull Of Kintyre (Remastered 2016)
4 Save Us
5 My Love (Remastered 2016)
6 Bip Bop (Remastered 2016)
7 Let 'Em In (Remastered 2014)
8 Nineteen Hundred and Eighty Five (Remastered 2010)
9 Calico Skies (Remastered 2016)
10 Hi, Hi, Hi (Remastered 2016)
11 Waterfalls (Remastered 2011)
12 Band On The Run (Remastered 2010)
13 Appreciate
14 Sing The Changes
15 Arrow Through Me (Remastered 2016)
16 Every Night (Remastered 2011)
17 Junior's Farm (Remastered 2014)
18 Mrs. Vandebilt (Remastered 2010)
Disk 3 von 4 (CD)
1 Say Say Say (Radio Edit / 2015 Remix)
2 My Valentine
3 Pipes Of Peace (Remastered 2015)
4 The World Tonight (Remastered 2016)
5 Souvenir (Remastered 2016)
6 Dance Tonight
7 Ebony And Ivory (Remixed 2015)
8 Fine Line
9 Here Today (Remixed 2015)
10 Press (Remastered 2016)
11 Wanderlust (Remixed 2015)
12 Winedark Open Sea (Remastered 2016)
13 Beautiful Night (Remastered 2016)
14 Girlfriend (Remastered 2016)
15 Queenie Eye
16 We All Stand Together (Remastered 2016)
Disk 4 von 4 (CD)
1 Coming Up (Remastered 2011)
2 Too Much Rain
3 Good Times Coming / Feel The Sun (Remastered 2016)
4 Goodnight Tonight (Remastered 2016)
5 Baby's Request (Remastered 2016)
6 With A Little Luck (DJ Edit / Remastered 2016)
7 Little Willow (Remastered 2016)
8 Only Mama Knows
9 Don't Let It Bring You Down (Remastered 2016)
10 The Back Seat Of My Car (Remastered 2012)
11 No More Lonely Nights (7" Single Version / Remastered 2016)
12 Great Day (Remastered 2016)
13 Venus And Mars / Rock Show (Remastered 2016)
14 Temporary Secretary (Remastered 2011)
15 Hope For The Future (Main)
16 Junk (Remastered 2011)