Mick Fleetwood & Friends: Celebrate The Music Of Peter Green And The Early Years Of Fleetwood Mac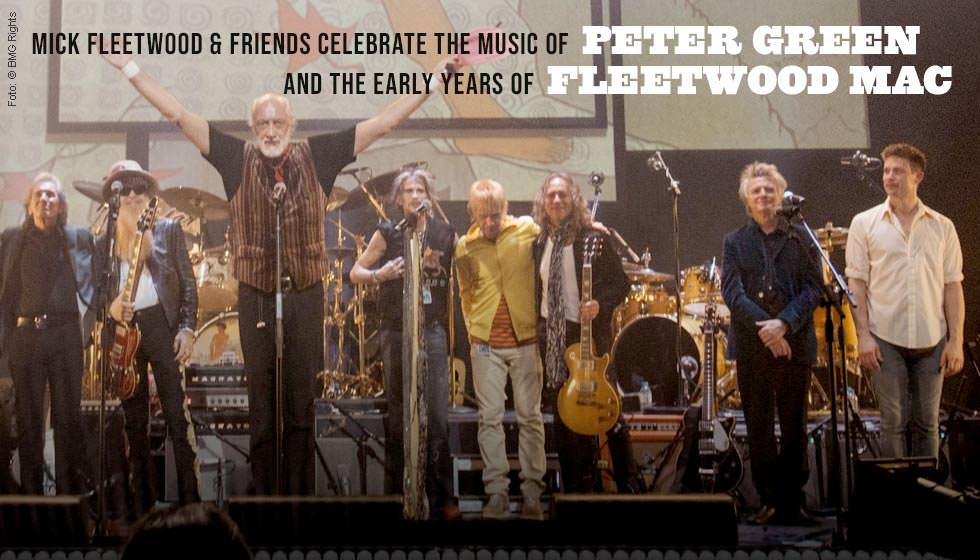 Zu Ehren der Legende
Im Juli 2020 musste die Musikwelt Abschied von Peter Green nehmen.

Zu Ehren des britischen Gitarristen, Sänger und Fleetwood-Mac-Mitgründer und um sein geniales Werk zu würdigen, veranstalteten sein Freund und Kollege Mick Fleetwood und viele weitere namhafte Weggefährten schon im Februar ein besonderes Konzert.

Mit »Mick Fleetwood & Friends: Celebrate The Music Of Peter Green And The Early Years Of Fleetwood Mac« gibt es 2021 den Mitschnitt in Bild und Ton.
Celebrate The Music Of Peter Green And The Early Years Of Fleetwood Mac
4 LPs
LP (Long Play)
Die gute alte Vinyl - Langspielplatte.
Vinyl liefern wir innerhalb Deutschlands immer portofrei.
Label: BMG Rights, 2020
Bestellnummer:

10367349

Erscheinungstermin: 30.4.2021
*** Gatefold Cover
Der legendäre Schlagzeuger Mick Fleetwood konnte eine Starbesetzung für ein einzigartiges Konzert zu Ehren der frühen Jahre von Fleetwood Mac und seinem Gründer Peter Green gewinnen, das am 25. Februar 2020 im Londoner Palladium stattfand.

Mit dabei waren Billy Gibbons, David Gilmour, Pete Townshend, John Mayall, Christine McVie, Zak Starkey, Steven Tyler, Bill Wyman, Noel Gallagher, Pete Townshend, Neil Finn, Kirk Hammett und Jeremy Spencer. Der legendäre Produzent Glyn Johns kam als Executive Sound Producer hinzu. Die Stammbesetzung der Band war Fleetwood selbst, zusammen mit Andy Fairweather Low, Dave Bronze, Rick Vito, Jonny Lang und Ricky Peterson.

Fleetwood, der die Liste der auftretenden Künstler kuratierte, sagte: »Das Konzert ist eine Feier jener frühen Blues-Tage, in denen wir alle begannen, und es ist wichtig, den tiefgreifenden Einfluss anzuerkennen, den Peter und die frühen Fleetwood Mac auf die Welt der Musik hatten. Peter war mein größter Mentor, und es ist mir eine große Freude, sein unglaubliches Talent zu würdigen. Ich fühle mich geehrt, die Bühne mit einigen der vielen Künstler zu teilen, die Peter im Laufe der Jahre inspiriert hat und die meinen großen Respekt für diesen bemerkenswerten Musiker teilen. Then Play On'...«

Das Konzert wird als 4LP Gatefold Vinyl, als 20-seitiges Mediabook mit Blu-ray und 2CD, sowie als 44-seitiges, gebundenes Deluxe-Bookpack veröffentlicht. Das Deluxe-Bookpack beinhaltet neben der 4LP Gatefold Vinyl, 2CD und Blu-Ray außerdem noch Sleevenotes des Mick Fleetwood-Biographen Anthony Bozza, sowie atemberaubende Fotos von der Veranstaltung und von hinter den Kulissen.


Rezensionen
»So viel genussvollen Input für den Plattenteller gab es schon lange nicht mehr.​« (stereoplay, Mai 2021)
Die Hörproben gehören zum Artikel Mick Fleetwood & Friends: Celebrate The Music Of Peter Green And The Early Years Of Fleetwood Mac (CD). Das Tracklisting kann bei diesem Artikel ggf. abweichen.
1 Rolling Man (feat. Rick Vito)
2 Homework (feat. Jonny Lang)
3 Doctor Brown (feat. Billy Gibbons)
4 All Your Love (feat. John Mayall)
5 Rattlesnake Shake (feat. Billy Gibbons & Steven Tyler)
6 Stop Messin' Round (feat. Christine McVie)
1 Looking For Somebody (feat. Christine McVie)
2 Sandy Mary (feat. Jonny Lang)
3 Love That Burns (feat. Rick Vito)
4 The World Keep Turning (feat. Noel Gallagher)
5 Like Crying (feat. Noel Gallagher)
6 No Place To Go (feat. Rick Vito)
7 Station Man (feat. Pete Townshend)
1 Man Of The World (feat. Neil Finn)
2 Oh Well (Pt.1) (feat. Billy Gibbons & Steven Tyler)
3 Oh Well (Pt.2) (feat. David Gilmour)
4 Need Your Love So Bad (feat. Jonny Lang)
5 Black Magic Woman (feat. Rick Vito)
1 The Sky Is Crying (feat. Jeremy Spencer)
2 I Can't Hold Out (feat. Jeremy Spencer)
3 The Green Manalishi (With The Two Prong Crown) (feat. Billy Gibbons & Kirk Hammett)
4 Albatross (feat. David Gilmour)
5 Shake Your Moneymaker (group finale)