Marvin Gaye: You're The Man
You're The Man
CD
CD (Compact Disc)
Herkömmliche CD, die mit allen CD-Playern und Computerlaufwerken, aber auch mit den meisten SACD- oder Multiplayern abspielbar ist.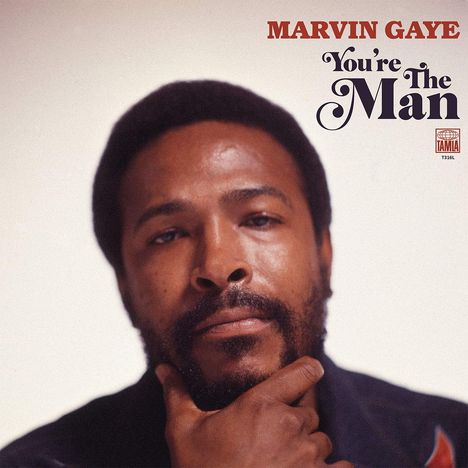 lieferbar innerhalb 2-3 Wochen
(soweit verfügbar beim Lieferanten)
Label: Universal, 1972
Bestellnummer:

9042968

Erscheinungstermin: 26.4.2019
Weitere Ausgaben von You're The Man
Gesamtverkaufsrang: 18287
Verkaufsrang in CDs: 7808
Das »verschollene« Album
Kaum zu glauben: Mit »You're The Man« erscheint 2019 ein verschollenes Album von Soulikone Marvin Gaye, und zwar auf CD und Doppel-LP.

Das Album, von dem man zwar wusste, dass es existiert, das aber nie veröffentlicht wurde, ist der eigentliche Nachfolger von Gayes Meilenstein »What's Going On« aus dem Jahr 1971. Anlässlich des 80. Geburtstages von Marvin Gaye wird es nun doch noch aufgelegt.

»You're The Man« wurde ursprünglich 1972 aufgenommen. Es enthält insgesamt 17 Songs, von denen die meisten noch nie auf Vinyl erschienen sind. Das gesamte Tracklisting finden Sie im Folgenden.

Einen ersten Vorgeschmack gab es bereits mit der Single »My Last Chance«.

Ein absoluter Schatz aus den Archiven von Marvin Gaye: Hier ist »You're The Man«.
Disk 1 von 1 (CD)
1 You're The Man (Pts. I & II / Single Version)
2 The World Is Rated X (Alternate Mix)
3 Piece Of Clay ("The Master 1961-1984" Version)
4 Where Are We Going? (Alternate Mix 2)
5 I'm Gonna Give You Respect
6 Try It, You'll Like It
7 You Are That Special One
8 We Can Make It Baby
9 My Last Chance (SalaAM ReMi Remix)
10 Symphony (SalaAM ReMi LP Mix)
11 I'd Give My Life For You (SalaAM ReMi LP Mix)
12 Woman Of The World
13 Christmas In The City (LP Mix & Edit)
14 You're The Man (Alternate Version 2)
15 I Want To Come Home For Christmas (LP Mix & Edit)
16 I'm Going Home ("The Master 1961-1984" Version)
17 Checking Out (Double Clutch) ("The Master 1961-1984" Version)