Love: Forever Changes (50th Anniversary Deluxe-Edition-Set) (remastered) (180g) (Limited-Numbered-Edition)
Forever Changes (50th Anniversary Deluxe-Edition-Set) (remastered) (180g) (Limited-Numbered-Edition)
1 LP, 4 CDs, 1 DVD
LP (Long Play)
Die gute alte Vinyl - Langspielplatte.
CD (Compact Disc)
Herkömmliche CD, die mit allen CD-Playern und Computerlaufwerken, aber auch mit den meisten SACD- oder Multiplayern abspielbar ist.
DVD
Die meisten angebotenen DVDs haben den Regionalcode 2 für Europa und das Bildformat PAL. Wir bieten aber auch Veröffentlichungen aus den USA an, die im NTSC-Format und mit dem Ländercode 1 auf den Markt kommen. Dies ist dann in unseren Artikeldetails angegeben.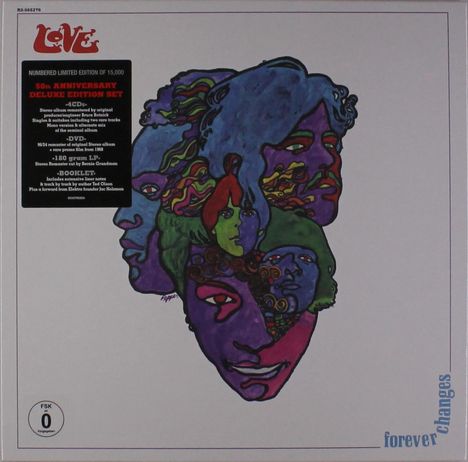 Vinyl liefern wir innerhalb Deutschlands immer portofrei.
Label: Rhino, 1967
FSK ab 0 freigegeben
Bestellnummer:

8129153

Erscheinungstermin: 6.4.2018
* DVD:Sound:Linear PCM;Bild:NTSC;Ländercode:0;Laufzeit:Keine Angabe
Kommerziell blieb der große Erfolg bei VÖ 1967 aus, aber das Album »Forever Changes« gilt heute noch als eines der besten Alben der 60er. Viele Kritiker feiern das Album bis heute. So verwundert es nicht, dass der US Rolling Stone das Album auf #40 der 500 besten Alben aller Zeiten wählte. Nun erscheint eine 50th Anniversary Edition mit 4CDs, 1LP und einer DVD im schicken Hardback-Buch.


Product Information

This 50th anniversary edition will contain 4CDs + 1DVD & 1LP, housed in a hardbound LP sized book (similar to the Ramones – Leave Home 40th Anniversary Edition)

4CDs:
1) Original album (2015 remaster by original producer / engineer Bruce Botnick, first time on CD)
2) Mono version of the original album
3) Alternate Mix of the album
4) Singles and Outtakes – featuring two previously unreleased backing tracks and two rare tracks unavailable since 1967

DVD:
- High resolution version of the original album, remastered by Bruce Botnick.
- Video: »Your Mind and We Belong Together« – rare original 1968 Promo film directed by Elektra producer Mark Abramson.

LP:
- Original album Stereo Remaster, on LP for the first time. Remastered in 2015 by original producer / engineer Bruce Botnick, cut from High Res Digital by Bernie Grundman.
- Hardback Book containing: Sleeve notes and Track by Track by Ted Olson, with a forward from Elektra records founder Jac Holzman.
Die Hörproben gehören zum Artikel Love: Forever Changes (CD). Das Tracklisting kann bei diesem Artikel ggf. abweichen.
LP
1 Alone Again Or (Remastered)
2 A House Is Not A Motel (Remastered)
3 Andmoreagain (Remastered)
4 The Daily Planet (Remastered)
5 Old Man (Remastered)
6 The Red Telephone (Remastered)
7 Maybe The People Would Be The Times Or Between Clark And Hilldale (Remastered)
8 Live And Let Live (Remastered)
9 The Good Humor Man He Sees Everything Like This (Remastered)
10 Bummer In The Summer (Remastered)
11 You Set The Scene (Remastered)
CD
1 Alone Again Or (Mono Mix)
2 A House Is Not A Motel (Mono Mix)
3 Andmoreagain (Mono Mix)
4 The Daily Planet (Mono Mix)
5 Old Man (Mono Mix)
6 The Red Telephone (Mono Mix)
7 Maybe The People Would Be The Times or Between Clark And Hilldale (Mono Mix)
8 Live And Let Live (Mono Mix)
9 The Good Humor Man He Sees Everything Like This (Mono Mix)
10 Bummer In The Summer (Mono Mix)
11 You Set The Scene (Mono Mix)
CD
1 Alone Again Or (Alternate Mix)
2 A House Is Not A Motel (Alternate Mix)
3 Andmoreagain (Alternate Mix)
4 The Daily Planet (Alternate Mix)
5 Old Man (Alternate Mix)
6 The Red Telephone (Alternate Mix)
7 Maybe The People Would Be The Times or Between Clark And Hilldale (Alternate Mix)
8 Live And Let Live (Alternate Mix)
9 The Good Humor Man He Sees Everything Like This (Alternate Mix)
10 Bummer In The Summer (Alternate Mix)
11 You Set The Scene (Alternate Mix)
12 Wonder People (I Do Wonder) [Outtake] [Alternate Mix]
CD
1 Wonder People (I Do Wonder) [Outtake] [Original Mix]
2 Alone Again Or (Single Version)
3 A House Is Not A Motel (Single Version)
4 Hummingbirds (Demo)
5 A House Is Not A Motel (Backing Track)
6 Andmoreagain (Alternate Electric Backing Track)
7 The Red Telephone (Tracking Sessions Highlights)
8 Wooly Bully (Outtake)
9 Live And Let Live (Backing Track)
10 Wonder People (I Do Wonder) [Outtake] [Backing Track]
11 Your Mind And We Belong Together (Tracking Sessions Highlights)
12 Your Mind And We Belong Together
13 Laughing Stock
14 Alone Again Or (Mono Single Remix)
CD
1 Alone Again Or (Remastered)
2 A House Is Not A Motel (Remastered)
3 Andmoreagain (Remastered)
4 The Daily Planet (Remastered)
5 Old Man (Remastered)
6 The Red Telephone (Remastered)
7 Maybe The People Would Be The Times Or Between Clark And Hilldale (Remastered)
8 Live And Let Live (Remastered)
9 The Good Humor Man He Sees Everything Like This (Remastered)
10 Bummer In The Summer (Remastered)
11 You Set The Scene (Remastered)
DVD
1 Alone Again Or (2015 Remastered Version)
2 A House Is Not A Motel (2015 Remastered Version)
3 Andmoreagain (2015 Remastered Version)
4 The Daily Planet (2015 Remastered Version)
5 Old Man (2015 Remastered Version)
6 The Red Telephone (2015 Remastered Version)
7 Maybe The People Would Be The Times Or Between Clark And Hilldale (2015 Remastered Version)
8 Live And Let Live (2015 Remastered Version)
9 The Good Humor Man He Sees Everything Like This (2015 Remastered Version)
10 Bummer In The Summer (2015 Remastered Version)
11 You Set The Scene (2015 Remastered Version)