Black Beauty
CD
CD (Compact Disc)
Herkömmliche CD, die mit allen CD-Playern und Computerlaufwerken, aber auch mit den meisten SACD- oder Multiplayern abspielbar ist.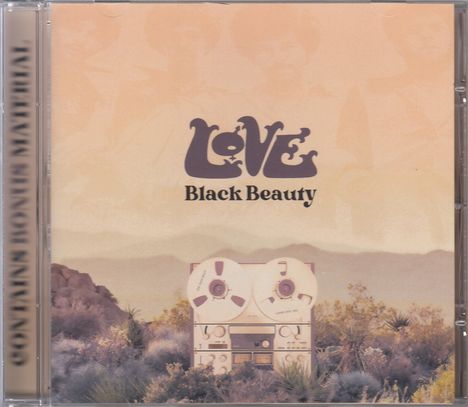 lieferbar innerhalb 1-2 Wochen
(soweit verfügbar beim Lieferanten)
Label: Greyscale
Bestellnummer:

10769127

Erscheinungstermin: 15.10.2021
Weitere Ausgaben von Black Beauty
Gesamtverkaufsrang: 13862
Verkaufsrang in CDs: 5832
Der Produkttext bezieht sich auf den Artikel
Love: Black Beauty (CD)
. Die Informationen, Produktdaten, das Tracklisting etc. können bei diesem Artikel ggf. abweichen.
Product Information

Black Beauty, the never-before-released masterpiece by Arthur Lee's legendary band Love is making its first-ever official release in any format, anywhere! Chosen as one of Time Magazine's most anticipated releases, critics are hailing the album as an instant classic.
Love's Black Beauty is that rarest of rock artifacts: an unreleased full-length studio album from an undisputed musical genius. Originally recorded in 1973, Black Beauty remained unreleased for 40 years. It is the missing link in a catalog that includes Forever Changes, the classic 1967 Love album the New York Times called »one of the most affecting and beguiling albums of all time«. With Black Beauty, Arthur Lee manages to combine searing 70's-rock with gorgeous melodies and stellar songwriting – topped off by his most powerful, soulful vocals ever. With its wonderfully eclectic collection of songs, the album offers Love fans a rare glimpse into a previously undocumented phase of Arthur Lee's fabled career, while shining a light for new fans to discover the unique genius that is the music of Arthur Lee & Love.
Disk 1 von 1 (CD)
1 Young & able
2 Midnight sun
3 Can´t find it
4 Walk right in
5 Skid
6 Beep beep
7 Stay away
8 Lonely pigs
9 See myself in you
10 Product of the times
11 Bonus Tracks: Thomasine & Bushrod
12 Arthur Lee Interview
13 Everytime I look up, I´m down (live)
14 Nothing (live)
15 Keep on shining (live)
16 L.A. blues (live)