Hans Zimmer: Filmmusik: Live In Prague (Live At The O2 Arena, 2016) (180g) (Limited Edition) (Purple Vinyl)
Filmmusik: Live In Prague (Live At The O2 Arena, 2016) (180g) (Limited Edition) (Purple Vinyl)
4 LPs
LP (Long Play)
Die gute alte Vinyl - Langspielplatte.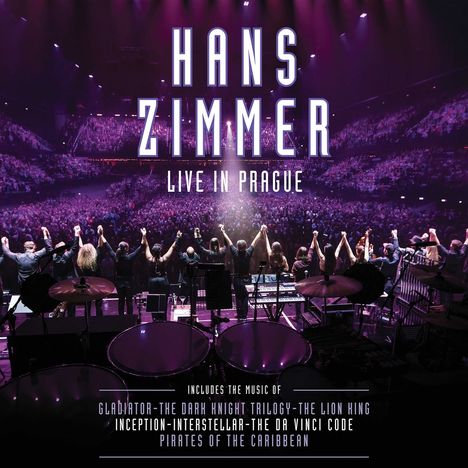 Vinyl liefern wir innerhalb Deutschlands immer portofrei.
Label: Eagle, 2016
Bestellnummer:

9760870

Erscheinungstermin: 5.6.2020
*** Gatefold Cover
Ein karriereumspannendes Konzert
Hans Zimmer präsentiert 2017 seinen neuen Konzertfilm »Live In Prague« sowie das zugehörige Livealbum.

Beide dokumentieren Zimmers Auftritt in der Prager O2-Arena am 6. Mai 2016, bei dem der deutsche Filmkomponist, Arrangeur und Musikproduzent auf der Bühne von einem 72-köpfigen Ensemble, bestehend aus Mitgliedern des Czech National Symphony Orchestra, einem Chor und dem The-Smiths-Gitarristen Johnny Marr, unterstützt wurde. Dieser arbeitete bereits bei den Soundtracks zu »Inception« und »Amazing Spider-Man 2« mit Zimmer zusammen.

Das Programm des Abends bot eine Zusammenstellung von Songs aus Zimmers gesamter Karriere, darunter auch einige Medleys. Mit dabei sind Stücke der Scores von »Sherlock«, »The Da Vinci Code«, »Gladiator«, »The Dark Knight«, »Inception«, »Interstellar«, »Pirates Of The Caribbean«, »The Lion King« und viele weitere. Das gesamte Tracklisting finden Sie im Folgenden.

»Live In Prague« kommt als Doppel-CD, 4-LP-Set, DVD und Blu-ray.

»Live In Prague« von Hans Zimmer ist der Mitschnitt einer beeindruckenden Liveperformance und ein spannender Blick auf das Werk des Komponisten in einem.


Die Hörproben gehören zum Artikel Hans Zimmer: Live In Prague (180g) (Limited-Edition) (LP). Das Tracklisting kann bei diesem Artikel ggf. abweichen.
LP
1 Driving / Discombobulate / Zoosters Breakout (Live At The O2 Arena, Prague / 2016 / From Driving Miss Daisy / Sherlock)
2 Crimson Tide / 160 BPM (Live At The O2 Arena, Prague / 2016 / From Crimson Tide / Angels & Demons)
3 Gladiator Medley (Live At The O2 Arena, Prague / 2016 / From Gladiator)
LP
1 Chevaliers de Sangreal (Live At The O2 Arena, Prague / 2016 / From The Da Vinci Code)
2 Circle Of Life / King Of Pride Rock (Live At The O2 Arena, Prague / 2016 / From The Lion King / Prelude / Reprise)
3 Pirates Of The Caribbean Medley (Live At The O2 Arena, Prague / 2016 / From The Pirates Of The Caribbean)
4 You're So Cool (Live At The O2 Arena, Prague / 2016 / From True Romance)
5 Main Theme (Live At The O2 Arena, Prague / 2016 / From Rain Man)
LP
1 What Are You Going To Do When You're Not Saving The World? (Live At The O2 Arena, Prague / 2016 / From Man Of Steel)
2 Journey To The Line (Live At The O2 Arena, Prague / 2016 / From The Thin Red Line)
3 The Electro Suite (Live At The O2 Arena, Prague / 2016 / From The Amazing Spider-Man 2)
4 The Dark Knight Trilogy Medley (Live At The O2 Arena, Prague / 2016 / From The Dark Knight Trilogy)
5 Aurora (Live At The O2 Arena, Prague / 2016 / Includes Introduction)
LP
1 Interstellar Medley (Live At The O2 Arena, Prague / 2016 / From Interstellar)
2 Inception Medley (Live At The O2 Arena, Prague / 2016 / From Inception)
Mehr von Eagle