Jeff Beck: Live At The Hollywood Bowl (CD-Format)
Live At The Hollywood Bowl (CD-Format)
2 CDs, 1 DVD
CD (Compact Disc)
Herkömmliche CD, die mit allen CD-Playern und Computerlaufwerken, aber auch mit den meisten SACD- oder Multiplayern abspielbar ist.
DVD
Die meisten angebotenen DVDs haben den Regionalcode 2 für Europa und das Bildformat PAL. Wir bieten aber auch Veröffentlichungen aus den USA an, die im NTSC-Format und mit dem Ländercode 1 auf den Markt kommen. Dies ist dann in unseren Artikeldetails angegeben.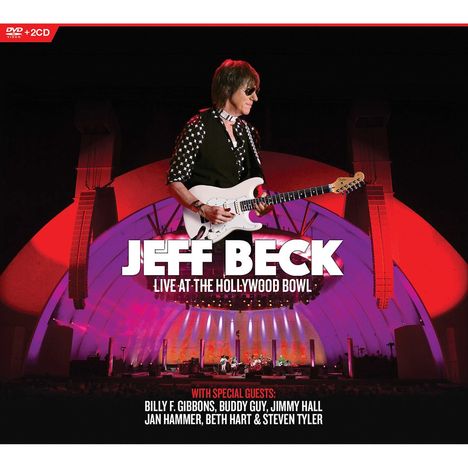 Label: Eagle, 2016
Bestellnummer:

7712758

Erscheinungstermin: 6.10.2017
DVD:Sound:Dolby Digital 2.0&5.1/DTS Surround;Bild:16:9/NTSC;Ländercode:0;
Laufzeit:97 Min.
*** Digisleeve
Jeff Beck und Freunde feiern Jubiläum
Im Sommer 2016 feierte Jeff Beck sein 50. Jubiläum als Künstler, und zwar mit einem gigantischen Konzert in der berühmten Hollywood Bowl. 2017 gibt es endlich den Mitschnitt dieser Performance, und zwar als Konzertfilm und Livealbum: Hier ist »Jeff Beck: Live At The Hollywood Bowl«.

Zahlreiche Klassiker und Hits gab der Gitarrenvirtuose an diesem Abend zum Besten, darunter »Cause We've Ended As Lovers«, »Big Block«, »For Your Love«, »Beck's Bolero«, »Over Under Sideways Down«, »A Day In The Life«, »Blue Wind« und viele mehr. Ein Highlight der Show ist außerdem das Prince-Cover »Purple Rain«. Der Künstler war wenige Monate zuvor gestorben. Das gesamte Tracklisting von »Jeff Beck: Live At The Hollywood Bowl« finden Sie im Folgenden.

Und natürlich waren auch einige prominente Wegbegleiter gekommen, um Jeff Beck auf der Bühne zu unterstützen: Aerosmith-Frontmann Steven Tyler, Billy F. Gibbons von ZZ Top, Beth Hart, der tschechische Jazzpianist und -keyboarder Jan Hammer, Jimmy Hall und Blueslegende Buddy Guy.

Besser hätte Jeff Beck sein großes Jubiläum nicht zelebrieren können als mit diesem Konzert. Für alle, die nicht dabei sein konnten, gibt es jetzt »Live At The Hollywood Bowl«.


Disk 1 von 3 (CD)
1 The Revolution Will Be Televised
2 Over Under Sideways Down
3 Heart Full Of Soul
4 For Your Love
5 Beck's Bolero
6 Medley: Rice Pudding / Morning Dew
7 Freeway Jam
8 You Never Know
9 Cause We've Ended As Lovers
10 Star Cycle
11 Blue Wind
12 Big Block
Disk 2 von 3 (CD)
1 I'd Rather Go Blind
2 Let Me Love You
3 Live In The Dark
4 Scared For The Children
5 Rough Boy
6 Train Kept A-Rollin'
7 Shapes Of Things
8 A Day In The Life
9 Purple Rain
Disk 3 von 3 (DVD)
1 The Revolution Will Be Televised
2 Over Under Sideways Down
3 Heart Full Of Soul
4 For Your Love
5 Beck's Bolero
6 Medley: Rice Pudding / Morning Dew
7 Freeway Jam
8 You Never Know
9 Cause We've Ended As Lovers
10 Star Cycle
11 Blue Wind
12 Big Block
13 I'd Rather Go Blind
14 Let Me Love You
15 Live In The Dark
16 Scared For The Children
17 Rough Boy
18 Train Kept A-Rollin'
19 Shapes Of Things
20 A Day In The Life
21 Purple Rain
Mehr von Eagle