Harry Stafford: Gothic Urban Blues
Gothic Urban Blues
LP
LP (Long Play)
Die gute alte Vinyl - Langspielplatte.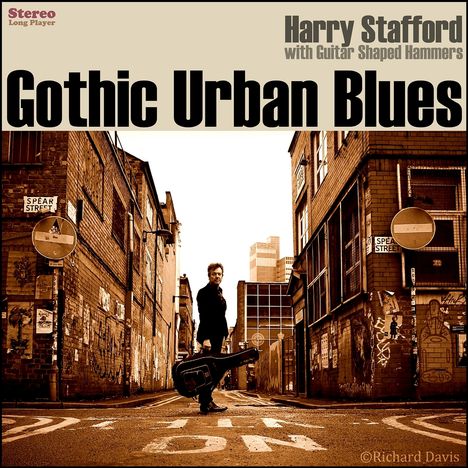 lieferbar innerhalb 1-2 Wochen
(soweit verfügbar beim Lieferanten)
Vinyl liefern wir innerhalb Deutschlands immer portofrei.
Label: Black Lagoon, 2019
Bestellnummer:

9720625

Erscheinungstermin: 27.3.2020
Weitere Ausgaben von Gothic Urban Blues
Product Information

For fans of: Tom Waits, Nick Cave, Gavin Friday, Mark Lanegan, C. W. Stoneking, Greg Dulli, Inca Babies.

Manchester-based indie music stalwart Harry Stafford has announced his forthcoming album »Gothic Urban Blues«, an album about the Metropolis, the naked city, the urban sprawl and the need to get back to the ripped back streets when you're far away. If there are a million stories in the naked city, here are a few to keep you warm. Ahead of this, they present the lead track »She Just Blew Me Away«. »She Just Blew Me Away« is dedicated to Jim the singer, who would tell me stories of his love affairs. He would begin with. »I mean, she just blew me away«. And and how did it end? I would ask. »Ah well, she just blew me away«, says Harry Stafford.

Mixed and engineered by Ding Archer (The Fall, PJ Harvey) at his 6Db Studio in Salford, this album was co-produced by Archer and Harry Stafford. Led by Harry Stafford, best known as founder, guitarist and vocalist of post-punk gothic rockers Inca Babies, the band's core includes drummer Rob Haynes (The Membranes, Inca Babies), trumpeter Kevin Davy (Lamb, Cymande), guitarist Andy Mills, and Vincent O'Brien on Weisseborn slide guitar. Formed in the early 1980s, Inca Babies released four albums and multiple singles and Peel sessions. Much of his musical career has been spent with Inca Babies, playing across Europe and the world but in 2015, after 35 years with Inca Babies, Stafford decided to release untamed solo material that echoes his love of blues piano and barroom ballads.

The new album »Gothic Urban Blues« and debut solo album »Guitar Shaped Hammers«, released in December 2017, are the inevitable result, reflecting a multitude of ideas around a driving yet lilting punk-piano blues. The idea was for Stafford to leave his noisy electric guitar behind - abandoning everything he held and cherished - to make some new music with a piano and a head full of ideas.

The new album, out in March 2020, features a more defined sound of a band finding its stride. The band is hereforth called Guitar Shaped Hammers to reflect this cohesion of musical unity - with more guitars from Vincent O'Brien, and an additional layered sonic blast from Nick Brown (The Membranes). With intense percussion from Rob Haynes and a truly masterful trumpet contribution from jazz supremo Kevin Davy, the result is very much the soundtrack of a basement radio station stumbling across a new genre they've tagged Gothic Urban Blues.


Die Hörproben gehören zum Artikel Harry Stafford: Gothic Urban Blues (CD). Das Tracklisting kann bei diesem Artikel ggf. abweichen.
LP
1 She Just Blew Me Away
2 Cruel Set Of Shades
3 Gothic Urban Blues
4 Painted Ocean
5 Infinite Dust
6 Black Rain
7 Sideways Shuffle
8 Disappearing
9 Man In A Bar
10 Into The Storm
Mehr von Harry Stafford