Fury In The Slaughterhouse: Little Big World: Live & Acoustic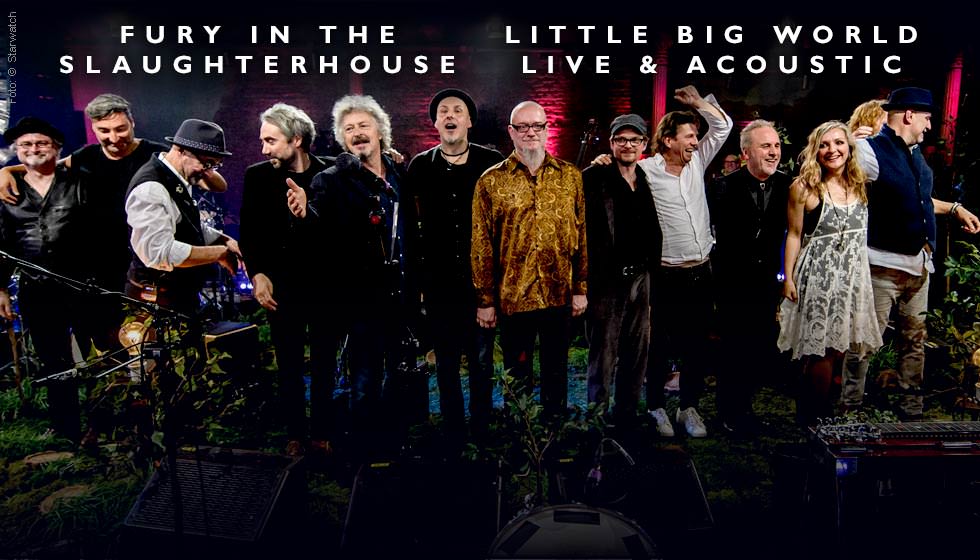 Fury feiern weiter
Fury In The Slaughterhouse setzen die Feierlichkeiten zu ihrem 30. Geburtstag fort. Nicht nur, dass die Hannoveraner Rockband Ende 2017 auf umfangreiche Akustik-Tour durch Deutschland geht, passend dazu gibt es auch ein Liveakustikalbum.

»Little Big World: Live & Acoustic« heißt der Mitschnitt, der auf jeden Fall Lust auf die anstehende Konzertreise macht.
Little Big World: Live & Acoustic
2 CDs
CD (Compact Disc)
Herkömmliche CD, die mit allen CD-Playern und Computerlaufwerken, aber auch mit den meisten SACD- oder Multiplayern abspielbar ist.
versandfertig innerhalb von 1-3 Tagen
(soweit verfügbar beim Lieferanten)
-52%
Label: Starwatch, 2017
Bestellnummer:

7486257

Erscheinungstermin: 1.9.2017
*** Digipack
Gesamtverkaufsrang: 869
Verkaufsrang in CDs: 362
Das Akustikalbum
Erst Anfang des Jahres veröffentlichten Fury In The Slaughterhouse passend zu ihrem 30. Jubiläum ein Best-Of-Album mit einigen neuen Songs, mit dem sie auf Platz drei der Charts landeten.

Jetzt präsentieren Kai Wingenfelder, Thorsten Wingenfelder, Christof Stein-Schneider, Rainer Schumann, Gero Drnek und Christian Decker ein weiteres Highlight für ihre Fans: das neue Konzertalbum »Little Big World: Live & Acoustic«.

Das Akustikalbum wurde Ende April live im Hamburger Grünspan aufgenommen. 23 Songs warten darauf, darunter viele Fury-Klassiker.

Außerdem warten einige spannende Gäste auf »Little Big World: Live & Acoustic«, zum Beispiel Produzent Mousse T. und Kölschrocker Wolfgang Niedecken.

Alle Titel wurden für das Konzert von Produzent Jan Löchel neu arrangiert.

Ein weiteres Geschenk zum 30. Geburtstag von Fury In The Slaughterhouse: das Akustikalbum »Little Big World: Live & Acoustic«. So hat man diese Songs noch nie gehört.


Rezensionen
»Gediegen, spannend, nicht nur etwas für Fury-Jünger.« (Good Times, Oktober / November 2017)
Disk 1 von 2
1 My Little World
2 When God Goes Home
3 Words
4 Dancing In The Sunshine Of The Dark
5 Last Order
6 Bar Des Boulistes
7 Every Generation Got Its Own Disease
8 Then She Said
9 Things Like This
10 Protection
11 When I'm Dead And Gone
12 Dance On The Frontline
Disk 2 von 2
1 Radio Orchid
2 Cry It Out
3 In Your Room
4 30 (It's Not Easy)
5 Seconds To Fall
6 Boys Don't Cry
7 Won't Forget These Days
8 Down There
9 Milk And Honey
10 Time To Wonder
11 Trapped Today, Trapped Tomorrow