Fury In The Slaughterhouse: 30 - The Ultimate Best Of Collection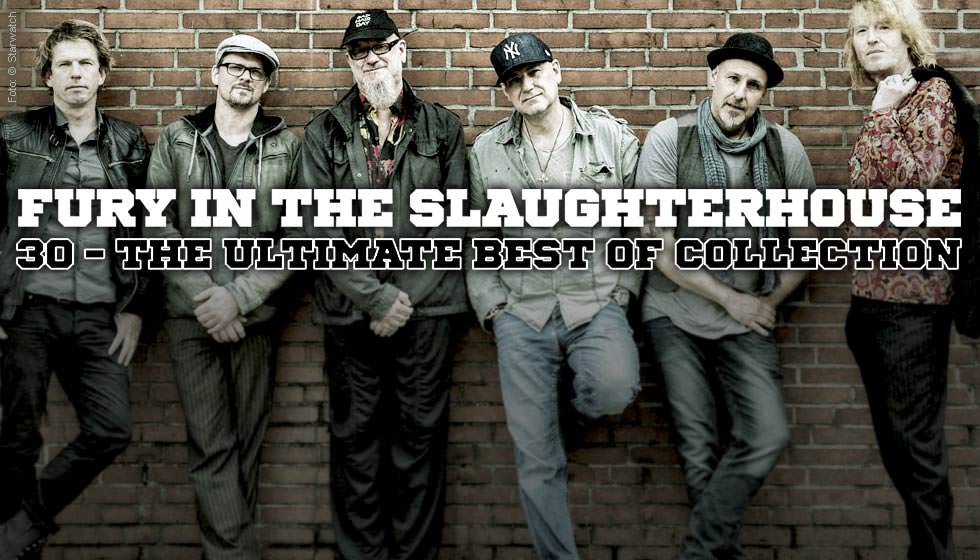 Alte Hits und neue Songs
30 Jahre ist es her, dass die Brüder Kai und Thorsten Wingenfelder zusammen mit Rainer Schumann, Christof Stein-Schneider und Hannes Schäfer in Hannover die Rockband Fury in the Slaughterhouse gründeten. Von da an begann ihre beeindruckende Karriere, die zahlreiche Alben in den Charts, und sogar mehrere Top-10-Platten hervorbrachte.

Passend zu ihrem Jubiläum haben Fury jetzt eine ganz besondere Überraschung im Gepäck: Die Deluxe-Box »30 – The Ultimate Best Of Collection« wirft einen umfangreichen Blick zurück auf ihr kreatives Schaffen, und zwar in Bild und Ton.

30 - The Ultimate Best Of Collection
3 CDs
CD (Compact Disc)
Herkömmliche CD, die mit allen CD-Playern und Computerlaufwerken, aber auch mit den meisten SACD- oder Multiplayern abspielbar ist.
Label: Starwatch
Bestellnummer:

6198782

Erscheinungstermin: 10.3.2017
*** Digipack
Gesamtverkaufsrang: 219
Verkaufsrang in CDs: 93
Das große Jubiläumsalbum von Fury in the Slaughterhouse
30 Jahre sind seit ihrer Gründung vergangen, neun Jahre seit ihrer offiziellen Trennung. Und nachdem sich Fury in the Slaughterhouse in den letzten Jahren bereits hier und da für einen gemeinsamen Auftritt zusammengefunden haben, gibt es 2017 ein weiteres Wiedersehen mit der Hannoveraner Rockband.

Im Gepäck haben Kai Wingenfelder, Thorsten Wingenfelder, Christof Stein-Schneider, Rainer Schumann, Gero Drnek und Christian Decker nicht nur mehrere Konzerttermine, sondern auch ein Best-of inklusive ein paar – jetzt kommt es – brandneuen Songs! Hier ist »30 - The Ultimate Best Of Collection«.

Insgesamt drei CDs umfasst die Sammlung, von denen die ersten beiden die Hits und Lieblingssongs aus den Jahren 1987 - 2007 versammeln. Mit dabei sind Fury-Klassiker wie »Time To Wonder«, »Every Generation Got Its Own Disease«, »When I'm Dead And Gone« und »Won't Forget These Days«.

Auf CD drei warten insgesamt sechs neue Songs der Band sowie zwei Remixe von »Love Has Gone Home« und »Dance On The Frontline«.

Fury in the Slaughterhouse feiern Geburtstag. Passend dazu gibt es ein großartiges Geschenk an ihre Fans: die »30 - The Ultimate Best Of Collection«.
Rezensionen
»Was die Audiosammlung 30 von der 1998er Ultimate Fury Collection mit ihren Remixen und Single-B-Seiten unterscheidet, sind mehr Güteklasse-A-Songs aus der Zeit bis 2007 und die Zugabe: Von den sechs neuen Songs auf CD 3 (plus 2 Remixe) ist ›Dance On The Frontline‹ wieder genauso ein hymnisch gesteigerter Ohrwurm, für den man Fury liebte und liebt.« (Good Times, April / Mai 2017)
Disk 1 von 3
1 Every Generation Got Its Own Disease
2 Come On
3 Radio Orchid
4 Milk and Honey
5 Then She Said
6 When I'm Dead and Gone
7 Hello and Goodbye
8 One Way Dead End Street
9 Dancing in the Sunshine of the Dark
10 Everything I Did
11 Time to Wonder
12 Kick It Out
13 Riding on a Dead Horse
14 Bring Me Home
15 Seconds to Fall
Disk 2 von 3
1 Are You Real
2 Won't Forget These Days
3 Trapped Today, Trapped Tomorrow
4 Brilliant Thieves
5 Protection
6 Homesick
7 Starless
8 All the Young Dudes
9 Down There
10 Midnight Rider
11 Goodbye, So Long
12 Haunted Head and Heart
13 She's a Star
14 Dear Prudence
15 Things Like This
Disk 3 von 3
1 30 (it's Not Easy)
2 Love Has Gone Home
3 My Personal Everest
4 Dance on the Frontline
5 The Last Order
6 Words
7 Love Has Gone Home - Remix By Rcm
8 Dance On The Frontline - Puntillas-Remix By Rcm