Filmmusik: 1917 (180g) (Limited Numbered Edition) (Full Metal Jacket Green & Silver Swirled Vinyl)
Filmmusik: 1917 (180g) (Limited Numbered Edition) (Full Metal Jacket Green & Silver Swirled Vinyl)
2 LPs
LP (Long Play)
Die gute alte Vinyl - Langspielplatte.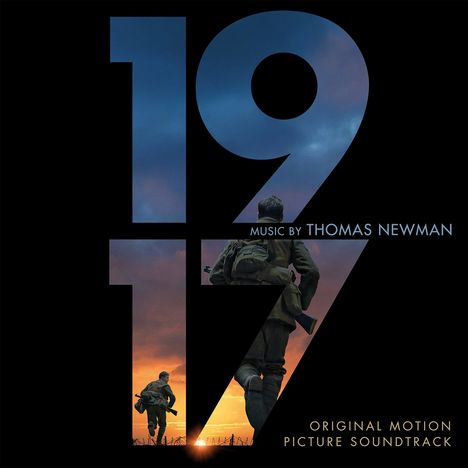 Derzeit nicht erhältlich.
Lassen Sie sich über unseren eCourier benachrichtigen, falls das Produkt bestellt werden kann.
Vinyl liefern wir innerhalb Deutschlands immer portofrei.
Weitere Ausgaben von Filmmusik: 1917
* Full Metal Jacket Vinyl = Green & Silver Swirled Vinyl
*** limitiert auf 2000 Exemplare
*** Gatefold Cover
Product Information

At the height of the First World War, two young British soldiers, Schofield (Captain Fantastic's George MacKay) and Blake (Game of Thrones' Dean-Charles Chapman) are given a seemingly impossible mission. In a race against time, they must cross enemy territory and deliver a message that will stop a deadly attack on hundreds of soldiers – Blake's own brother among them. The music to the movie is composed by Thomas Newman (The Shawshank Redemption, American Beauty, Road to Perdition).

Newman has received a whopping 14 Oscar bids throughout his career, and this new epic score is already nominated for an Oscar and Hollywood Critics Association Award. Since the film is designed to be told in one continuous shot from cinematographer Roger Deakins, Newman's pulse-pounding score often serves as a unique form of editing. The music cuts off during dramatic cues, ramps up in battle scenes and, in one breathtaking moment, becomes almost operatic as MacKay runs through war ruins to escape being seen from enemy flares.

1917 is directed by Sam Mendes, who wrote the screenplay with Krysty Wilson-Cairns (Showtime's Penny Dreadful). Rotten Tomatoes critical consensus reads: »Hard-hitting, immersive, and impressive technical achievement, 1917 captures the trench warfare of World War I with raw, startling immediacy.«
Die Hörproben gehören zum Artikel 1917 (CD). Das Tracklisting kann bei diesem Artikel ggf. abweichen.
LP
1 1917
2 Up the down trench
3 Gehenna
4 A scrap of ribbon
5 The night window
6 The boche
7 Tripwire
8 A bit of tin
9 Lockhouse
10 Blake and schofield
LP
1 Milk
2 Icoust-saint-mein
3 Les arbres
4 Engldnder
5 The rapids
6 Croisilles wood
7 Sixteen hundred men
8 Mentions in dispatches
9 Come back to us