Eric Clapton: Eric Clapton's Crossroads Guitar Festival 2019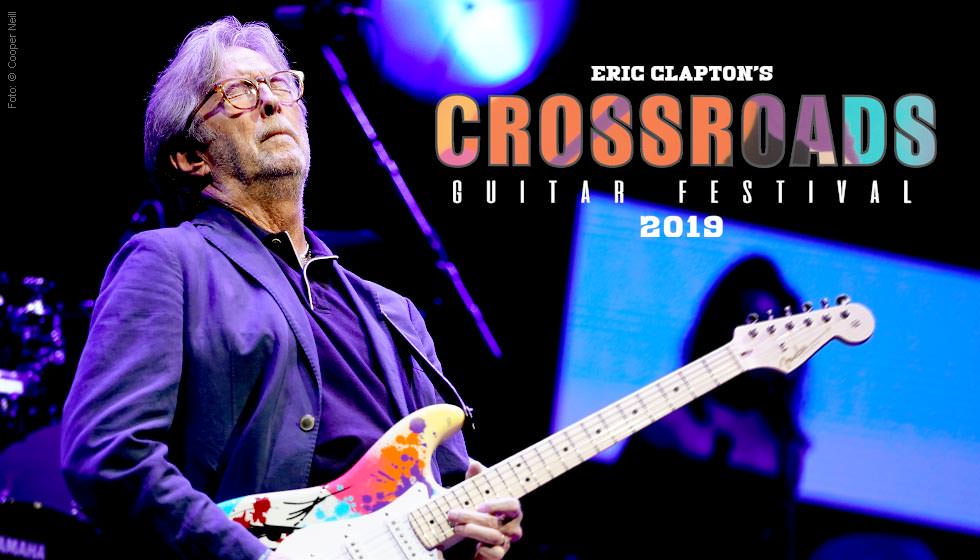 Die Besten
Seit mittlerweile 16 Jahren lädt Eric Clapton nun schon regelmäßig zum »Crossroads Guitar Festival« und versammelt einige der besten Gitarristen der Welt auf der Bühne.

So auch 2019: »Eric Clapton's Crossroads Guitar Festival 2019« heißt das Best-of des Benefiz-Events, das auf CD, LP, DVD und Blu-ray erscheint.
Eric Clapton's Crossroads Guitar Festival 2019
3 CDs
CD (Compact Disc)
Herkömmliche CD, die mit allen CD-Playern und Computerlaufwerken, aber auch mit den meisten SACD- oder Multiplayern abspielbar ist.
Label: Warner, 2019
Bestellnummer:

10313706

Erscheinungstermin: 20.11.2020
*** Digisleeve
Gesamtverkaufsrang: 2844
Verkaufsrang in CDs: 1360
Die neue Sammlung fängt nahezu vier Stunden von Highlights ein, aufgenommen im vergangenen Jahr beim gefeierten Benefiz-Musikfestival, das der legendäre Gitarrist ins Leben rief.

Eric Clapton, einer der weltweit herausragenden Blues/Rockgitarristen, versammelte 2019 für sein fünftes Crossroads Guitar Festival einmal mehr ein All-Star-Team aus Sechs-Saiten-Helden. Veranstaltet im American Airlines Center im texanischen Dallas, sammelte das zweitägige Konzertevent Gelder für das Crossroads Centre in Antigua, der 1998 von Clapton gegründeten Therapieeinrichtung für Alkohol- und Drogenabhängige.

Nach einer sechsjährigen Auszeit kehrte das Festival mit neuer Energie und herausragenden Performances zurück, darunter von James Bay, Jeff Beck, Doyle Bramhall II, Gary Clark Jr., Robert Cray, Sheryl Crow, Andy Fairweather Low, Peter Frampton, Vince Gill, Buddy Guy, Sonny Landreth, Lianne La Havas, Los Lobos, John Mayer, Keb' Mo', Bonnie Raitt, Robert Randolph, Tedeschi Trucks Band, Jimmie Vaughan und weiteren.

Rhino fängt die besten Momente der atemberaubenden Demonstration von Gitarrenvirtuosität mit neuen Video- und Audio-Sammlungen noch einmal ein. Eric Clapton's Crossroads Guitar Festival 2019 erscheint in mehreren Konfigurationen: 3CD, 6LP, 2DVD und Blu-Ray.
Im Verlauf der Show teilte sich Clapton die Bühne mit anderen Musikern, um einige seiner bekanntesten Songs zu performen, darunter »Layla« mit John Mayer und akustische Versionen von »Wonderful Tonight« und »Lay Down Sally« mit Andy Fairweather Low. Mit einem glühenden Vortrag von »While My Guitar Gently Weeps« an Seite Peter Framptons verbeugte sich Clapton außerdem vor seinem verstorbenen Freund George Harrison.

Das Crossroads-Lineup hatte eine beeindruckende Mischung an Künstlern zu bieten, darunter Legenden wie Bonnie Raitt, James Burton, Robert Cray und Jeff Beck (dessen exzellentes Cover von The Beach Boys' »Caroline, No« ein Höhepunkt des Festivals war), zeitgenössische Stars wie Gary Clark Jr., Robert Randolph und Sheryl Crow sowie aufstrebende Talente wie The Marcus King Band, Tom Misch und Lianne La Havas.

Die Live-Kollaborationen auf der Bühne hielten erwartungsgemäß einige der fesselndsten Momente bereit. Zu nennen wären beispielsweise ein Cover von The Stooges' »I Wanna Be Your Dog« von Doyle Bramhall II, Susan Tedeschi, Derek Trucks, Jim Keltner und Schauspieler Bill Murray (der Conférencier des Festivals); Buddy Guy und Johnny Lang, die durch Guys Klassiker »Cognac« pflügten; und eine Version von Merle Haggards Hit »Tonight The Bottle Let Me Down« von Vince Gill, Albert Lee, Bradley Walker und Dobro-Meister Jerry Douglas. Für die Zugabe kehrte Clapton zurück auf die Bühne, um Ensemble-Performances von Princes »Purple Rain« und Joe Cockers »High Time We Went« anzuführen.


Disk 1 von 3 (CD)
1 Native Stepson / Sonny Landreth
2 Wonderful Tonight / Eric Clapton & Andy Fairweather Low
3 Lay Down Sally / Eric Clapton & Andy Fairweather Low
4 Million Miles / Bonnie Raitt, Keb' Mo' & Alan Darby
5 Son's Gonna Rise / Citizen Cope With Gary Clark Jr.
6 Lait / De Ushuaia A La Quiaca / Gustavo Santaolalla
7 I Wanna Be Your Dog / Doyle Bramhall Ii With Tedeschi Trucks Band
8 That's How Strong My Love Is / Doyle Bramhall II With Tedeschi Trucks Band
9 Going Going Gone / Doyle Bramhall Ii With Tedeschi Trucks Band
10 Lift Off / Tom Misch
11 Cognac / Buddy Guy & Jonny Lang
12 Everything Is Broken / Sheryl Crow & Bonnie Raitt
13 Every Day Is A Winding Road / Sheryl Crow With James Bay
14 Retrato / Daniel Santiago & Pedro Martins
15 B Side / Kurt Rosenwinkel With Pedro Martins
16 Baby, Please Come Home / Jimmie Vaughan With Bonnie Raitt
Disk 2 von 3 (CD)
1 I Shiver / Robert Cray
2 How Long / The Marcus King Band
3 Goodbye Carolina / The Marcus King Band
4 While My Guitar Gently Weeps / Peter Frampton With Eric Clapton
5 Space For The Papa / Jeff Beck
6 Big Block / Jeff Beck
7 aroline, No / Jeff Beck
8 Cut Em Loose / Robert Randolph
9 Hold Back The River / James Bay
10 When We Were On Fire / James Bay
11 Mas Y Mas / Los Lobos
12 Am I Wrong? / Keb' Mo'
13 Slow Dancing In A Burning Room / John Mayer
14 How Blue Can You Get? / Tedeschi Trucks Band
15 Shame / Tedeschi Trucks Band
Disk 3 von 3 (CD)
1 Is Your Love Big Enough / Lianne La Havas
2 I Say A Little Prayer / Lianne La Havas
3 Feed The Babies /Gary Clark Jr.
4 I Got My Eyes On You (Locked & Loaded) / Gary Clark Jr.
5 Pearl Cadillac / Gary Clark Jr.
6 Tonight The Bottle Let Me Down / Vince Gill With Albert Lee, Bradley Walker & Jerry Douglas
7 Tulsa Time / Vince Gill With Albert Lee, Bradley Walker & Jerry Douglas
8 Drifting Too Far From The Shore / Vince Gill With Albert Lee, Bradley Walker & Jerry Douglas
9 Badge / Eric Clapton
10 Layla / Eric Clapton With John Mayer & Doyle Bramhall II Encore Finale
11 Purple Rain / Eric Clapton & Ensemble
12 High Time We Went / Eric Clapton & Ensemble