Eric Burdon & The Animals: When I Was Young: The MGM Recordings 1967 - 1968 (Remastered & Expanded)
When I Was Young: The MGM Recordings 1967 - 1968 (Remastered & Expanded)
5 CDs
CD (Compact Disc)
Herkömmliche CD, die mit allen CD-Playern und Computerlaufwerken, aber auch mit den meisten SACD- oder Multiplayern abspielbar ist.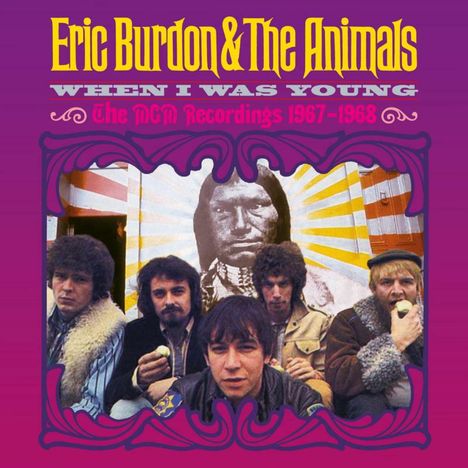 umgehend lieferbar, Bestand beim Lieferanten vorhanden
Label: Cherry Red
Bestellnummer:

9574674

Erscheinungstermin: 6.1.2023
*** digitally remastered
*** Papersleeves/Digisleeves in Stülpdeckelbox
Gesamtverkaufsrang: 613
Verkaufsrang in CDs: 224
Deluxe Box Set inklusive aller Klassiker von Eric Burdon & The Animals, darunter die Alben »Winds Of Change«, »The Twain Shall Meet«, »Every One Of Us«, »Love Is« und die rare Mono Version von »Winds Of Change« / Alles von den Original Tapes neu remastert / Mit 10 Bonus Tracks von Singles Veröffentlichungen / Inklusive illustriertem Booklet, neuen Linernotes und einem Poster.

Das neue Box Set featured alle Aufnahmen von Eric Burdon & The Animals für das Label MGM Records aus der Zeit von Oktober 1967 bis Dezember 1968.

Eric Burdon & The Animals kamen im Dezember 1966, als sich die Original Animals auflösten. Sänger Eric Burdon rekrutierte Vic Briggs (Gitarre, Piano), John Weider (Gitarre, Violine, Bass), Danny McCulloch (Bass) und Barry Jenkins (Drums), um eine neue Band zu gründen, die ihre musikalische Richtung weg vom wütenden Rhythm and Blues hin zu Psychedelic Rock entwickelte.

Sie unterschrieben bei MGM Records in den USA und gewannen Tom Wilson (Bob Dylan, The Mothers Of Invention, The Velvet Underground) als Produzenten. 1 ½ Jahre später erschien bereits das finale Album der Truppe. Eric Burdon blieb in den USA und schloss sich 1969 der Band War an.


Rezensionen
»Esoteric Records veröffentlicht nun alle vier Alben remastert in einer Box mit fünf CDs (Winds Of Change ist im Stereo-­ und Monomix enthalten).​ Als Bonus gibt es die A­ und B-­Seiten der Non­-Album­-Singles (darunter ›When I Was Young‹) sowie ein Booklet und Poster.​« (Good Times, Februar/März 2020)
Disk 1 von 5 (CD)
1 Winds Of Change
2 Poem By The Sea
3 Paint It Black
4 The Black Plague
5 Yes, I Am Experienced
6 San Franciscan Nights
7 Man Woman
8 Hotel Hell
9 Good Times
10 Anything
11 Its All Meat
12 When I Was Young
13 A Girl Named Sandoz
14 Aint That So
15 Gratefully Dead
16 Anything (Single Version)
Disk 2 von 5 (CD)
1 Monterey
2 Just The Thought
3 Closer To The Truth
4 No Self Pity
5 Orange And Red Beams
6 Sky Pilot
7 We Love You Lil
8 All Is One
9 Sky Pilot (Part One) (Mono Single)
10 Sky Pilot (Part Two) (Mono Single)
11 Monterey (Mono Single Version)
Disk 3 von 5 (CD)
1 White Houses
2 Uppers And Downers
3 Serenade To A Sweet Lady
4 The Immigrant Lad
5 Year Of The Guru
6 St. James Infirmary
7 New York 1963 America 1968
8 White Houses (Single Version)
Disk 4 von 5 (CD)
1 River Deep, Mountain High
2 Im An Animal
3 Im Dying, Or Am I?
4 Ring Of Fire
5 Coloured Rain
6 To Love Somebody
7 As The Years Go Passing By
8 Gemini
9 The Madman (Running Through The Fields)
10 River Deep, Mountain High (Single Version)
Disk 5 von 5 (CD)
1 Winds Of Change (Mono Mix)
2 Poem By The Sea (Mono Mix)
3 Paint It Black (Mono Mix)
4 The Black Plague (Mono Mix)
5 Yes, I Am Experienced (Mono Mix)
6 San Franciscan Nights (Mono Mix)
7 Man Woman (Mono Mix)
8 Hotel Hell (Mono Mix)
9 Good Times (Mono Mix)
10 Anything (Mono Mix)
11 Its All Meat (Mono Mix)