Ennio Morricone: Filmmusik: The Very Best Of Ennio Morricone (Hybrid-SACD)
Filmmusik: The Very Best Of Ennio Morricone (Hybrid-SACD)
Super Audio CD
SACD (Super Audio CD)
Die SACD verwendet eine höhere digitale Auflösung als die Audio-CD und bietet außerdem die Möglichkeit, Mehrkanalton (Raumklang) zu speichern. Um die Musik in High-End-Qualität genießen zu können, wird ein spezieller SACD-Player benötigt. Dank Hybrid-Funktion sind die meisten in unserem Shop mit "SACD" gekennzeichneten Produkte auch auf herkömmlichen CD-Playern abspielbar. Dann allerdings unterscheidet sich der Sound nicht von einer normalen CD. Bei Abweichungen weisen wir gesondert darauf hin (Non-Hybrid).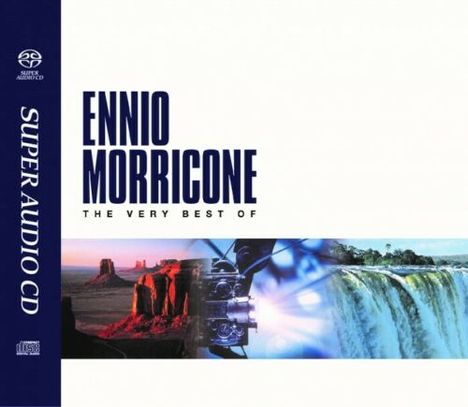 versandfertig innerhalb von 1-3 Tagen
(soweit verfügbar beim Lieferanten)
-31%
Label: Virgin
Bestellnummer:

2508120

Erscheinungstermin: 1.4.2016
Weitere Ausgaben von Filmmusik: The Very Best Of Ennio Morricone
Sound: Stereo (Hybrid)
Gesamtverkaufsrang: 2978
Verkaufsrang in Super Audio CDs: 36
In den Jahren von 1961 bis 2000 hatte Morricone bereits hunderte von Filmmusiken komponiert. Hier versammelt sind 20 grandiose Beispiele seines Schaffens, darunter natürlich auch "The Good, The Bad And The Ugly" (Zwei glorreiche Halunken). Das Hauptthema des Soundtracks wurde auch zu einem Hit für Hugo Montenegro, der mit seiner Fassung im Jahr 1968 auf Position 2 der Billboard Charts kletterte.


Disk 1 von 1 (SACD)
1 For a few dollars more (For A View Dollars More)
2 The good, the bad and the ugly (The Good, The Bad & The Ugly)
3 Chi mai (The Life And Times Of David Lloyd George)
4 The mission (The Mission)
5 Gabriel's oboe (The Mission)
6 Cinema Paradiso (Cinema Paradiso)
7 Cockey's theme (Once Upon A Time In America)
8 Deborah's theme (Once Upon A Time In America)
9 Once upon a time in the West (Once Upon A Time In The West)
10 The man with the harmonica ((Once Upon A Time In The West)
11 The battle of Algiers (The Battle Of Algiers)
12 The Sicilian clan (The Sicilian Clan)
13 Sacco and Vanzetti (Sacco And Vanzetti)
14 A fistful of dynamite (A Fistful Of Dynamite)
15 My name is nobody (My Name Is Nobody)
16 Moses theme (Moses The Lawgiver)
17 Frantic (Frantic)
18 Hamlet (Version 1) (Hamlet)
19 A heart beats in space (Mission To Mars)