Eagles: Live From The Forum MMXVIII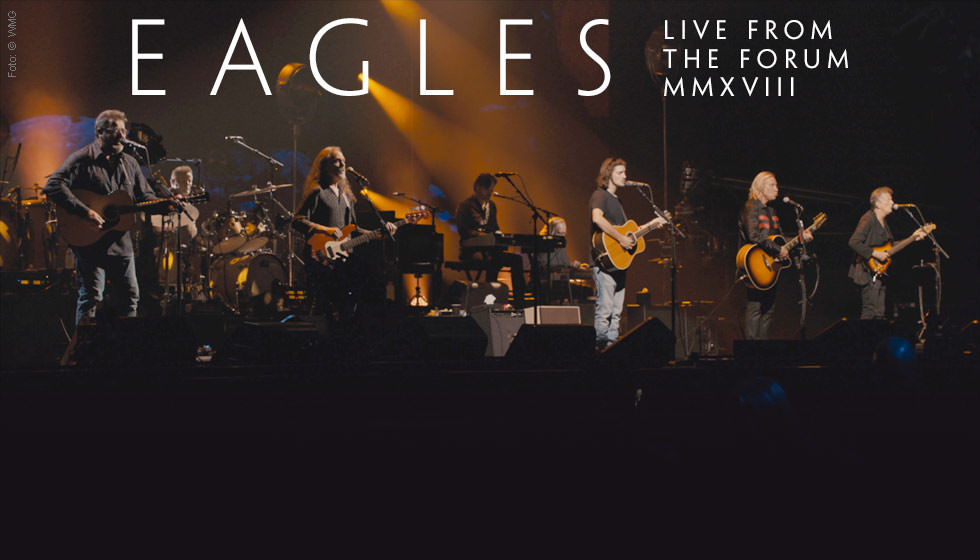 Drei Gigs, ein Album
Zwei Jahre sind vergangen, seit die legendären Eagles im Rahmen ihrer Tournee durch Nordamerika drei mitreißende Gigs in Los Angeles spielten.

2020 gibt es jetzt endlich den Mitschnitt, ein Best-of der drei Konzerte, und zwar in Bild und Ton: Hier ist »Eagles: Live From The Forum MMXVIII«.
Live From The Forum MMXVIII
2 CDs, 1 DVD
CD (Compact Disc)
Herkömmliche CD, die mit allen CD-Playern und Computerlaufwerken, aber auch mit den meisten SACD- oder Multiplayern abspielbar ist.
DVD
Die meisten angebotenen DVDs haben den Regionalcode 2 für Europa und das Bildformat PAL. Wir bieten aber auch Veröffentlichungen aus den USA an, die im NTSC-Format und mit dem Ländercode 1 auf den Markt kommen. Dies ist dann in unseren Artikeldetails angegeben.
Label: Rhino, 2018
FSK ab 0 freigegeben
Bestellnummer:

10233030

Erscheinungstermin: 16.10.2020
DVD:Sound:Dolby Digital 2.0;Laufzeit:Keine Angaben
*** Digipack
Gesamtverkaufsrang: 1700
Verkaufsrang in CDs: 762
Livealbum und Konzertfilm fangen ultimative 26-Song-Performance ein, mitgeschnitten im September 2018 im Fabulous Forum in L.A.

Die ersten Eagles-Aufnahmen mit Vince Gill und Deacon Frey

Erhältlich über Rhino in diversen Audio- und Video-Formaten

Die Eagles verbrachten den Großteil des Jahres 2018 auf einer ausgedehnten Nordamerikatour, bei der Don Henley, Joe Walsh und Timothy B. Schmit mit Vince Gill und Deacon Frey auftraten. Begleitet von Lobeshymnen seitens der Fans und Kritiker gleichermaßen, fand sich das Quintett am Forum in Los Angeles ein, um am 12., 14. und 15. September drei ausverkaufte, umjubelte Konzerte zu spielen. Highlights aller drei Konzerte wurden nun zu einem 26-Song-Livealbum und Konzertfilm zusammengestellt, die nun als »Live from The Forum MMXVIII« über Rhino erscheinen.

Live From The Forum MMXVIII, eine Produktion von Scheme Engine unter der Regie von Nick Wickham, wurde mit 14 4K-Kameras gefilmt. Rhino veröffentlicht es in unterschiedlichen Audio- und Videoformaten. Freuen kann man sich auf ultimative Live-Performances einiger der legendärsten Hits der Band (»Hotel California«, »Take It Easy«, »Life In The Fast Lane«, »Desperado«) und beliebte Album-Tracks (»Ol' 55«, »Those Shoes«), dazu kommen einige der größten Solo-Smasher der einzelnen Bandmitglieder (Henleys »Boys Of Summer«, Walshs »Rocky Mountain Way« und Gills »Don't Let Our Love Start Slippin' Away«).

In der wechselhaften, zersplitterten Rock-Landschaft von heute wahren Eagles eine Anziehungskraft, die Generationen und Genres überspannt und die Rolle der Band als bleibende musikalische Ikonen zementiert. Als erfolgreichste amerikanische Band der 70er und einer der meistverkaufenden Acts aller Zeiten haben die Eagles weltweit über 150 Millionen Alben verkauft, eroberten allein in den USA sechsmal die #1 der Album-Charts und fünfmal die Single-Charts. Ihr Greatest Hits 1971 - 1975 und Hotel California sind laut RIAA die #1- und #3-meistverkauften Alben aller Zeiten und jeweils 38-mal und 26-mal Platin-ausgezeichnet. Die Band gewann sechs Grammy-Awards, wurde 1998 gleich im ersten Jahr ihrer Eignung in die Rock & Roll Hall of Fame aufgenommen und erhielt 2016 den Kennedy-Preis.


Rezensionen
»Ein großartiges Konzert einer noch immer großartigen Band.« (Stereo, Dezember 2020)

»Ein herrliches Live-Erlebnis für Auge und Ohr.« (Audio, Dezember 2020)
Disk 1 von 3
1 Seven bridges road
2 Joe Walsh: "How ya doin?"
3 Take it easy
4 One of these nights
5 Don Henley: "Good evening, ladies and gentlemen"
6 Take it to the limit
7 Tequila sunrise
8 In the city
9 Timothy B. Schmit: "Hey, everybody, that's Joe walsh"
10 I can't tell you why
11 New kid in town
12 Don Henley: "Just want to thank all of you..."
13 How long
14 Deacon Frey: "Hello, everybody..."
15 Peaceful easy feeling
16 Ol' 55
17 Lyin' eyes
18 Love will keep us alive
19 Vince Gill: "How about a nice hand for California, man..."
20 Don't let our love start slippin' away
21 Those shoes
Disk 2 von 3
1 Already gone
2 Walk away
3 Joe Walsh: "Is everybody ok?"
4 Life's been good
5 The boys of summer
6 Heartache tonight
7 Funk #49
8 Life in the fast lane
9 Hotel California
10 Rocky mountain way
11 Desperado
12 The long run
Disk 3 von 3
1 Seven bridges road
2 Joe Walsh: "How ya doin?"
3 Take it easy
4 One of these nights
5 Don Henley: "Good evening, ladies and gentlemen"
6 Take it to the limit
7 Tequila sunrise
8 In the city
9 Timothy B. Schmit: "Hey, everybody, that's Joe Walsh"
10 I can't tell you why
11 New kid in town
12 Don Henley: "Just want to thank all of you..."
13 How long
14 Deacon Frey: "Hello, everybody..."
15 Peaceful easy feeling
16 Ol' 55
17 Lyin' eyes
18 Love will keep us alive
19 Vince Gill: "How about a nice hand for California, man..."
20 Don't let our love start slippin' away
21 Those shoes
22 Already gone
23 Walk away
24 Joe walsh: "Is everybody ok?"
25 Life's been good
26 The boys of summer
27 Heartache tonight
28 Funk #49
29 Life in the fast lane
30 Hotel California
31 Rocky mountain way
32 Desperado
33 The long run