Dream Theater: Lost Not Forgotten Archives: When Dream And Day Reunite (Live 2004) (180g) (Limited Edition) (Red Vinyl)
Lost Not Forgotten Archives: When Dream And Day Reunite (Live 2004) (180g) (Limited Edition) (Red Vinyl)
2 LPs, 1 CD
LP (Long Play)
Die gute alte Vinyl - Langspielplatte.
CD (Compact Disc)
Herkömmliche CD, die mit allen CD-Playern und Computerlaufwerken, aber auch mit den meisten SACD- oder Multiplayern abspielbar ist.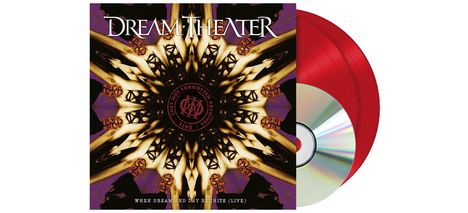 Vinyl liefern wir innerhalb Deutschlands immer portofrei.
Label: Inside Out
Bestellnummer:

10733732

Erscheinungstermin: 17.12.2021
Weitere Ausgaben von Lost Not Forgotten Archives: When Dream And Day Reunite
*** Gatefold Cover
Verloren, nicht vergessen
1985 gründeten sich Dream Theater. Bis heute veröffentlichten die US-amerikanischen Progressive-Metal-Ikonen zahlreiche Platten, darunter 14 Studio- und neun Livealben. Einige Aufnahmen blieben allerdings unveröffentlicht.
Dass sie diese Archivschätze nicht vergessen haben, zeigen sie mit ihrer neuen Albumserie »Lost Not Forgotten Archives«, die sie 2021 ins Leben gerufen haben. In Zusammenarbeit mit dem Label Inside Out wird der langjährige YtseJam-Katalog neu aufgelegt, neben einigen brandneuen Ergänzungen zu dieser speziellen Sammlerserie. YtseJam Records, seinerzeit von Mike Portnoy gegründet, war bereits Herausgeber der offiziellen Bootleg-Sammlung von Dream Theater, die Live-Shows, Demos und Studio-Outtakes aus der gesamten Karriere der Band umfasst. Als Teil von »Lost Not Forgotten Archives« wird die gesamte Sammlung auf CD sowie zum ersten Mal auf Vinyl mit brandneuem Artwork und neuer Verpackung wiederveröffentlicht.
Nach den Konzertmitschnitten
»Images And Words – Live In Japan, 2017«
und
»A Dramatic Tour Of Events – Select Board Mixes«
, der Instrumental-Demo-Sammlung
»Train Of Thought Instrumental Demos«
und der Metallica-Live-Hommage
»Master Of Puppets – Live in Barcelona, 2002«
setzen Dream Theater die Serie im Dezember fort, mit
»Lost Not Forgotten Archives: When Dream And Day Reunite (Live)«.
Der Mitschnitt aus dem Jahr 2004 wurde in Los Angeles aufgenommen und enthält eine vollständige Live-Performance des ersten Studioalbums der Band »When Dream And Day Unite« aus dem Jahr 1989 sowie ein Wiedersehen mit den ehemaligen Mitgliedern Derek Sherinian und Charlie Dominici.
Der Konzertmitschnitt erscheint als CD im Digipak und zum ersten Mal überhaupt auf Vinyl: als klassisch-schwarze Doppel-LP im Gatefold-Sleeve inklusive CD und als Limited Edition auf roter Doppel-LP inklusive CD. Die Aufnahmen wurden für »Lost Not Forgotten Archives: When Dream And Day Reunite (Live)« komplett remastert.
Die Hörproben gehören zum Artikel Dream Theater: Lost Not Forgotten Archives: When Dream And Day Reunite (Live) (Special Edition) (CD). Das Tracklisting kann bei diesem Artikel ggf. abweichen.
LP
1 A Fortune in Lies Live in Los Angeles, 2004
2 Status Seeker Live in Los Angeles, 2004
3 Ytse Jam Live in Los Angeles, 2004
4 The Killing Hand Live in Los Angeles, 2004
5 Light Fuse and Get Away Live in Los Angeles, 2004
LP
1 Afterlife Live in Los Angeles, 2004
2 The Ones Who Help to Set the Sun Live in Los Angeles, 2004
3 Only a Matter of Time Live in Los Angeles, 2004
4 To Live Forever Live in Los Angeles, 2004
5 Metropolis Live in Los Angeles, 2004
CD
1 A Fortune in Lies Live in Los Angeles, 2004
2 Status Seeker Live in Los Angeles, 2004
3 Ytse Jam Live in Los Angeles, 2004
4 The Killing Hand Live in Los Angeles, 2004
5 Light Fuse and Get Away Live in Los Angeles, 2004
6 Afterlife Live in Los Angeles, 2004
7 The Ones Who Help to Set the Sun Live in Los Angeles, 2004
8 Only a Matter of Time Live in Los Angeles, 2004
9 To Live Forever Live in Los Angeles, 2004
10 Metropolis Live in Los Angeles, 2004