Dream Theater: Lost Not Forgotten Archives: Images And Words Demos (1989 - 1991) (remastered) (180g)
Lost Not Forgotten Archives: Images And Words Demos (1989 - 1991) (remastered) (180g)
3 LPs, 2 CDs
LP (Long Play)
Die gute alte Vinyl - Langspielplatte.
CD (Compact Disc)
Herkömmliche CD, die mit allen CD-Playern und Computerlaufwerken, aber auch mit den meisten SACD- oder Multiplayern abspielbar ist.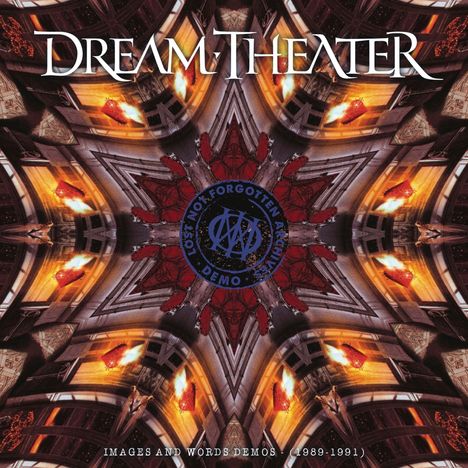 Vinyl liefern wir innerhalb Deutschlands immer portofrei.
Label: Inside Out, 1989-91
Bestellnummer:

10999642

Erscheinungstermin: 9.9.2022
*** Gatefold Cover
»Images And Words Demos (1989-1991)« wurde ursprünglich 2005 auf Ytsejam Records veröffentlicht und dokumentiert eine besondere Zeit für die Band, als sie sich auf die Veröffentlichung ihres bahnbrechenden Albums »Images and Words« vorbereitete.

Diese Sammlung enthält Instrumentalversionen von Dream Theater -Klassikern wie »Take The Time« und »Learning to Live«. Außerdem sind seltene frühe Versionen einiger der bekanntesten Songs der Band zu hören, wie z.B. 'Oliver's Twist', der später zum Fan-Favoriten »Pull Me Under« werden sollte. Außerdem sind die Originalaufnahmen der Probeaufnahmen zu hören, bei denen Dream Theater James LaBrie als ihren neuen Sänger verpflichteten. Remastered und zum ersten Mal auf Vinyl erhältlich, ist dies ein faszinierender Blick auf die ersten gemeinsamen Tage der Band.


Die Hörproben gehören zum Artikel Dream Theater: Lost Not Forgotten Archives: Images And Words Demos (1989 - 1991) (Special Edition) (CD). Das Tracklisting kann bei diesem Artikel ggf. abweichen.
LP
1 Instrumental Demos 1989-1991:Metropolis
2 Take The Time
3 Learning To Live
4 Under A Glass Moon
LP
1 The ATCO Demos May 1991:Metropolis
2 To Live Forever
3 Take The Time
4 Pull Me Under
5 Another Day
6 Surrounded
7 Under A Glass Moon
LP
1 I&W Pre-Production Demos October 1991:Wait For Sleep
2 Learning To Live
3 Oliver's Twist
4 Vocalist Audition Demos 1990:Don't Look Past Me (John Hendricks Vocals)
5 To Live Forever (John Hendricks Vocals)
6 To Live Forever (Steve Stone Vocals)
7 A Change Of Seasons (Chris Cintron Vocals)
CD
1 Metropolis (instrumental)
2 Take the time (instrumental)
3 Learning to live (instrumental)
4 Under a glass moon (instrumental)
5 Don't look past me (vocalist audition demo 1990)
6 To live forever (vocalist audition demo 1990)
7 To live forever (vocalist audition demo 1990)
8 A change of seasons (vocalist audition demo 1990)
CD
1 Metropolis (atco demo 1991)
2 To live forever (atco demo 1991)
3 Take the time (atco demo 1991)
4 Pull me under (pre-production demo 1991)
5 Another day (pre-production demo 1991)
6 Surrounded (pre-production demo 1991)
7 Under a glass moon (pre-production demo 1991)
8 Wait for sleep (pre-production demo 1991)
9 Learning to live (pre-production demo 1991)
10 Oliver's twist (pre-production demo 1991)