John Lunn: Filmmusik: Downton Abbey: The Ultimate Collection
Filmmusik: Downton Abbey: The Ultimate Collection
2 CDs
CD (Compact Disc)
Herkömmliche CD, die mit allen CD-Playern und Computerlaufwerken, aber auch mit den meisten SACD- oder Multiplayern abspielbar ist.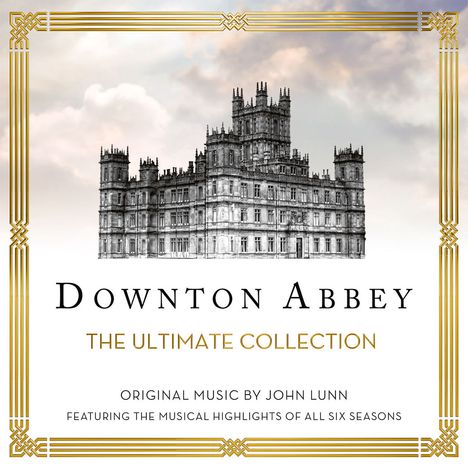 Artikel wird nachgefertigt.
Voraussichtlich wieder lieferbar Ende Januar 2023
Label: Decca
Bestellnummer:

8455995

Erscheinungstermin: 4.12.2015
Gesamtverkaufsrang: 14924
Verkaufsrang in CDs: 6944
Downton Abbey: The Ultimate Collection (OST) enthält die musikalischen Höhepunkte aller 6 Staffeln der legendären Downton Abbey Serie. Das ultimative Doppel-Album ist randvoll (36 Tracks) mit den schönsten Melodien der Serie. So lässt sich perfekt im Glanz vergangener Zeiten schwelgen. John Lunn, der Komponist der Serie, ist auch als Pianist auf dem Album zu hören – dazu das Chamber Orchestra of London und die Sängerinnen Eurielle und Mary-Jess Leaverland. Wer wirklich alle musikalischen Highlights aus Downton Abbey sein Eigen nennen möchte, der greift zu »The Ultimate Collection«.
Disk 1 von 2 (CD)
1 Downton Abbey - The Suite (2015 Version)
2 Story Of My Life
3 Love And The Hunter
4 Preparation
5 Such Good Luck (2015 Version)
6 Did I Make The Most Of Loving You
7 Damaged (2015 Version)
8 Violet
9 I'll Count The Days
10 Fashion
11 Us And Them
12 The Fallen
13 Elopement
14 New World
15 A Dangerous Path
16 Escapades 1
17 A Glimpse Of Happiness
Disk 2 von 2 (CD)
1 A Grand Adventure
2 Duneagle
3 Not One's Just Desserts
4 Life After Death
5 Marmalade Cake Walk
6 A Mother's Love
7 The Hunt
8 Nothing Will Be Easy
9 Down In China Townton
10 Escapades 2
11 Brancaster
12 Goodbye
13 It's Not Goodbye It's Au Revoir
14 The New Gladiators
15 Modern Love
16 Ambassador Stomp
17 The Butler And The Housekeeper
18 Two Sisters
19 End Of An Era