Def Leppard: And There Will Be A Next Time ... Live From Detroit
And There Will Be A Next Time ... Live From Detroit
2 CDs, 1 DVD
CD (Compact Disc)
Herkömmliche CD, die mit allen CD-Playern und Computerlaufwerken, aber auch mit den meisten SACD- oder Multiplayern abspielbar ist.
DVD
Die meisten angebotenen DVDs haben den Regionalcode 2 für Europa und das Bildformat PAL. Wir bieten aber auch Veröffentlichungen aus den USA an, die im NTSC-Format und mit dem Ländercode 1 auf den Markt kommen. Dies ist dann in unseren Artikeldetails angegeben.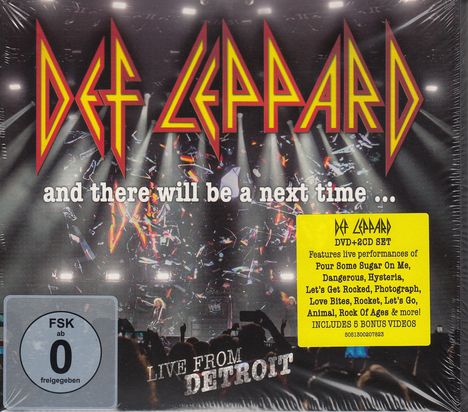 lieferbar innerhalb 2-3 Wochen
(soweit verfügbar beim Lieferanten)

Wir beschaffen die Ware speziell für Sie nach Bestelleingang.
Label: Eagle, 2016
FSK ab 0 freigegeben
Bestellnummer:

6033379

Erscheinungstermin: 9.2.2017
Weitere Ausgaben von And There Will Be A Next Time ... Live From Detroit
DVD:Sound:Dolby Digital 2.0&5.1/DTS Surround Sound;Bild:16:9/NTSC;
Ländercode:0;Laufzeit:112 Min.
*** Digisleeve
Insgesamt 17 Songs gaben Joe Elliot (Gesang), Phil Collen (Leadgitarre), Vivian Campbell (Rhythmusgitarre), Rick Savage (Bass) und Rick Allen (Schlagzeug) an diesem Abend im DTE Music Theatre zum Besten. Neben vielen Hits vom neuesten Album
»Def Leppard«
, darunter »Let's Go«, »Dangerous«, »Man Enough« und »We Belong« warten auf »And There Will Be A Next Time… Live From Detroit« zudem Klassiker wie »Photograph«, »Rock Of Ages«, »Animal« und »Pour Some Sugar On Me«.
Mit »And There Will Be A Next Time… Live From Detroit« gibt es endlich wieder einen neuen Livemitschnitt der legendären Def Leppard.
Rezensionen
»Sowohl optisch als auch vom Sound her sind die Aufnahmen eine Wucht.​ Dieses Album ist für alle Fans des 80er-Jahre-Metals ein Geschenk.​« (Audio, April 2017)

»Fans aller Schaffensphasen kamen und kommen auf ihre Kosten, schließlich haben die Briten mit der musikalischen US-Affinität einen Rucksack von Hits im Gepäck.​ Der Opener ›Let's Go‹ gab das Motto auf der Bühne vor, und das zogen Def Leppard konsequent durch.​« (Good Times, April/Mai 2017)
Disk 1 von 3 (CD)
1 Let's go
2 Animal
3 Let it go
4 Dangerous
5 Foolin'
6 Love bites
7 Armageddon it
8 Rock on
9 Man enough
Disk 2 von 3 (CD)
1 Rocket
2 Bringin' on the heartbreak
3 Switch 625
4 Hysteria
5 Let's get rocked
6 Pour some sugar on me
7 Rock of ages
8 Photograph
Disk 3 von 3 (DVD)
1 Let's go
2 Animal
3 Let it go
4 Dangerous
5 Foolin'
6 Love bites
7 Armageddon it
8 Rock on
9 Man enough
10 Rocket
11 Bringin' on the heartbreak
12 Switch 625
13 Hysteria
14 Let's get rocked
15 Pour some sugar on me
16 Rock of ages
17 Photograph
18 BONUS MUSIC VIDEOS:Let's go (lyrics video)
19 Let's go
20 Dangerous
21 Man enough
22 We belong
Mehr von Eagle