David Bowie: Brilliant Adventure (1992 - 2001) (Limited Edition)
Brilliant Adventure (1992 - 2001) (Limited Edition)
11 CDs
CD (Compact Disc)
Herkömmliche CD, die mit allen CD-Playern und Computerlaufwerken, aber auch mit den meisten SACD- oder Multiplayern abspielbar ist.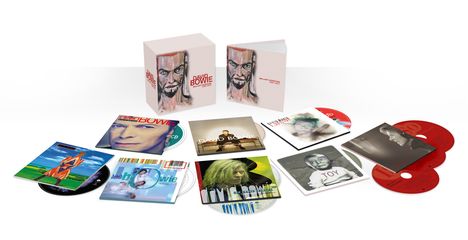 Artikel am Lager
-22%
Bestellmenge limitiert: Bei diesem Artikel nur 1 Exemplar pro Kunde!
Label: Parlophone
Bestellnummer:

10731949

Erscheinungstermin: 26.11.2021
*** Papersleeves + 128-seitiges Hardback-Buch in Stülpdeckelbox
Gesamtverkaufsrang: 16077
Verkaufsrang in CDs: 6858
Teil fünf der gefeierten Bowie-Serie
Parlophone Records / ISO Records präsentieren 2021 »David Bowie: 5. Brilliant Adventure (1992 - 2001)«, das fünfte in einer Reihe von Box-Sets, die die Karriere der britischen Pop- und Rocklegende seit 1969 noch einmal Revue passieren lassen.
Die neue »Brilliant Adventure«-Box folgt auf »David Bowie: 1. Five Years (1969 - 1973)«, »David Bowie: 2. Who Can I Be Now? (1974 - 1976)«, »David Bowie: 3. A New Career In A New Town (1977 - 1982)« und »David Bowie: 4. Loving The Alien (1983 - 1988)«.
»David Bowie: 5. Brilliant Adventure (1992 - 2001)« kommt wahlweise auf elf CDs oder 18 LPs. Beide Sets enthalten neu gemasterte Versionen einiger von Bowies am meisten unterschätzten und experimentellen Alben, darunter »Black Tie White Noise«, »The Buddha Of Suburbia« (zum ersten Mal seit fast 30 Jahren auf Vinyl erhältlich), »1. Outside«, »Earthling« und »Hours…«, zusammen mit dem erweiterten Live-Album »BBC Radio Theatre, London, June 27, 2000«, der Kompilation »Re: Call 5« mit Non-Album-Tracks, alternativen Versionen, B-Seiten und Soundtrack-Musik und dem legendären, bisher unveröffentlichten Album »Toy«.
Die CD-Version enthält zudem ein 128-seitiges, die Vinyl-Box ein 84-seitiges Hardback-Buch.
»Toy« wurde nach David Bowies triumphalem Auftritt auf dem Glastonbury-Festival im Jahr 2000 aufgenommen. Bowie begab sich mit seiner Band, bestehend aus Mark Plati, Sterling Campbell, Gail Ann Dorsey, Earl Slick, Mike Garson, Holly Palmer und Emm Gryner, ins Studio, um neue Interpretationen von Songs aufzunehmen, die er bereits zwischen 1964 und 1971 aufgenommen hatte. Er plante, das Album »old school« mit der Band live aufzunehmen, die besten Takes auszuwählen und es dann so schnell wie möglich zu veröffentlichen – eine bemerkenswert vorausschauende Vorgehensweise. Leider waren im Jahr 2001 das Konzept der Veröffentlichung von Überraschungsalben und die dafür notwendige Technologie noch einige Jahre entfernt, sodass es unmöglich war, »Toy«, wie das Album nun genannt wurde, so schnell, wie von dem Sänger gewünscht, zu veröffentlichen. In der Zwischenzeit tat Bowie das, was er am besten konnte: Er wandte sich etwas Neuem zu, das mit einer Handvoll neuer Songs aus denselben Sessions begann und aus dem schließlich das Album »Heathen« hervorging, das 2002 erschien.
PS:
»Toy« erscheint am 7. Januar 2022, einen Tag vor David Bowies Geburtstag, als limitierte Box, wahlweise auf
drei CDs
oder
sechs 10ʺ‑Vinyl-Singles
.
Die CD-Box im Überblick:
»Black Tie White Noise« (remastered) (1 CD)
»The Buddha Of Suburbia« (remastered) (1 CD)
»1. Outside« (remastered) (1 CD)
»Earthling« (remastered) (1 CD)
»Hours…« (remastered) (1 CD)
»BBC Radio Theatre, London, June 27th, 2000« (remastered) (2 CDs)
»Toy« (1 CD)
»Re: Call 5« (3 CDs)
128-seitiges Hardback-Buch
Disk 1 von 11 (CD)
1 BLACK TIE WHITE NOISE: The Wedding
2 You've Been Around
3 I Feel Free
4 Black Tie White Noise (featuring Al B. Sure!)
5 Jump They Say
6 Nite Flights
7 Pallas Athena
8 Miracle Goodnight
9 Don't Let Me Down & Down
10 Looking for Lester
11 I Know It's Gonna Happen Someday
12 The Wedding Song
Disk 2 von 11 (CD)
1 THE BUDDHA OF SUBURBIA: Buddha of Suburbia
2 Sex and the Church
3 South Horizon
4 The Mysteries
5 Bleed Like a Craze, Dad
6 Strangers When We Meet
7 Dead Against It
8 Untitled No. 1
9 Ian Fish, U.K. Heir
10 Buddha of Suburbia (featuring Lenny Kravitz on guitar)
Disk 3 von 11 (CD)
1 OUTSIDE: Leon Takes Us Outside
2 Outside
3 The Hearts Filthy Lesson
4 A Small Plot of Land
5 Baby Grace (A Horrid Cassette) (segue)
6 Hallo Spaceboy
7 The Motel
8 I Have Not Been to Oxford Town
9 No Control
10 Algeria Touchshriek (segue)
11 The Voyeur of Utter Destruction (as Beauty)
12 Ramona A. Stone/I Am with Name (segue)
13 Wishful Beginnings
14 We Prick You
15 Nathan Adler (segue)
16 I'm Deranged
17 Thru' These Architects Eyes
18 Nathan Adler (segue)
19 Strangers When We Meet
Disk 4 von 11 (CD)
1 EARTHLING: Little Wonder
2 Looking for Satellites
3 Battle for Britain (The Letter)
4 Seven Years in Tibet
5 Dead Man Walking
6 Telling Lies
7 The Last Thing You Should Do
8 I'm Afraid of Americans
9 Law (Earthlings on Fire)
Disk 5 von 11 (CD)
1 'hours…': Thursday's Child
2 Something in the Air
3 Survive
4 If I'm Dreaming My Life
5 Seven
6 What's Really Happening?
7 The Pretty Things Are Going to Hell
8 New Angels of Promise
9 Brilliant Adventure
10 The Dreamers
Disk 6 von 11 (CD)
1 BBC RADIO THEATRE, LONDON, JUNE 27, 2000: Wild Is the Wind
2 Ashes to Ashes
3 Seven
4 This Is Not America
5 Absolute Beginners
6 Always Crashing in the Same Car
7 Survive
8 The London Boys
9 I Dig Everything
10 Little Wonder
Disk 7 von 11 (CD)
1 BBC RADIO THEATRE, LONDON, JUNE 27, 2000: The Man Who Sold the World
2 Fame
3 Stay
4 Hallo Spaceboy
5 Cracked Actor
6 I'm Afraid of Americans
7 All the Young Dudes
8 Starman
9 "Heroes"
10 Let's Dance
Disk 8 von 11 (CD)
1 TOY: I Dig Everything
2 You've Got A Habit Of Leaving
3 The London Boys
4 Karma Man
5 Conversation Piece
6 Shadow Man
7 Let Me Sleep Beside You
8 Hole In The Ground
9 Baby Loves That Way
10 Can't Help Thinking About Me
11 Silly Boy Blue
12 Toy (Your Turn To Drive)
Disk 9 von 11 (CD)
1 RE:CALL 5: Real Cool World (Sounds From The Cool World Soundtrack Version)
2 Jump They Say (7" version)
3 Lucy Can't Dance
4 Black Tie White Noise (Radio Edit) (featuring Al B. Sure!)
5 Don't Let Me Down & Down (Indonesian Vocal Version)
6 Buddha Of Suburbia (Single Version) (featuring Lenny Kravitz on guitar)
7 The Hearts Filthy Lesson (Radio Edit)
8 Nothing To Be Desired
9 Strangers When We Meet (edit)
10 Get Real
11 The Man Who Sold The World (Live Eno Mix)
12 I'm Afraid Of Americans (Showgirls Soundtrack Version)
13 Hallo Spaceboy (Remix)
14 I Am With Name (Alternative Version)
15 A Small Plot Of Land (Long Basquiat Soundtrack Version)
Disk 10 von 11 (CD)
1 RE:CALL 5: Little Wonder (Edit)
2 A Fleeting Moment (aka Severn Years In Tibet - Mandarin Version)
3 Dead Man Walking (Edit)
4 Seven Years In Tibet (Edit)
5 Planet Of Dreams - David Bowie and Gail Ann Dorsey
6 I'm Afraid Of Americans (V1 - Edit)
7 I Can't Read (The Ice Storm Long Version)
8 A Foggy Day In London Town - David Bowie and Angelo Badalamenti
9 Fun (Bowienet Mix)
10 The Pretty Things Are Going To Hell (Stigmata Soundtrack Version)
11 Thursday's Child (Radio Edit)
12 We All Go Through
13 No One Calls
Disk 11 von 11 (CD)
1 RE:CALL 5: We Shall Go To Town
2 1917
3 The Pretty Things Are Going To Hell (Edit)
4 Thursday's Child (Omikron: The Nomad Soul Version)
5 New Angels Of Promise (Omikron: The Nomad Soul Version)
6 The Dreamers (Omikron: The Nomad Soul Version)
7 Seven (Demo)
8 Survive (Marius De Vries mix)
9 Something In The Air (American Psycho Remix)
10 Seven (Marius De Vries Mix)
11 Pictures Of Lily