Damon Albarn: The Nearer The Fountain, More Pure The Stream Flows (Limited Deluxe Edition) (White Vinyl & Black 7")
Nicht zu vergessen
Damon Albarn kennt man seit Anfang der 1990er-Jahre als Sänger und Mastermind der Britpop-Ikonen Blur, von den virtuellen Gorillaz und seinem Projekt The Good, The Bad & The Queen.

Nicht zu vergessen ist dabei seine Solokarriere, die ebenfalls zwei erfolgreiche Longplayer hervorbrachte, und die er 2021 weiter vorantreibt – mit seinem dritten Soloalbum »The Nearer The Fountain, More Pure The Stream Flows«.

The Nearer The Fountain, More Pure The Stream Flows (Limited Deluxe Edition) (White Vinyl & Black 7")
1 LP, 1 Single 7"
LP (Long Play)
Die gute alte Vinyl - Langspielplatte.
Single 7''
Die gute alte Vinyl –Single.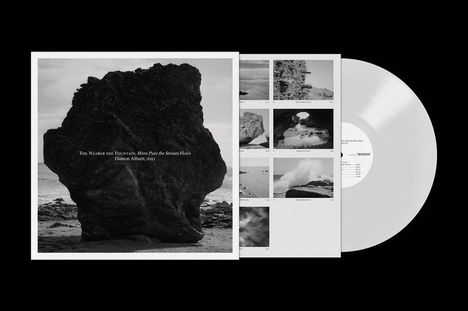 lieferbar innerhalb 1-2 Wochen
(soweit verfügbar beim Lieferanten)
Vinyl liefern wir innerhalb Deutschlands immer portofrei.
Weitere Ausgaben von The Nearer The Fountain, More Pure The Stream Flows
*** Triple Hardback Gatefold Cover
Das angekündigte Album ist das Ergebnis von Musik, die Albarn während des vergangenen Jahres konzipiert hat, in dem Chaos und Verwirrung die Welt ergriffen haben:

»Ursprünglich als orchestrales Stück gedacht, das von den Landschaften Islands inspiriert wurde, haben wir uns im letzten Jahr wieder der Musik zugewandt und das Werk auf 11 Tracks entwickelt. Es erforscht weiterhin Themen wie Zerbrechlichkeit, Verlust, Auftauchen und Wiedergeburt.«

Damon Albarn ist ein Sänger, Songwriter, Produzent und Komponist, dessen eklektischer Musikstil und beobachtende Texte ihn zu einem der einflussreichsten und beständig interessantesten Musiker Großbritanniens gemacht haben.

Er ist Gründungsmitglied von Blur, Gorillaz und The Good, The Bad & The Queen und wurde mit sechs Brit Awards, zwei Ivor Novello Awards und einem Grammy Award ausgezeichnet.

Außerhalb von Blur und Gorillaz hat Albarn eine Reihe weiterer Veröffentlichungen, darunter Mali Music (2002), The Good The Bad and The Queen (2006), Monkey: Journey to the West (2007), Kinshasa One Two (2011), Rocket Juice & The Moon (2012), Dr Dee (2012), Africa Express Presents: Maison Des Jeunes (2013), Africa Express Presents: The Orchestra of Syrian Musicians (2016), Merrie Land (2018), Africa Express Presents: Egoli (2019), sowie sein für den Mercury Award nominiertes Debüt-Soloalbum Everyday Robots (2014).

Die Deluxe LP des Albums enthält eine weiße LP, eine exklusive schwarze 7". Die Seven-Inch enthält das exklusive und unveröffentlichte Instrumental-Stück 'The bollocked man', das im Zuge der Album-Sessions entstanden ist. LP & 7" sind verpackt in einem 32-seitigem-Hardbook, das exklusive Fotos, Songtexte, Zeichnungen etc enthält.
Rezensionen
»Ein Traumtrip durch sehr variable Soundlandschaften.​« (Audio, Januar 2022)

»Starke, persönliche Musik.​« (stereoplay, Januar 2021)
Die Hörproben gehören zum Artikel Damon Albarn: The Nearer The Fountain, More Pure The Stream Flows (CD). Das Tracklisting kann bei diesem Artikel ggf. abweichen.
LP
1 The nearer the fountain more pure the stream flows
2 The cormorant
3 Royal morning blue
4 Combustion
5 Daft wader
6 Darkness to light
7 Esja
8 The tower of montevideo
9 Giraffe trumpet sea
10 Polaris
11 Particles
1 The bollocked man (instrumental)