Bullet: The Entrance To Hell
The Entrance To Hell
2 LPs
LP (Long Play)
Die gute alte Vinyl - Langspielplatte.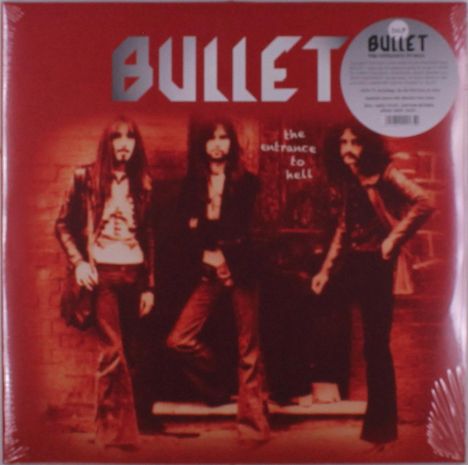 lieferbar innerhalb 1-2 Wochen
(soweit verfügbar beim Lieferanten)
Vinyl liefern wir innerhalb Deutschlands immer portofrei.
Label: Guerssen, 1970-71
Bestellnummer:

11114320

Erscheinungstermin: 16.12.2022
*** Gatefold Cover
Product Information:

Bullet was formed in 1970 following on from John Du Cann and Paul Hammond's very successful period in Atomic Rooster. Joining forces with John Gustafson who had also experienced considerable commercial success with Big Three, Merseybeats and Quatermass and you had the template for a 'supergroup' The band set about recording songs in 1970 / 71 written by either Du Cann or Gustafson and promptly got themselves a recording deal with the now infamous Purple Records. Problem was there was already another group in existence then from the USA called Bullet and there was a threat of legal action so the band promptly changed their name to Hard Stuff and rerecorded some of the Bullet tracks for their first release. Now released for the first time the original Bullet tracks from 1970 / 71 from masters held in storage over the past 40 years.


Rezensionen

,,Jetzt sind sämtliche damaligen Recordings aus dem Archiv Du Canns remastert erhältlich. Vor allem aus historischen Gründen interessant." (Good Times, 02-03 / 2011)
Die Hörproben gehören zum Artikel Bullet: The Entrance To Hell (CD). Das Tracklisting kann bei diesem Artikel ggf. abweichen.
LP
1 Door Opens
2 Millionaire
3 No Witch At All
4 Taken Alive
5 The Soul That I Had
6 Entrance To Hell
7 The Orchestrator
8 Hell, Demonic Possession
LP
1 Sinister Minister
2 Jay Time
3 Time Gambler
4 Fortunes Told
5 Jam (The Rock)
6 Monster In Paradise
7 Mr Longevity
8 Door Slams
9 Jam (The Taker)