Bon Iver: Blood Bank EP (10th Anniversary) (Limited Edition) (Red Vinyl)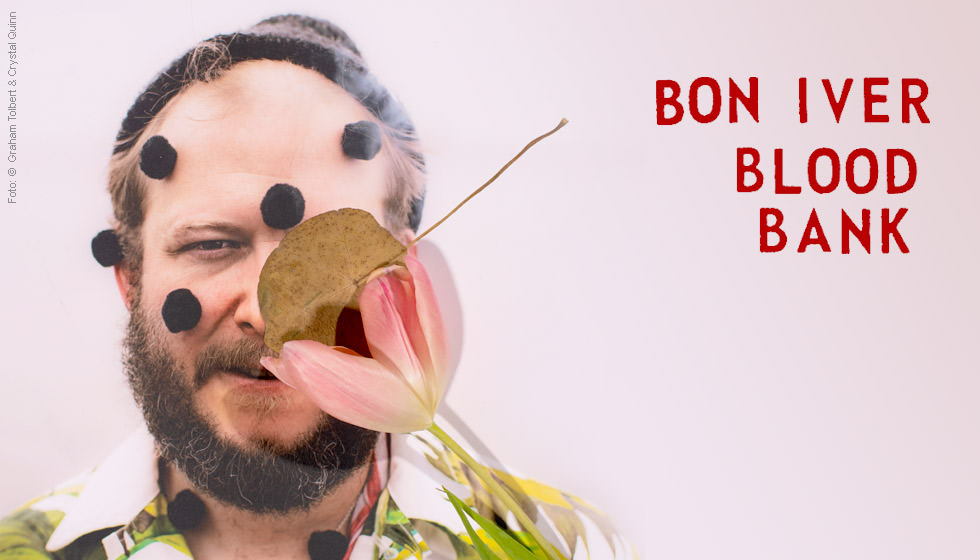 Zum Jubiläum
Zehn Jahre sind vergangen, seit Justin Vernon alias Bon Iver seine erste EP »Blood Bank« veröffentlichte, nur ein Jahr nach seinem Debütalbum. Heute gehört der Sänger, Multiinstrumentalist und Produzent zu den gefragtesten Künstlern der Musikwelt.

Zum Jubiläum der EP gibt es 2020 ein besonderes Reissue, und zwar auf CD oder rotem Vinyl. Neben den vier Originaltracks warten vier spannende Liveversionen.
Blood Bank EP (10th Anniversary) (Limited Edition) (Red Vinyl)
LP
LP (Long Play)
Die gute alte Vinyl - Langspielplatte.
Derzeit nicht erhältlich.
Lassen Sie sich über unseren eCourier benachrichtigen, falls das Produkt bestellt werden kann.
Vinyl liefern wir innerhalb Deutschlands immer portofrei.
Label: Jagjaguwar, 2008
Erscheinungstermin: 27.3.2020
Weitere Ausgaben von Blood Bank EP
Die Blood Bank EP wurde ursprünglich Anfang 2009 veröffentlicht, kurz nach dem geliebten Album »For Emma, Forever Ago«. Die EP war der Vorbote eines neuen Sounds für Bon Iver: eine Bewegung weg von der akustischen Gitarren-geführten Instrumentierung des Debüts und der Beginn einer Erkundung der experimentellen Klänge, welche die Entwicklung von Bon Iver mitdefinieren. Die Neuauflage dieser bahnbrechenden EP ist gekoppelt mit brandneuen Live-Aufnahmen aller EP-Titel.

Eine Reflexion über die Blood Bank EP von Ryan Matteson: When I reflect on the songs that make up the Blood Bank EP, I am drawn to mantras, both musical and lyrical. The driving and pulsating rhythm of the title track is held steady by the repeated refrain, I know it well, before it eventually yields to a beautiful array of guitar distortion and noise. These moments are significant through all four songs. When the steel guitar makes its entrance on »Beach Baby,« it's transportive. A blissful, breezy feeling sweeps into the room and that puts you within the moment. Close your eyes and you can feel it. »Babys« follows perfectly. A piano guides your mind to the new beginnings that come with the changing of seasons. The awareness of time passes and makes way for another day. Then there's »Woods.« A flawless finale. Foreign and new. Not just a new direction but a new beginning entirely. A place where boundaries don't exist. It was a signal change of things to come, laying the groundwork for new collaborations. A decade later, the song says so much in just three lines. Most significant to me are the words, »I'm building a sill to slow down the time.« Time doesn't slow down, it races.


Die Hörproben gehören zum Artikel Bon Iver: Blood Bank EP (10th Anniversary Edition) (CD). Das Tracklisting kann bei diesem Artikel ggf. abweichen.
1 Blood Bank
2 Beach Baby
3 Babys
4 Woods
5 Blood Bank (Live From Ericsson Globe, Stockholm Se, Oct 21 2018)
6 Beach Baby (Live From The Bomb Factory, Dallas Tx, Jan 23 2018)
7 Babys (Live From Eventim Apollo Hammersmith, London UK, Mar 4 2018)
8 Woods (Live From Pitchfork Paris Presented By La Blogoth & Egrave, Que, Nov 3 2018)