Blank & Jones: Present So8os [So Eighties] 10 (Deluxe Box)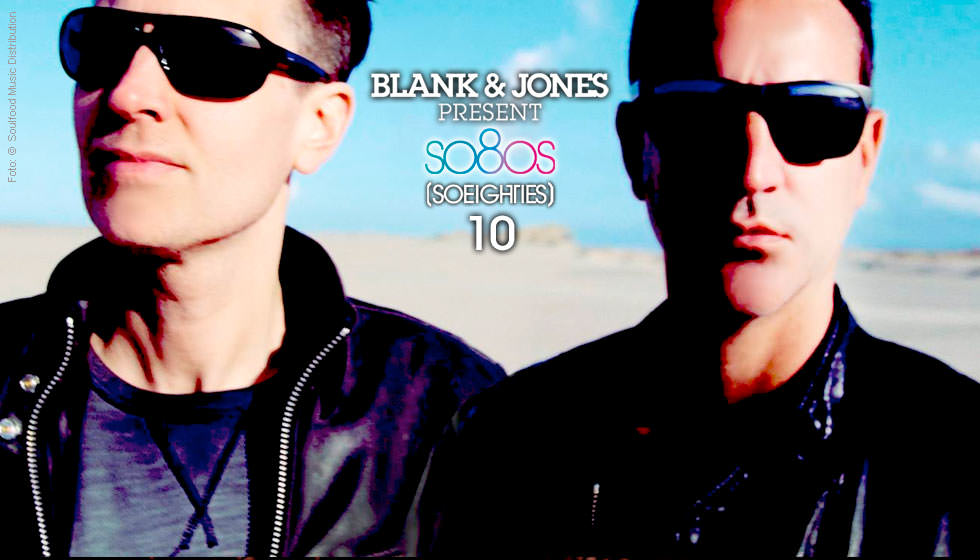 »So8os« feiert Jubiläum
Vor gut sieben Jahren riefen Blank & Jones mit »So8os (so eighties)« ihre eigene 1980er-Compilation ins Leben. Im Gegensatz zu vielen Best-of-Samplern, die oft die gleichen Songs enthielten, widmete sich das Kölner DJ-Duo darauf vor allem Maxi-Singles, und zwar auf Basis ihrer Originalbänder.

Mit großem Erfolg: 2016 feiert die Compilation Jubiläum. »So8os 10« heißt die zehnte Ausgabe in der Reihe. Auf drei randvollen CDs treffen Kultsongs auf echte Raritäten und Songs weitestgehend unbekannter Künstler, die Blank & Jones wieder einmal höchstpersönlich ausgewählt haben.
Present So8os [So Eighties] 10 (Deluxe Box)
3 CDs
CD (Compact Disc)
Herkömmliche CD, die mit allen CD-Playern und Computerlaufwerken, aber auch mit den meisten SACD- oder Multiplayern abspielbar ist.
Label: Soundcolors, 2016
Bestellnummer:

3102682

Erscheinungstermin: 10.6.2016
Serie: So80s
*** Digipack
Als Blank & Jones 2009 mal wieder in ihren alten 80er-Platten kramten und richtig Lust auf die eine oder andere Maxisingle bekamen, stellten sie fest, dass auf CD bzw. als Download leider nur sehr wenig zur Verfügung steht. Die meisten 80er Compilations hatten einen Zauberwürfel auf dem Cover und die Tracklistings glichen sich fast alle.
Nur sehr wenige Sammlungen beschäftigten sich mit dem Format Maxisingle und meistens waren es Überspielungen von Vinyl. Nach und nach entwickelten sie die Idee zu So8os (so eighties). Das Wichtigste sollte neben einer sehr subjektiven Song-Auswahl die Qualität sein. Aus ihrer Sicht machte es nur Sinn, CDs und hochauflösende digitale Formate zu veröffentlichen, wenn die Quelle das Original-Masterband ist und nicht eine Vinyl-Überspielung.

Zur 10. Jubiläumsausgabe gibt es wieder drei randvolle CDs mit über 30 Maxi-Single-Schätzen aus den 80er Jahren. Neben Kult Klassikern wie der knapp 12 Minuten langen Sisters-Of-Mercy-Hymne »This Corrosion«, Pat Benatars »Love Is A Battlefield« oder Laura Branigans »Self Control« gibt es rare Maxis von Sade (»Sweetest Taboo«), Pet Shop Boys (»Love Comes Quickly«) und Art Of Noise (»Paranoimia«), aber auch komplette Erstveröffentlichungen im digitalen Format wie The Cures »Boys Don't Cry« in der Extended Version oder Shakataks »City Rhythm«.

Man kann aber auch viele Songs komplett neu entdecken. Namen wie Fiat Lux, Jon Astley, Unknown Cases oder Dizzi Heights sind auf den ersten Blick evtl. nicht geläufig, wissen aber musikalisch um so mehr zu überzeugen! Auch das 40-seitige Booklet lässt keine Wünsche offen.

Alle Original-Maxi-Cover jeweils auf einer kompletten Seite geben einem das Gefühl durch die eigene Plattensammlung zu stöbern und auch die Liner Notes mit Fotos der Original-Mastertapes überzeugen. Für alle Sammler gibt es auch noch eine komplette Übersicht über alle bisher erschienenen Titel und Künstler der ersten zehn Boxen.
Mit dieser Veröffentlichung setzen Blank & Jones erneut Qualitätsstandards und zeigen, wie man die 80er stilvoll und liebevoll in Szene setzt.
Disk 1 von 3
1 Love Comes Quickly (Shep Pettibone Mastermix) / Pet Shop Boys
2 Self Control (Extended Version) / Laura Branigan
3 What's On Your Mind (Pure Energy) (Club Mix) / Information Society
4 Blue Monday (Original 12" Version) / New Order
5 Love Is A Battlefield (Extended Version) / Pat Benatar
6 Jane's Getting Serious (Full Length Version) / Jon Astley
7 Wishing Well (The Cool In The Shade Mix) / Terence Trent D'Arby
8 The Sweetest Taboo (Extended Version) / Sade
9 City Rhythm (Full Length Version) / Shakatak
10 Healing (Full Length Version) / Feltman Trommelt
11 Everywhere (12" Version) / Fleetwood Mac
Disk 2 von 3
1 This Corrosion (Long Version) / The Sisters Of Mercy
2 Boys Don't Cry (Resung & Club Mixed Feb '86 Extended 12" Dance Version) / The Cure
3 Rain In The Summertime (Through The Haze Mix) / The Alarm
4 Love Is A Shield (Extended Version) / Camouflage
5 Tainted Love/Where Did Our Love Go (Original 12" Version) / Soft Cell
6 Secrets (Full Length Version) / Fiat Lux
7 Paranoimia (Extended Version) / The Art Of Noise feat. Max Headroom
8 Forgotten Town (12" Version) / The Christians
9 Is This Love (L.A. Mix) / Alison Moyet
10 The Look (Big Red Mix) / Roxette
11 Walk Like An Egyptian (Extended Dance Mix) / The Bangles
Disk 3 von 3
1 The Magician (Pecky Plus Mix) / Secession
2 Would I Find Love (Extended Version) / Dizzi Heights
3 Big Man Restless (Club Mix) / Kissing The Pink
4 Masimbabele (Original 12" Version) / The Unknown Cases
5 In Dreams (High Velocity Mix) / Pete Bardens
6 Your Heart Keeps Burning (Burning Mega Mix / The Glory Radio Drama Part 1) / Blind Date
7 I Want A New Drug (12" Mix) / Huey Lewis & The News
8 Roam (Extended Mix) / The B-52´s
9 Soul Food To Go (Extended Version) / The Manhattan Transfer
10 Touché D'Amour (Special Extended Remix) / Chris Rea