Black Sabbath: Sabotage (180g) (Super Deluxe Box Set)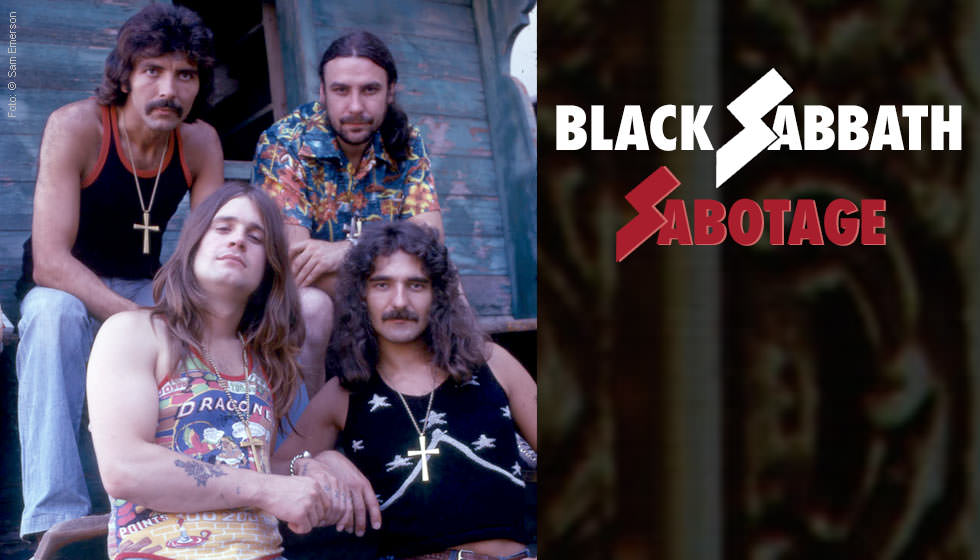 Alles Deluxe
Black-Sabbath-Fans haben 2021 allen Grund zur Freude. Nach den Deluxe-Reissues von »Vol. 4« und »Heaven & Hell« im März legen die englischen Heavy-Metal-Ikonen jetzt noch ein weiteres Highlight aus ihrem Katalog erneut auf.

»Sabotage«, das sechste Sabbath-Album aus dem Jahr 1975, kommt als Super Deluxe Box Set, wahlweise auf vier CDs oder fünf LPs. Neben dem Originalalbum warten viele spannende Extras.
Sabotage (180g) (Super Deluxe Box Set)
4 LPs, 1 Single 7"
LP (Long Play)
Die gute alte Vinyl - Langspielplatte.
Single 7''
Die gute alte Vinyl –Single.
Vinyl liefern wir innerhalb Deutschlands immer portofrei.
Gesamtverkaufsrang: 366
Verkaufsrang in LPs: 161
Der Titel »Sabotage« bezieht sich auf die rechtlichen Streitereien von Black Sabbath mit dem vormaligen Manger Patrick Meehan. Dieser 10 Monate andauernde Zwist überschattete die Aufnahmen und prägte die Grundstimmung. Unter der Produktion von Gitarrist Tony Iommi – wieder in England aufgenommen – setzte man auf einen direkten, aggressiven Sound. Tony Iommi erklärte, dass es Teil des Konzeptes war, wieder zum »Rock›n‹Roll« zurückzukehren. Das Coverartwork gilt als eines der schlechtesten der Rock-Geschichte, die Band beteuert, geglaubt zu haben, es handle sich um Probeaufnahmen, weshalb man auf die Garderobe keinen Wert legte.

Vinyl box set includes:

- Original album newly remastered
- Complete 3LP live concert from the 1975 Sabotage Tour of North America (pressed on 180g vinyl)
- Am I Going Insane (Radio) Japanese replica 7" single
- 1975 Madison Square Garden replica concert book
- 40-page book with photos, artwork and liner notes
- Sabotage 1975 Tour colour poster
Rezensionen
»Crushes all in its monomaniac path.« (NME)

»Sabotage is not only Black Sabbath's best record since Paranoid, it might be their best ever.« (Rolling Stone)
Die Hörproben gehören zum Artikel Black Sabbath: Sabotage (CD). Das Tracklisting kann bei diesem Artikel ggf. abweichen.
1 Hole In The Sky
2 Don't Start (Too Late)
3 Symptom Of The Universe
4 Megalomania
5 Thrill Of It All
6 Supertzar
7 Am I Going Insane (Radio)
8 The Writ
1 Supertzar / Killing Yourself To Live * (Live 1975)
2 Hole In The Sky (Live 1975)
3 Snowblind * (Live 1975)
4 Symptom Of The Universe (Live 1975)
5 War Pigs * (Live 1975)
1 Megalomania (Live 1975)
2 Sabbra Cadabra * (Live 1975)
3 Jam 1 including guitar solo * (Live 1975)
4 Jam 2 including drum solo * (Live 1975)
5 Supernaut * (Live 1975)
1 Iron Man * (Live 1975)
2 Guitar Solo including excerpts of Orchid and Rock 'n' Roll Doctor * (Live 1975)
3 Black Sabbath * (Live 1975)
4 Spiral Architect * (Live 1975)
5 Embryo / Children Of The Grave * (Live 1975)
6 Paranoid * (Live 1975)
1 Am I Going Insane (Radio) – Single Edit
2 Hole In The Sky