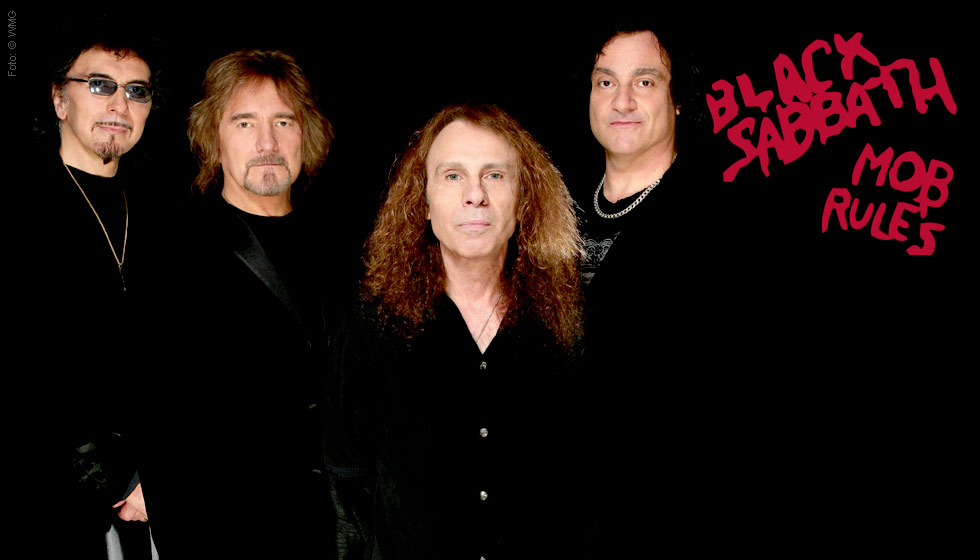 Der zweite Klassiker mit Dio
Mit »Mob Rules« wird nun auch der zweite Album-Klassiker der ersten Dio-Phase von Black Sabbath als Remaster aufgelegt.

Auch der Nachfolger zum legendären »Heaven And Hell« enthält zeitlose Sabbath-Hits wie »The Sign Of The Southern Cross«, den Titeltrack »The Mob Rules« und einen Ronnie James Dio in absoluter Höchstform. Die Versionen von »Mob Rules« enthalten das 2021 Remaster des Albums und diverse Live-Bonus-Tracks von der Tour zum Album.
Mob Rules
2 CDs
CD (Compact Disc)
Herkömmliche CD, die mit allen CD-Playern und Computerlaufwerken, aber auch mit den meisten SACD- oder Multiplayern abspielbar ist.
Label: Sanctuary, 1981-1982
Bestellnummer:

11052639

Erscheinungstermin: 18.11.2022
*** digitally remastered
*** Digipack
Gesamtverkaufsrang: 5131
Verkaufsrang in CDs: 1879
Sänger Ronnie James Dio stieß 1979 zu Black Sabbath, was zu zwei aufeinanderfolgenden klassischen Alben führte: Heaven And Hell und Mob Rules. Auf diesen denkwürdigen Alben waren Dio's hoher Tenor und sein grandioses Songwriting die perfekte Ergänzung für den knochenbrechenden Mix aus messerscharfen Riffs, intensiven Grooves und düsteren Bildern der Band.


Disk 1 von 2 (CD)
1 Turn Up the Night (2021 Remaster)
2 Voodoo (2021 Remaster)
3 The Sign Of The Southern Cross (2021 Remaster)
4 E5150 (2021 Remaster)
5 The Mob Rules (2021 Remaster)
6 Country Girl (2021 Remaster)
7 Slipping Away (2021 Remaster)
8 Falling Off The Edge Of The World (2021 Remaster)
9 Over And Over (2021 Remaster)
10 BONUS TRACKS:The Mob Rules (Heavy Metal Soundtrack Version)
11 Die Young (Live B-Side of Mob Rules 7")
12 The Mob Rules (2021 Mix)
13 LIVE HAMMERSMITH:Country Girl
14 Slipping Away
15 The Mob Rules
16 Voodoo
17 LIVE PORTLAND:Intro E5150
18 Neon Knights
Disk 2 von 2 (CD)
1 LIVE PORTLAND: N.I.B.
2 Children Of The Sea
3 Voodoo
4 Black Sabbath
5 War Pigs
6 Drum Solo
7 Iron Man
8 The Mob Rules
9 Heaven And Hell
10 Guitar Solo
11 The Sign Of The Southern Cross / Heaven And Hell (Reprise)
12 Paranoid
13 Children Of The Grave