André Rieu: My Music - My World: The Very Best Of André Rieu
My Music - My World: The Very Best Of André Rieu
2 CDs
CD (Compact Disc)
Herkömmliche CD, die mit allen CD-Playern und Computerlaufwerken, aber auch mit den meisten SACD- oder Multiplayern abspielbar ist.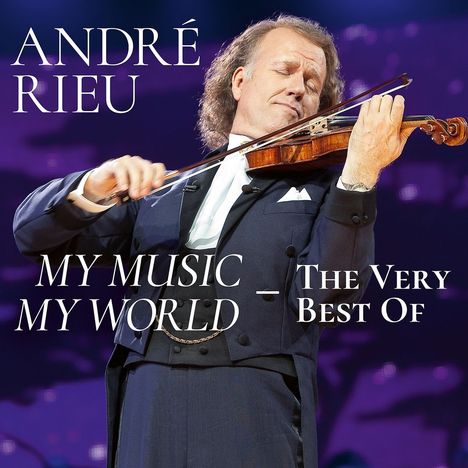 Label: Polydor
Bestellnummer:

9425446

Erscheinungstermin: 20.9.2019
Gesamtverkaufsrang: 2980
Verkaufsrang in CDs: 1274
André Rieu ist zurück: Nun erscheint das Album »My Music - My World: The Very Best Of«. Die erste offizielle Very Best Of mit den größten Hits und Klassikern wie »The Second Waltz«, »Die schöne blaue Donau«, »Love Theme From Romeo and Julia« sowie vielem mehr. Eine 2CD, die Einblick in die ganz private musikalische Welt des Künstlers gibt und dabei seine unendliche Vielfalt zeigt.
Disk 1 von 2 (CD)
1 On The beautiful blue Danube
2 Love Theme (From "Romeo And Juliet")
3 The Second Waltz, Op. 99a
4 Nachtigall Serenade
5 My Heart Will Go On (From "Titanic")
6 And The Waltz Goes On
7 Les Patineurs
8 Ballade pour Adeline
9 The Rose, Arv_10
10 My Way
11 Amazing Grace
12 Don't Cry For Me Argentina (From "Evita")
13 Que Sera Sera
14 Voices Of Spring
15 Waltzing Matilda
16 Ode To Joy
17 Bolero
Disk 2 von 2 (CD)
1 Radetzky Marsch
2 Medley: Strauss & Co.
3 Blue Spanish Eyes
4 Edelweiss (From "The Sound Of Music")
5 O mio babbino caro (From The Opera "Gianni Schicchi")
6 Intermezzo Sinfonico
7 Nessun Dorma (Turandot) (Live)
8 You'll Never Walk Alone
9 Hava Nagila
10 Can't Help Falling In Love
11 What A Wonderful World
12 Highland Cathedral (Live In Maastricht 2017)
13 We'll Meet Again
14 Greensleeves
15 Romance Anonym
16 Ave Maria
17 Air
18 Time To Say Goodbye
19 Dark Eyes
20 Auld Lang Syne
21 Marina (Live)
22 O Fortuna
23 Happy Birthday To You...For He's a Jolly Good Fellow