Aerosmith: Rocks Donington 2014 (180g) (Limited Edition) (Translucent Purple Vinyl)
Rocks Donington 2014 (180g) (Limited Edition) (Translucent Purple Vinyl)
3 LPs, 1 DVD
LP (Long Play)
Die gute alte Vinyl - Langspielplatte.
DVD
Die meisten angebotenen DVDs haben den Regionalcode 2 für Europa und das Bildformat PAL. Wir bieten aber auch Veröffentlichungen aus den USA an, die im NTSC-Format und mit dem Ländercode 1 auf den Markt kommen. Dies ist dann in unseren Artikeldetails angegeben.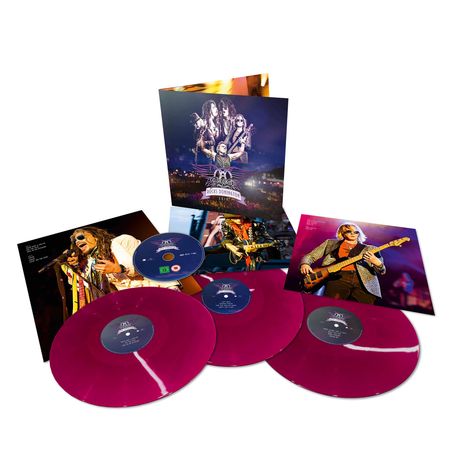 Vinyl liefern wir innerhalb Deutschlands immer portofrei.
Label: Eagle, 2014
Bestellnummer:

10322305

Erscheinungstermin: 27.11.2020
Weitere Ausgaben von Rocks Donington 2014
*** Triple Gatefold Cover
"Rocks Donington" fängt die legendären Rock and Roll Hall of Famers ein, die im Juni 2014 im berühmten Donington Park in Leicestershire, UK, eine sensationelle Show boten. Unteranderem spielten sie die Hits wie "Love In An Elevator", "Janie's Got A Gun" und "I Don't Wanna Miss A Thing".
Die Hörproben gehören zum Artikel Aerosmith: Rocks Donington 2014 (2 CD + DVD) (CD). Das Tracklisting kann bei diesem Artikel ggf. abweichen.
LP
1 Train Kept A-Rollin' (Live At Donington Park / 2014)
2 Eat The Rich (Live At Donington Park / 2014)
3 Love In An Elevator (Live At Donington Park / 2014)
4 Cryin' (Live At Donington Park / 2014)
5 Jaded (Live At Donington Park / 2014)
6 Livin' On The Edge (Live At Donington Park / 2014)
LP
1 Last Child (Live At Donington Park / 2014)
2 Freedom Fighter (Live At Donington Park / 2014)
3 Same Old Song And Dance (Live At Donington Park / 2014)
4 Janie's Got A Gun (Live At Donington Park / 2014)
5 Toys In The Attic (Live At Donington Park / 2014)
6 I Don't Want To Miss A Thing (Live At Donington Park / 2014)
7 No More No More (Live At Donington Park / 2014)
8 Come Together (Live At Donington Park / 2014)
LP
1 Dude (Looks Like A Lady) (Live At Donington Park / 2014)
2 Walk This Way (Live At Donington Park / 2014)
3 Home Tonight (Live At Donington Park / 2014)
4 Dream On (Live At Donington Park / 2014)
5 Sweet Emotion (Live At Donington Park / 2014)
6 Medley: Mama Kin / Mannish Boy (Live At Donington Park / 2014)
DVD
1 Train Kept A-Rollin' (Live At Donington Park / 2014)
2 Eat The Rich (Live At Donington Park / 2014)
3 Love In An Elevator (Live At Donington Park / 2014)
4 Cryin' (Live At Donington Park / 2014)
5 Jaded (Live At Donington Park / 2014)
6 Livin' On The Edge (Live At Donington Park / 2014)
7 Last Child (Live At Donington Park / 2014)
8 Freedom Fighter (Live At Donington Park / 2014)
9 Same Old Song And Dance (Live At Donington Park / 2014)
10 Janie's Got A Gun (Live At Donington Park / 2014)
11 Toys In The Attic (Live At Donington Park / 2014)
12 I Don't Want To Miss A Thing (Live At Donington Park / 2014)
13 No More No More (Live At Donington Park / 2014)
14 Come Together (Live At Donington Park / 2014)
15 Dude (Looks Like A Lady) (Live At Donington Park / 2014)
16 Walk This Way (Live At Donington Park / 2014)
17 Home Tonight (Live At Donington Park / 2014)
18 Dream On (Live At Donington Park / 2014)
19 Sweet Emotion (Live At Donington Park / 2014)
20 Medley: Mama Kin / Mannish Boy (Live At Donington Park / 2014)
Mehr von Eagle