Steely Dan: The Very Best
The Very Best
2 CDs
CD (Compact Disc)
Herkömmliche CD, die mit allen CD-Playern und Computerlaufwerken, aber auch mit den meisten SACD- oder Multiplayern abspielbar ist.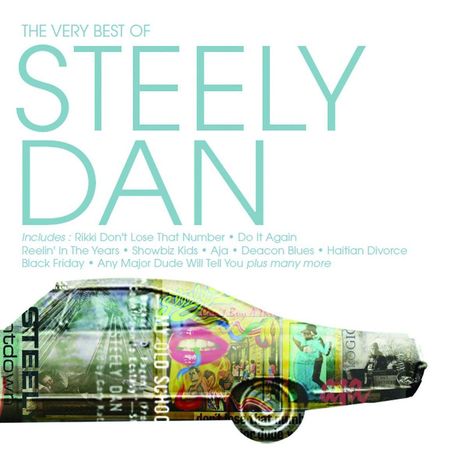 lieferbar innerhalb 2-3 Wochen
(soweit verfügbar beim Lieferanten)
Label: Universal, 1972-1978
Bestellnummer:

1049432

Erscheinungstermin: 29.6.2009
Gesamtverkaufsrang: 2309
Verkaufsrang in CDs: 1019
The Very Best Of Steely Dan ist eine Erinnerung daran, dass sie eine Zeit lang Zappa-esque Intelligenz mit 60er-Jahre-Songkunst verbanden und einfach die perfekteste Band auf dem Planeten waren.

Die 2CD-Kollektion enthält das allerbeste, was uns 'Steely Dan' in 4 Jahrzehnten geboten haben. Steely Dan haben weltweit mehr als 30 Millionen Alben verkauft und bestimmten den Soundtrack der 70er Jahre mit Hits wie 'Reelin' in the Years' und 'Rikki Don't Lose That Number' mit.
Disk 1 von 2 (CD)
1 Do It Again
2 Dirty Work
3 Reelin' In The Years
4 Only A Fool Would Say That
5 Change Of The Guard
6 Bodhisattva
7 The Boston Rag
8 Show Biz Kids
9 My Old School
10 Rikki Don't Lose That Number
11 Night By Night
12 Pretzel Logic
13 Any Major Dude Will Tell You
14 Black Friday
15 Bad Sneakers
16 Doctor Wu
17 Any World (That I'm Welcome To)
18 Chain Lightning
Disk 2 von 2 (CD)
1 Kid Charlemagne
2 Don't Take Me Alive
3 Haitian Divorce
4 The Fez
5 Here At The Western World
6 Black Cow
7 Aja
8 Deacon Blues
9 Peg
10 Josie
11 FM
12 Babylon Sisters
13 Hey Nineteen
14 Time Out Of Mind
15 Third World Man