She & Him: A Very She & Him Christmas
A Very She & Him Christmas
CD
CD (Compact Disc)
Herkömmliche CD, die mit allen CD-Playern und Computerlaufwerken, aber auch mit den meisten SACD- oder Multiplayern abspielbar ist.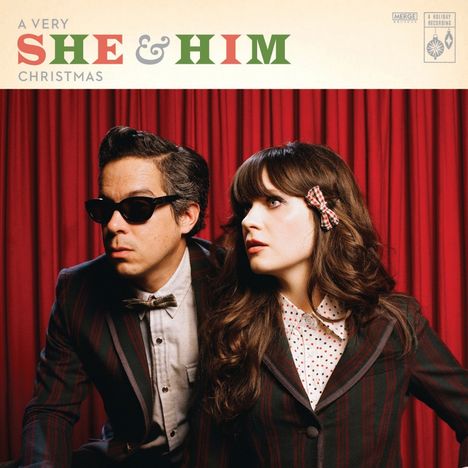 lieferbar innerhalb 1-2 Wochen
(soweit verfügbar beim Lieferanten)
Label: Merge, 2011
Bestellnummer:

9905189

Erscheinungstermin: 12.11.2021
Weitere Ausgaben von A Very She & Him Christmas
*** Digipack
Product Information

A Very She & Him Christmas is a wonderful collection of festive tunes from two of music's most impressive artists – Zooey Deschanel (She) & M. Ward (Him). Inspired by seminal seasonal albums by the likes of The Carpenters, Vince Guaraldi, The Beach Boys, Elvis Presley and more, She & Him have set out to create an intimate recording of Christmas classics that help bring new emotions out of old songs. Recorded in Los Angeles and NYC at various points in 2011, A Very She & Him Christmas sees the duo stepping back slightly from the layered, lush aesthetic of their critically acclaimed second album, Volume Two.

On A Very She & Him Christmas, Deschanel and Ward let the songs speak for themselves, often recording them with just acoustic guitar and vocals. Consistent in everything are the elements that have made She & Him one of the most loved bands of the last few years – Deschanel's soulful vocal delivery and Ward's impressive guitar work, both sounding as timeless as ever.
Disk 1 von 1 (CD)
1 The Christmas waltz
2 Christmas day
3 Have yourself a merry little Christmas
4 I'll be home for Christmas
5 Christmas wish
6 Sleigh ride
7 Rockin' around the Christmas tree
8 Silver bells
9 Baby, it's cold outside
10 Blue Christmas
11 Little Saint Nick
12 The Christmas song