Queen: The Platinum Collection (2011 Remastered)
The Platinum Collection (2011 Remastered)
3 CDs
CD (Compact Disc)
Herkömmliche CD, die mit allen CD-Playern und Computerlaufwerken, aber auch mit den meisten SACD- oder Multiplayern abspielbar ist.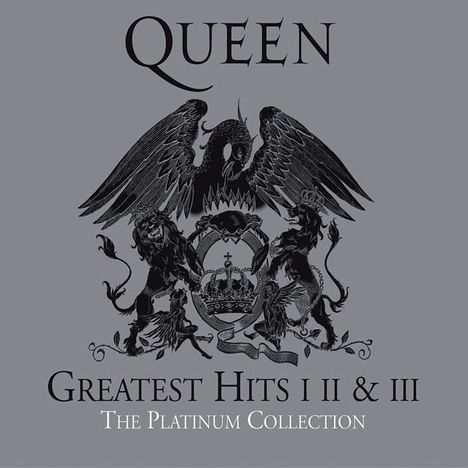 Artikel am Lager
-23%
Bestellmenge limitiert: Bei diesem Artikel nur 2 Exemplare pro Kunde!
Verlängerter Rückgabezeitraum bis 31. Januar 2023
Alle zur Rückgabe berechtigten Produkte, die zwischen dem 1. bis 31. Dezember 2022 gekauft wurden, können bis zum 31. Januar 2023 zurückgegeben werden.

Bestellnummer:

1532226

Erscheinungstermin: 27.6.2011
Weitere Ausgaben von The Platinum Collection
*** digitally remastered
Gesamtverkaufsrang: 392
Verkaufsrang in CDs: 182
The Platinum Collection: Greatest Hits I, II & III ist ein Box-Set der britischen Rockband Queen, das ihre drei Greatest Hits-Alben Greatest Hits, Greatest Hits II und Greatest Hits III umfasst. Das Album wurde ursprünglich am 13. November 2000 unter dem Label Parlophone veröffentlicht. Ein Booklet mit Songfakten und Bildern liegt dem Drei-CD-Set bei.


Disk 1 von 3 (CD)
1 Bohemian Rhapsody
2 Another One Bites The Dust
3 Killer Queen
4 Fat Bottomed Girls
5 Bicycle Race
6 You're My Best Friend
7 Don't Stop Me Now
8 Save Me
9 Crazy Little Thing Called Love
10 Somebody To Love
11 Now I'm Here
12 Good Old-Fashioned Lover Boy
13 Play The Game
14 Flash
15 Seven Seas Of Rhye
16 We Will Rock You
17 We Are The Champions
Disk 2 von 3 (CD)
1 A Kind Of Magic
2 Under Pressure
3 Radio Ga Ga
4 I Want It All
5 I Want To Break Free
6 Innuendo
7 It's A Hard Life
8 Breakthru
9 Who Wants To Live Forever
10 Headlong
11 The Miracle
12 I'm Going Slightly Mad
13 The Invisible Man
14 Hammer To Fall
15 Friends Will Be Friends
16 The Show Must Go On
17 One Vision
Disk 3 von 3 (CD)
1 The Show Must Go On
2 Under Pressure
3 Barcelona
4 Too Much Love Will Kill You
5 Somebody To Love
6 You Don't Fool Me
7 Heaven For Everyone
8 Las Palabras De Amor (The Words Of Love)
9 Driven By You
10 Living On My Own
11 Let Me Live
12 The Great Pretender
13 Princes Of The Universe
14 Another One Bites The Dust
15 No One But You (Only The Good Die Young)
16 These Are The Days Of Our Lives
17 Thank God It's Christmas