Tim Burton Collection (Blu-ray)
Tim Burton Collection (Blu-ray)
3 Blu-ray Discs
Blu-Ray Disc
Die Blu-Ray wurde als High-Definition-Nachfolger der DVD entwickelt und bietet ihrem Vorläufer gegenüber eine erheblich gesteigerte Datenrate und Speicherkapazität. Auf Blu-Rays können daher Filme mit deutlich besserer Auflösung gespeichert werden und bieten auf entsprechenden Bildschirmen eine enorm hohe Bildqualität. Blu-Ray-Player sind in der Regel abwärtskompatibel zu DVDs, so dass auch diese abgespielt werden können.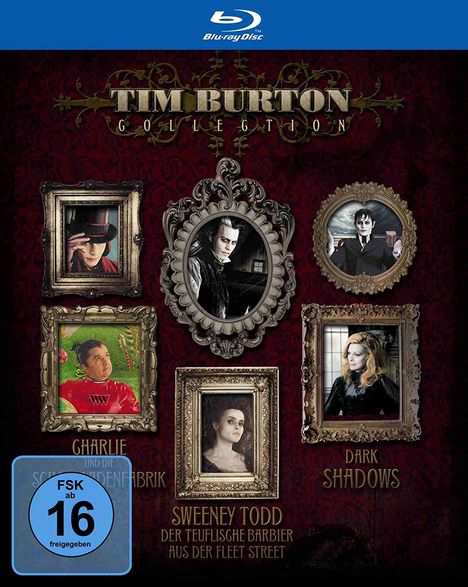 USA/Großbritannien, 2005-2012
FSK ab 16 freigegeben
Bestellnummer:

6401303

Erscheinungstermin: 6.9.2013
Horror / Komödie / Musical, 344 Min.
Regie: Tim Burton
Darsteller: Johnny Depp
Sprache: Deutsch, Englisch
Tonformat: Dolby Digital 5.1
Bild: Widescreen
'Charlie and the Chocolate Factory' (2005), based on the novel by Roald Dahl, follows eccentric chocolatier Willy Wonka (Johnny Depp) and Charlie Bucket (Freddie Highmore), a good-hearted boy from a poor family who lives in the shadow of Wonka's extraordinary factory. Most nights in the Bucket home, dinner is a watered-down bowl of cabbage soup, which young Charlie gladly shares with his mother (Helena Bonham Carter) and father (Noah Taylor) and both pairs of grandparents. They all live in a tiny, tumbledown, drafty old house but it is filled with love. Every night, the last thing Charlie sees from his window is the great factory, and he drifts off to sleep dreaming about what might be inside. For nearly 15 years, no one has seen a single worker going in or coming out of the factory, or caught a glimpse of Willy Wonka himself, yet, mysteriously, great quantities of chocolate are still being made and shipped to shops all over the world. One day Willy Wonka makes a momentous announcement. He will open his famous factory and reveal 'all of its secrets and magic' to five lucky children who find golden tickets hidden inside five randomly selected Wonka chocolate bars. When Charlie finds some money on the snowy street and takes it to the nearest store for a Wonka Whipple-Scrumptious Fudgemallow Delight he finds a golden ticket. The family decides that Grandpa Joe (David Kelly) should be the one to accompany Charlie on this once-in-a-lifetime adventure. Once inside, Charlie is dazzled by one amazing sight after another.

Musical 'Sweeney Todd - the Demon Barber of Fleet Street' (2007), based on a 'penny dreadful' tale (which later became an urban myth) from the mid-19th century, tells the tale of Benjamin Barker (Depp), a barber who returns to London after spending years in exile for a crime he didn't commit. He soon discovers from pie-maker Mrs Lovett (Bonham Carter) that, in his absence, his wife has taken her own life and his daughter is now in the care of the man who had him sent away - the dastardly Judge Turpin (Alan Rickman). Seeking revenge and filled with a murderous rage, Barker sets up a barber's shop above Mrs Lovett's premises. Now calling himself Sweeney Todd, Barker kills off all his customers with a razor to the throat and sends their cadavers to the shop below to be used as a tasty new filling for Mrs Lovett's meat pies. What was once the worst pie shop in London quickly becomes one of the city's most popular eateries, but Barker won't be satisfied until he can lure Judge Turpin into the barber's chair...

Dark Shadows
When playboy Barnabas Collins (Johnny Depp) breaks the heart of the beautiful Angelique Brouchard (Eva Green), an old family curse is released as Angelique, a witch, turns Barnabas into a vampire before burying him alive. Two centuries later, Barnabas is inadvertently freed and emerges into the very changed world of 1972. Returning to his former home at Collinwood Manor, he finds his estate in ruins and the dysfunctional dregs of his family in tatters. Matriarch Elizabeth Collins Stoddard (Michelle Pfeiffer) has enlisted the services of live-in psychiatrist Dr Julia Hoffman (Helena Bonham Carter) to help with her numerous family problems - but between Elizabeth's loser brother, Roger Collins (Jonny Lee Miller), her rebellious teenage daughter, Carolyn Stoddard (Chloe Moretz), and Roger's precocious 10-year-old son, David Collins (Gulliver McGrath), Dr Hoffman has certainly got her work cut out.

Charlie und die Schokoladenfabrik
Wonka, selbst in höchst skurrilen Familienverhältnissen groß geworden, startet ein weltweites Gewinnspiel, um einen Erben für sein Schokoladenimperium zu finden. Fünf glückliche Gewinner, darunter auch der kleine Charlie, der mit seiner verarmten Familie im Schatten von Wonkas wundersamer Fabrik wohnt, erhalten durch "Goldene Tickets", die sie in ihren Wonka-Schokoladenriegeln finden, die einmalige Chance zu einer Führung durch die legendäre Schokoladenfabrik, die seit 15 Jahren kein Fremder mehr betreten hat. Von den erstaunlichen Ereignissen völlig überwältigt, dringt Charlie immer tiefer in Wonkas fantastisches Reich ein...

Sweeney Todd
Benjamin, ein glücklich lebender Barbier und Familienvater wird, obwohl er unschuldig ist zu einer 15-jährigen Haftstrafe verurteilt. Nachdem er diese abgesessen hat, kommt er in die Freiheit und rächt sich an den Verantwortlichen. Er wird zum »teuflischen Barbier aus der Fleet Street«

Dark Shadows
Als Vampir Barnabas Collins nach 200 Jahren seinen Sarg verlässt, staunt er nicht schlecht, denn die Welt hat sich vollends verändert. Einiges aber ist doch vertraut, denn die Frau, die jetzt den Ton in der Stadt angibt und eine verführerische, aber eifersüchtige Hexe ist, brachte Barnabas einst ins Grab. Nun gilt es, der Dame beizukommen, denn der ehemalige Herr von Collinwood Manor will seinen alten Ruhm wieder haben.