Pet Shop Boys: It Couldnt Happen Here (1988) (Blu-ray & DVD) (UK Import)
Pet Shop Boys: It Couldnt Happen Here (1988) (Blu-ray & DVD) (UK Import)
1 Blu-ray Disc, 1 DVD
Blu-Ray Disc
Die Blu-Ray wurde als High-Definition-Nachfolger der DVD entwickelt und bietet ihrem Vorläufer gegenüber eine erheblich gesteigerte Datenrate und Speicherkapazität. Auf Blu-Rays können daher Filme mit deutlich besserer Auflösung gespeichert werden und bieten auf entsprechenden Bildschirmen eine enorm hohe Bildqualität. Blu-Ray-Player sind in der Regel abwärtskompatibel zu DVDs, so dass auch diese abgespielt werden können.
DVD
Die meisten angebotenen DVDs haben den Regionalcode 2 für Europa und das Bildformat PAL. Wir bieten aber auch Veröffentlichungen aus den USA an, die im NTSC-Format und mit dem Ländercode 1 auf den Markt kommen. Dies ist dann in unseren Artikeldetails angegeben.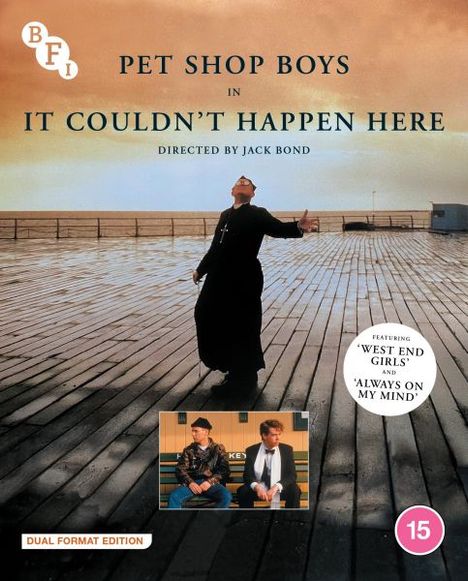 lieferbar innerhalb einer Woche
(soweit verfügbar beim Lieferanten)

Regie: Jack Bond
Sprache: Englisch
Tonformat: PCM 2.0 stereo
Bild: Widescreen
Untertitel: Englisch f.H.
Specials: Presented in High Definition and Standard Definition; Comprehensive feature commentary by writer and director Jack Bond, art director James Dillon and lighting cameraman Simon Archer (2020); West End Boy: Jack Bond (2020, 27 mins): the director discusses his eclectic career as a filmmaker and his enterprising approach to the making of It Couldn't Happen Here; It Can Happen Here: Arlene Phillips (2020, 26 mins): the renowned choreographer reflects upon a life in dance - and the trials and tribulations of working on It Couldn't Happen Here; Always on My Mind (1987, 5 mins): the full-length promotional video for the Pet Shop Boys' acclaimed 'Christmas Number One' hit, featuring Joss Ackland and footage from It Couldn't Happen Here; Actually: an unfilmed early version of the script for the film, included here in its entirety for the first time anywhere; As it Happened: Image galleries including the complete final version of the script, the director's shot lists, Pet Shop Boys reference lyric sheets and promotional materials for It Couldn't Happen Here; Original theatrical trailer (digitally reconstructed for this release)
Gesamtverkaufsrang: 9923
Verkaufsrang in Blu-ray Discs: 473
Director Jack Bond (The Blueblack Hussar) originally set out to make an extended pop video based on Pet Shop Boys' 1987 album Actually. What he ended up with was a flamboyantly full-scale feature film that finds Neil Tennant and Chris Lowe embarking on an outstanding musical odyssey from coast to capital, encountering the eccentric likes of screen legends Joss Ackland, Gareth Hunt and Barbara Windsor along the way. Perfect pop surrealism meets road movie to the sound of hits from the duo's fantastic first two studio albums, including all-time classics 'West End Girls', 'It's a Sin' and 'Always On My Mind'.

Long unavailable, It Couldn't Happen Here is presented here remastered by the BFI in High Definition at 4K resolution. A strange, striking and sensational pop musical, packed full of iconic tracks, it is an essential addition to any Pet Shop Boys collection.