Wes Montgomery: The Incredible Jazz Guitar Of Wes Montgomery (180g) (Deluxe-Edition)
The Incredible Jazz Guitar Of Wes Montgomery (180g) (Deluxe-Edition)
LP
LP (Long Play)
Die gute alte Vinyl - Langspielplatte.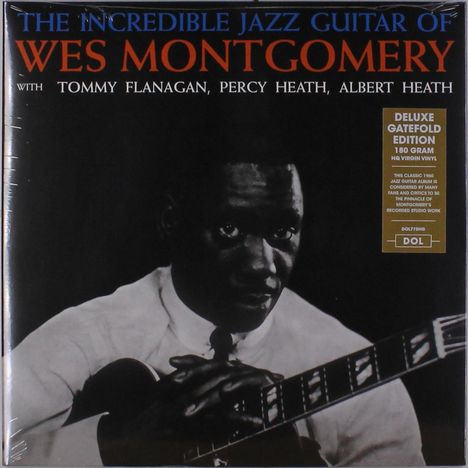 lieferbar innerhalb 1-2 Wochen
(soweit verfügbar beim Lieferanten)
-37%
Verlängerter Rückgabezeitraum bis 31. Januar 2023
Alle zur Rückgabe berechtigten Produkte, die zwischen dem 1. bis 31. Dezember 2022 gekauft wurden, können bis zum 31. Januar 2023 zurückgegeben werden.
Vinyl liefern wir innerhalb Deutschlands immer portofrei.
Label: DOL, 1960
Bestellnummer:

8150023

Erscheinungstermin: 9.2.2018
+ Tommy Flanagan, Percy Heath, Albert Heath
*** Gatefold Cover
Gesamtverkaufsrang: 40796
Verkaufsrang in LPs: 10515
Product Information

Orrin's commentary (from his new liner notes): "I began constructing the 1960 definitive presentation of [Wes] Montgomery by recognizing the need to keep things as clear-cut and uncomplicated as possible. There were at least three unique aspects to his performing style: he played with his thumb, never using a pick… and his solos almost invariably included two elements routinely referred to as 'impossible'—his use of octaves and of pianistic block chords. Self-taught (his first 'lesson' had involved heavy listening to Charlie Christian records) and never able to read music notation of any kind, he somehow possessed an unfailing command of the blues and of ballad tempo and was an impressive composer."

Personnel: Wes Montgomery on guitar and pianist Tommy Flanagan, bassist Percy Heath and drummer Albert "Tootie" Heath.


Rezensionen

"Letztendlich bewegen sich alle Stücke dieses Album auf einem "unbeschreiblichen" gitarristischen Niveau. Ohne Zweifel gehört "The Incredible Jazz Guitar Of …" zu den drei besten Wes-Montgomery-Alben und zu den wichtigsten und einflussreichsten Gitarren-Aufnahmen im Jazz." (wesmontgomery. de)