Sun Ra: Four Classic Albums Plus
Four Classic Albums Plus
4 CDs
CD (Compact Disc)
Herkömmliche CD, die mit allen CD-Playern und Computerlaufwerken, aber auch mit den meisten SACD- oder Multiplayern abspielbar ist.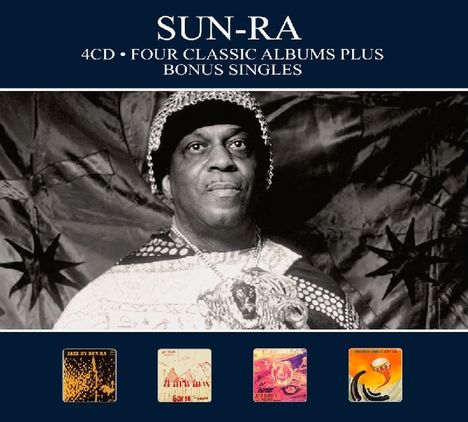 Lieferzeit beträgt mind. 4 Wochen
(soweit verfügbar beim Lieferanten)
*** digitally remastered
*** Digipack
Gesamtverkaufsrang: 18229
Verkaufsrang in CDs: 7816
Enthält die folgenden Alben;

Jazz by Sun Ra, Supersonic Jazz, Jazz in Silhouette, The futuristic Sound of Sun Ra plus Singles.
Disk 1 von 4 (CD)
1 Brainville
2 Call for all demons
3 Transitions
4 Possession
5 Street named hell
6 Lullaby for realville
7 Future
8 Swing a little taste
9 New horizons
10 Fall off the log
11 Sun song
12 India
13 Sunology
14 Advice to medics
15 Super blonde
16 Soft talk
17 Sunology part II
Disk 2 von 4 (CD)
1 Kingdom of not
2 Portrait of a living sky
3 Blues at midnight
4 El is a sound of joy
5 Supersonic jazz
6 Medicine for a nightmare
7 Enlightenment
8 Saturn
9 Velvet
10 Ancient aiethopia
11 Hours after
12 Horoscope
13 Images
14 Blues at midnight
Disk 3 von 4 (CD)
1 Bassism
2 Of sounds and something else
3 What's that
4 Where is tomorrow?
5 The beginning
6 China gate
7 New day
8 Tapestry from an asteroid
9 Jet flight
10 Looking around
11 Space jazz reverie
Disk 4 von 4 (CD)
1 Daddy's gonna tell you no lie
2 A foggy day in london town
3 Dreaming
4 Daddy's gonna tell you no lie
5 Bye bye
6 Somebody's in love
7 Happy new year to you
8 It's Christmastime
9 Medicine for a nightmare
10 Urnack
11 Great balls of fire
12 Hours after
13 Muck muck (matt matt)
14 Hot skillet mama
15 The sun one
16 Message to earthman
17 The blue set
18 Big city blues