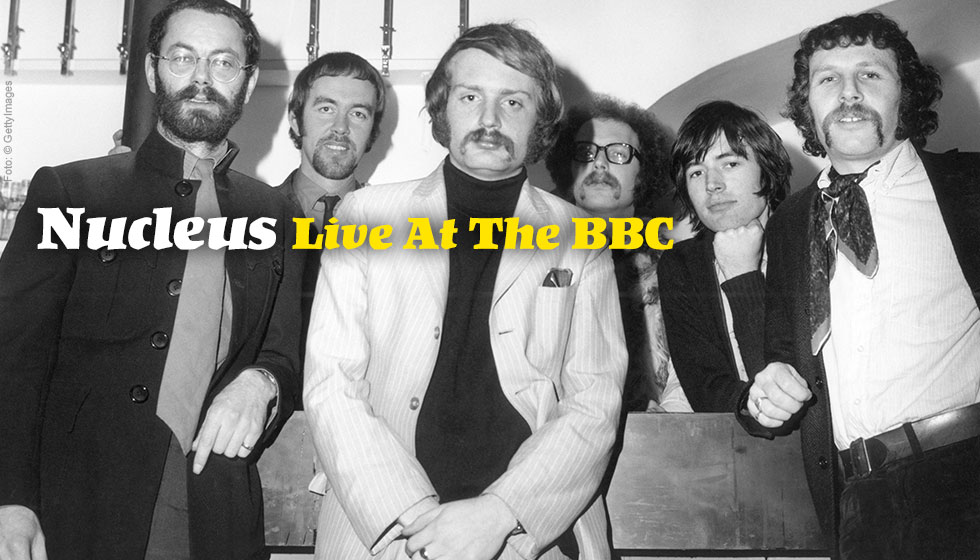 Konzerte, Sessions, denkwürdige Auftritte
Im Laufe ihrer Karriere spielten Nucleus eine Menge Konzerte und Sessions für die BBC, darunter einige denkwürdige Auftritte der britischen Rockjazz-Ikonen.

Genau diesen widmet sich die neue CD-Box »Nucleus: Live At The BBC«. Auf 12 CDs warten mehr als 13 Stunden Musik, darunter auch einige bislang unveröffentlichte Performances.
Live At The BBC
13 CDs
CD (Compact Disc)
Herkömmliche CD, die mit allen CD-Playern und Computerlaufwerken, aber auch mit den meisten SACD- oder Multiplayern abspielbar ist.
Label: Repertoire, 1970-1991
Bestellnummer:

10737817

Erscheinungstermin: 3.12.2021
*** Papersleeves + 35 Seiten Booklet (englisch) im Hardcoverschuber
Gesamtverkaufsrang: 576
Verkaufsrang in CDs: 184
Nucleus wurde von dem Trompeter und späteren Miles-Davis-Biographen Ian Carr gegründet und war eine eindeutig britische Jazz-Rock-Gruppe, die Ende der 60er Jahre im musikalischen Dorfkessel von London entstand. Bereits im ersten Jahr (1970) sorgten Nucleus auf den Jazzfestivals von Montreux und Newport für Furore, nahmen zwei Alben auf (das erste von neun für das Progressive-Rock-Label Vertigo) und absolvierten eine Vielzahl von Sessions und Konzerten für die BBC, von John Peels Top Gear und Sounds of the 70s auf Radio 1 bis zu Jazz in Britain auf Radio 3.

Kuratiert vom John McLaughlin-Biographen Colin Harper und gemastert vom mächtigen Eroc - demselben Team, das auch für die gefeierten BBC-Sets Colosseum und Pretty Things von Repertoire verantwortlich ist - bietet Nucleus Live At The BBC fast 14 Stunden Material aus den Jahren 1970-91. Fast vier Stunden davon dokumentieren die legendäre Gründungsbesetzung mit Chris Spedding (Gitarre), Karl Jenkins (Tasten, Oboe), Brian Smith (Saxophon), Jeff Clyne (Bass) und John Marshall (Schlagzeug).

Das Set wurde von Roger Farbey, Diskograph von Ian Carr und Mitarbeiter des Jazz Journal, kommentiert. Abgesehen von The Pretty Redhead (Hux, 2003) ist dies die erste Sammlung von BBC Nucleus, die aus zahlreichen privaten Sammlungen und der BBC selbst zusammengestellt wurde.

Über 13 Stunden Musik, fachmännisch remastered und restauriert von Eroc, zusammengestellt aus so bahnbrechenden Sendungen wie Top Gear, Sounds of the 70s und Jazz in Britain

Ein 12-CD-Set mit Musik und Interviews aus BBC-Radioprogrammen, die zwischen 1970 und 1991 gesendet wurden.

Disc 10 enthält eine aufregende Sammlung vollständig improvisierter Werke, die noch nie auf CD veröffentlicht wurden.

Anmerkungen von Roger Farbey, dem Autor von Elastic Dream: The Music of Ian Carr - A Critical Discography

Das Box-Set umfasst 12 CDs in attraktiven Doppel-Digipaks mit einem vollständig kommentierten Booklet
Disk 1 von 13
1 Introduction:John Peel
2 Elastic Rock
3 1916 (The Battle Of Boogaloo)
4 Orpheus
5 Persephone's Jive
6 Twisted Track
7 Song For The Bearded Lady
8 Elastic Rock
9 Stonescape
10 Single Line
11 Twisted Track
12 1916 (The Battle Of Boogaloo)
13 Persephone's Jive
14 Never Carry Any More Than You Can Eat
15 Ballad of Joe Pimp
16 1916 (The Battle Of Boogaloo)
17 Sun Child
18 Introduction: Brian Priestley
19 Freudian Saturday
20 Outro: Brian Priestley
Disk 2 von 13
1 Oasis
2 Introduction:Brian Priestley
3 Jam
4 1916 (Battle Of Boogaloo)
5 Song For The Bearded Lady
6 We'll Talk About It Later
7 Snakehips' Dream
8 Song For The Bearded Lady
9 Elastic
10 Snakehips' Dream
Disk 3 von 13
1 Snakehips' Dream
2 Intro
3 Song For The Bearded Lady
4 Morning Call
5 Intro
6 Song For The Bearded Lady
7 Snakehips' Dream
8 Crude Blues Part Two
Disk 4 von 13
1 Introduction:Don Locke
2 The Dream
3 Mayday
4 Belladonna
5 Suspension
Disk 5 von 13
1 New Life
2 Introduction:Peter Clayton
3 Sarsaparilla
4 Introduction: Peter Clayton
5 Pastoral Graffiti
6 Introduction:Peter Clayton
7 Theme 3:Rites of Man
8 Snakehips' Etcetera
9 Introduction: Charles Alexander
10 Alive and Kicking
11 Rat's Bag
12 Outro: Charles Alexander
13 Introduction: Peter Clayton
14 Splat
15 Intro:Peter Clayton
16 Brain Child
17 Outro: Peter Clayton
Disk 6 von 13
1 In Flagrante Delicto
2 Introduction: Charles Fox
3 Sassy (American Girl)
4 Black Ballad (Ecce Domina)
5 Simply This (The Human Condition)
6 Outro: Charles Fox
7 Conversation With The Blues Part 1
8 Conversation With The Blues Part 2
9 Sidewalk
10 Introduction: Charles Fox
11 Easy Does It Now
Disk 7 von 13
1 Introduction:Charles Fox
2 The Pretty Redhead
3 For Miles And Miles
4 Dawn Choruses
5 Introduction:Peter Clayton
6 After the Rain
7 Introduction:Peter Clayton
8 You Can't Be Serious You Must Be Joking
9 Outro: Peter Clayton 1.00
10 Introduction:Charles Fox
11 Symptoms of Love
12 She Tells Her Love
13 Introduction: Charles Fox
14 Love in Barrenness
15 Remorse Code
16 Outro:Charles Fox
Disk 8 von 13
1 Something for Mister Jelly Lord
2 Introduction:Ian Carr
3 She Tells Her Love
4 Introduction: Ian Carr
5 Bouquets Pour Ma Belle
6 Introduction:Charles Fox
7 Chiaroscuro
8 Introduction:Charles Fox
9 Midnight Oil
10 Introduction:Charles Fox
11 Awakening
12 Outro:Charles Fox
13 Dawn Choruses
14 Introduction:Peter Clayton
15 For Miles And Miles
16 Introduction:Peter Clayton
17 Easy Does It Now
18 Outro:Peter Clayton
Disk 9 von 13
1 Introduction: Peter Clayton
2 Dawn Choruses
3 Introduction: Ian Carr
4 For Miles And Miles
5 Open Country
6 Outro: Peter Clayton
Disk 10 von 13
1 Introduction: Ian Carr
2 Trio For Open Trumpet, EWI and Drums
3 Duo In B Minor for Harmon-Muted Trumpet And Bass Guitar
4 Quintet in A
5 Introduction: Ian Carr
6 Duo For Trumpet And Soprano Saxophone
7 Trio In D for Flugelhorn, Guitar And Bass Guitar
8 Introduction: Ian Carr
9 Duo In Fast Tempo For Cup-Muted Trumpet And Drums
10 Duo For Straight Muted Trumpet and Guitar
11 Duo For Open Trumpet And Tenor Saxophone
12 Introduction: Ian Carr
13 Old Heartland
14 Outro:Ian Carr
Disk 11 von 13
1 Introduction: Digby Fairweather
2 Uncertain Seduction
3 Introduction: Digby Fairweather
4 Full Fathom Five
5 Introduction: Digby Fairweather
6 Pandemonium
7 Outro: Digby Fairweather
Disk 12 von 13
1 Dawn Choruses
2 Introduction: Ian Carr
3 For Miles And Miles
4 You Can't Be Serious You Must Be Joking
5 Easy Does It Now
Disk 13 von 13
1 Gone With The Weed
2 Introduction: Peter Clayton
3 Out Of The Long Dark
4 Introduction: Peter Clayton
5 Lady Bountiful
6 Outro: Peter Clayton
7 Mutatis Mutandis
8 Introduction: Peter Clayton
9 Things Past
10 Introduction: Peter Clayton
11 You Can't Be Serious, You Must Be Joking
12 Outro: Peter Clayton